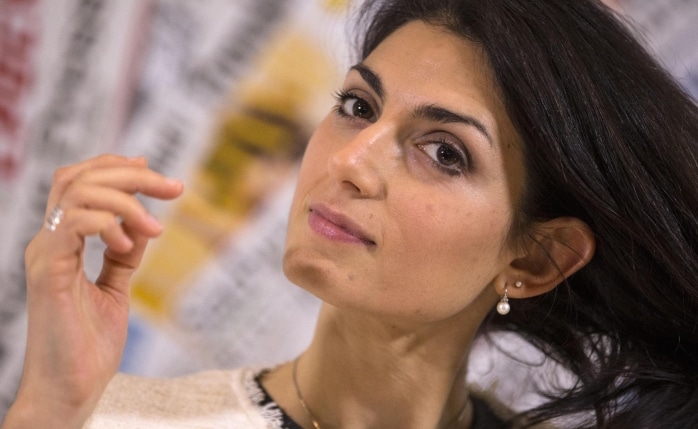 Will Virginia Raggi running on the 5-Star Movement as Rome's first female mayor in 3000 years succeed in addressing corruption and 'business as usual' politics?
Entering the political landscape is Rome's Virginia Raggi who yesterday became elected the Italian capital's first mayor in 3000 years in a bid to address mounting anger over ongoing political corruption and deteriorating city services.
Running as an anti establishment newcomer, Virginia Raggi of the 5-Star Movement, trounced Premier Matteo Renzi's candidate, Democrat rival, Roberto Giachetti, during mayoral runoffs on Sunday in Rome.
With 80 percent of the ballots counted, Raggi a 37 year lawyer and newly minted politician of the 5-Star Movement was leading to a 2-1 margin as locals sought to finally address quagmire and 'business as usual' political corruption.
Virginia Raggi's win comes after according to local media, dozens of people, including local politicians from the Democrats, right-wing parties and other political forces, have been implicated in corruption probes of city contracts.
And the bone of contention? Deteriorating municipal services, especially strike-plagued mass transit, street repairs and trash collection, which served to foster Romans' exasperation.
'I will work to bring legality and transparency' to Rome's administration, Raggi told supporters early Monday. Declaring that 'the citizens of Rome won,' she also pledged that 'with us a new era begins.'
Virginia Raggi's ascent was helped by the ousting of her predecessor, the Democratic Party's Ignazio Marino, over an expenses issue and a much bigger scandal over organized crime's infiltration of the city administration.
In what is known as the 'Mafia Capitale' case, dozens of local businessmen, officials and politicians are currently on trial for their involvement in a criminal network that ripped off the city to the tune of tens – if not hundreds – of millions of euros.
Tweeted the new elected Rome Mayor, 'Today we need two things: honesty and courage,' quoting 20th-century socialist politician and former president Sandro Pertini.
Offered Simoneetta Facioni a local Rome inhabitant as she cast her vote for Raggi: 'The outskirts [of Rome] are abandoned. The historic city centre is just a showcase for tourists.'
In an interview with the Guardian, Raggi said she intended to not only take on local politicians and contractors but the Catholic church as well. In that interview, Raggi stressed wanting to pursue up to $455 million in allegedly unpaid taxes on the Vatican's real estate holdings and some of its assets.
She has claimed that previous administrations have been afraid to take on the Vatican over the issue.
While Raggi's victory was widely expected, Renzi's clout took a surprise beating in Turin, where incumbent Mayor Piero Fassino, a Democratic Party veteran, conceded defeat to another female 5-Star candidate, Chiara Appendino notes a report via the nydailynews.
Fassino blamed his loss on right-wing forces, who, after faring poorly in the first-round balloting, joined up with 5-Star supporters to defeat the center-left Democrats.
Newly elected Ms Raggi,  who has one son, had worked previously as the spokeswoman for 5-Star Movement in Rome.
She is married to Andrea Severini, who is also an activist with the party.
A Raggi win has also been seen as significant for women in Italian politics, marking an important transition in the Five Star Movement, the party founded by the comedian Beppe Grillo.
Grillo's political views which Raggi shares are vehemently anti-establishment, railing against political compromises, while claiming to be anti-corruption, with Grillo having praised the politics of Britain's Ukip leader, Nigel Farage, for his anti-EU views.
The ascent of the new political party will now put added fissure on Italy's Matteo who faces a crucial referendum on constitutional reform in October on which he has staked his political career.