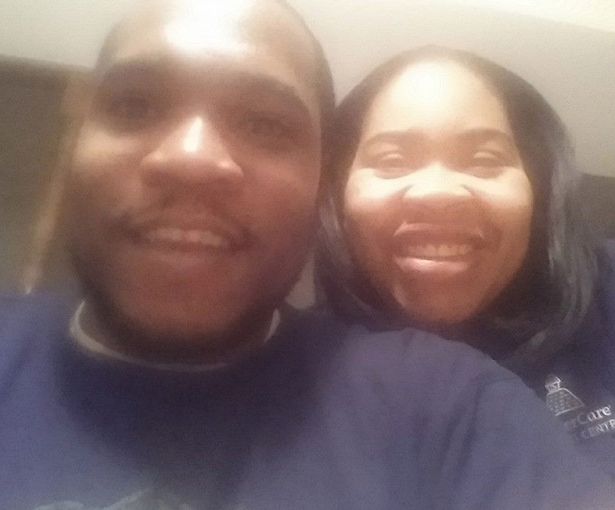 Will Michelle Gregg and Deonne Dickerson face criminal negligent charges? Mounting pressure for charges continues as signatures mount.
Michelle Gregg and Deonne Dickerson, the parents of the four year old boy who fell into a Cincinnati gorilla pen leading to the forced shooting death of Harambe the gorilla face the potential of neglect charges.
The possibility of charges come after world wide uproar after zoo officials decided rather than risking the toddler being mauled by the 17 year old silverback gorilla to put the 'gentle giant' down.
The move to press charges comes after new video appears to show Harambe protecting the child rather than posing any threat.
Condemnation of the couple, Michelle Gregg and Deonne Dickerson, aged 32 and 37, comes after claims of the toddler's parents inattentiveness led to the boy crawling through a barrier and falling into the gorilla's enclosure.
In turn forcing the zoo's hand after concerns that a tranquilizer would have taken too long to take effect.

Told zoo director, Thane Maynard: 'They made a tough choice and they made the right choice because they saved that little boy's life. It could have been very bad.'
Isiah Dickerson photos: Mommy I want to swim with Harambe the gorilla
Not escaping notice, is news of the four year old child's father, Deonne Dickerson having a lengthy criminal history, including charges of burglary, firearms offenses, drug trafficking, criminal trespass and kidnap, going back to 2006.
That said, a report via the dailymail tells the father having made what appears to be a 'remarkable turnaround' in recent years – with frequent posts on Facebook showing updates of the couple's children and working life.
In one post, the industrial worker was congratulated by friends when he and wife, Deonne, a pre-school administrator had their fourth child last January.
Since the weekend incident, Deonne Dickenson has faced heavy criticism after social media users questioned her parenting acumen, with the mother retorting, 'accidents can happen'.
Nearly 100k people sign petition to create a law that would hold parents criminally responsible for Harambe's deathhttps://t.co/lifuc5u9Dm

— FOX & Friends (@foxandfriends) May 31, 2016
So now that we know that the child was Black, there will be a lot of folks demanding justice for Harambe this week

— jamilah lemieux (@JamilahLemieux) May 31, 2016
#JusticeForHarambe Petition Demands Parents Of Boy Who Entered Zoo To Face Charges Over Gorilla That Was Shot Dead https://t.co/ein1ylQ1Lt

— Brotips (@brotips) May 30, 2016
Responding on Facebook shortly after the incident, the mother said: 'I want to thank everyone for their thoughts and prayers today. What started off as a wonderful day turned into a scary one.
'For those of you that have seen the news or been on social media that was my son that fell in the gorilla exhibit at the zoo. God protected my child until the authorities were able to get to him.
'My son is safe and was able to walk away with a concussion and a few scrapes… no broken bones or internal injuries.
'As a society we are quick to judge how a parent could take their eyes off of their child and if anyone knows me I keep a tight watch on my kids. Accidents happen but I am thankful that the right people were in the right place today.'
Rather than stem the criticism against her, the woman's comments only inflamed social media users, with many arguing, under the handle, 'Justice for Harambe', the boy would have never fallen into the gorilla pen had the parents been paying attention.
Wrote one twitter user: 'So a beautiful, innocent gorilla has to die because neglectful parents can't control their kids? Mankind sucks 🙁 #Harambe #CincinnatiZoo'
The forced death of Harambe has since led to thousands of people signing an online petition calling for the mother and father to be 'held accountable for their actions of not supervising their child'.
That petition, running on changeorg as of time of press had over 303 000 signatures out of a 500 ooo needed.
Told a similar petition on facebook, Justice for Harambe in part: 'Witnesses claim that they heard the child state that he wished to go into the enclosure and was actively trying to breach the barriers.
'This should have prompted the parents to immediately remove the child from the vicinity. It is believed that the situation was caused by parental negligence and the zoo is not responsible for the child's injuries and possible trauma.'
At time of press, the page had over 114 ooo likes.
Despite pressure from animal lovers and social media critics, authorities have declined to tell whether the parents will now face negligence charges.