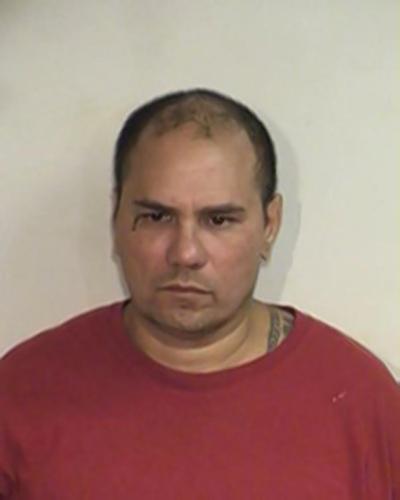 What led to Stephen Schmidt a Hawaii man murdering his estranged wife. Man with criminal past and recent order of protection with mental imbalance. 
Stephen Schmidt, 45 has been charged with murder and attempted murder charges after stabbing his estranged wife and two men in the aisle of a supermarket in Maui, Hawaii.
The murder rap comes after Schmidt allegedly started an argument with his estranged partner Kehau Farias Schmidt, 24, and the man accompanying her inside a Foodland store at 6pm on Tuesday.
As matters escalated, Stephen Schmidt produced a knife, stabbing his wife according to a report via KHON.
From there, Schmidt is alleged to have stabbed two other men as they tried to intervene before fleeing the grocery store.
All three victims were taken to Maui Memorial Hospital, where Kehau later died, police said. The injured men are expected to survive and in stable condition.
Wailuku resident Alan Sevilla told the Maui News the three victims were lying in a pool of blood on the ground between the cash registers.
Told the witness: 'There was a lot of blood … a lot of blood,'
Hawaii News Now – KGMB and KHNL
Local reports tell at the time of the attack, Stephen Schmidt and and Kehau Schmidt were separated. What led to the former couple calling time off on their relationship is yet to necessarily be understood, but it is thought that the woman was entangled in an abusive relationship with Stephen Schmidt and had recently taken out an order of protection against him.
That said, HawaiiNewsNow told of the man having a history of family abuse along with recently violating an order of stay away protection. The outlet told
Foodland issued said in a statement Wednesday that the company is shocked and saddened by what happened at the Kehalani Foodland.  
Read a company statement: 'All of us at Foodland are shocked and saddened by the tragic incident that took place at Foodland Kehalani yesterday. 
'Our hearts and prayers go out to the victims and their families and friends. 
'We don't yet know all the details of what occurred, but are cooperating fully with Maui police and investigators. We are also providing support to our employees who were at the store at the time of the incident. 
'Our store will remain closed today, and will reopen tomorrow after a meeting and blessing with our employees. 
'We wish to thank our store management team and employees for their courage and assistance in handling the situation, as well as Maui police and emergency responders for their guidance, help, and support.'
The Maui Police Department said Schmidt was taken into custody after he fled from police where he was detained at his home. At the time of his arrest, neighbors said the man was not remorseful and was observed laughing.
Schmidt's bail is set at $3 million. 
The investigation is continuing.