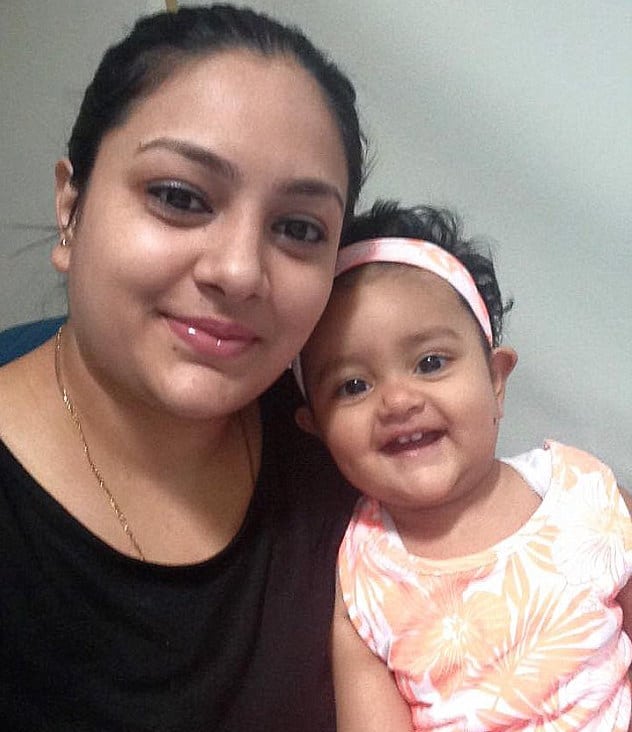 What motivated Sofina Nikat a Melbourne mother to murder her own 15 month old toddler baby, Sanaya Sahib? A history of family dysfunction and a prior attempt at ending the child's life.
Who abducted Sanaya Sahib Melbourne toddler? Is mom under suspicion?
In a remarkable turn of events, Melbourne, Australian mother, Sofina Nikat has made a full confession in which the 22 year old woman told of having murdered her 15 month old toddler baby, Sanaya Sahib.
Sofina Nikat's released confession at a Melbourne West police station circa 5.45pm local time on Tuesday comes after the woman had insisted over the weekend that a a shoeless African man smelling of alcohol pushed her down and stole her baby daughter from the pram whilst 'going for a walk at Melbourne's Olympic Park, Saturday morning.
The admission comes after police released CCTV footage of Sofina Nikat pushing her daughter in a pram toward Darebin Creek in Heidelberg West.
Footage then shows the mother returning with an empty pram.
At the time of the child's initial disappearance, authorities told that video hadn't shown an individual the mother had described 'stealing' Sanaya Sahib. Until Tuesday's confession, authorities had declined revealing that Sofina Nikat had perpetrated her own daughter's death until Tuesday afternoon as they kept the woman in custody for questioning.
Witnesses who had been at the park at the time also told of having not seen anyone matching the description the mother had tended to authorities.
Confronted with the video the mother went on to make a 'full confession'.
Sofina Nikat made a full confession she killed her daughter Sanaya. @broberts_7 and @laurelirving7 with the latest. https://t.co/he5OC9qFS8

— 7 News Melbourne (@7NewsMelbourne) April 12, 2016
Sofina Nikat in an out-of-sessions hearing after being charged with murder. Latest: https://t.co/Qco6kTeUYs pic.twitter.com/SgY6AuzIwX

— Mitchell Toy (@MitchellToy) April 12, 2016
Remanded in custody, the woman is now set to appear before Melbourne's Magistrate Court on Wednesday, after her arrest Tuesday morning.
An autopsy over the weekend revealed Sanaya Sahib dying as a result of being smothered before the mother dumped the child in the creek where it was found early Sunday morning partially submerged in water.
The confession comes after Sanaya's grieving uncle Habib Ali revealed the toddler was treated by an ambulance for a 'seizure' just a week before she died. 
Attending paramedics told of the child at the time having being 'deprived' of oxygen, suggesting that the mother may have as recently as last week on April 3rd having tried to kill her own baby daughter.
A Victorian police spokeswoman said investigators are 'no longer looking for anyone else' in connection to the crime.  
Of note the confession comes after neighbors and unnamed sources told authorities that that Sanaya Sahib was raised in a dysfunctional environment and was in close contact with two men facing serious criminal charges in the week before she died.
To what degree the family dysfunction may have led to Sofina Nikat electing to murder her own child is not necessarily understood as the child's father Sameer Sahib told of the Sofina splitting with the man recently. 
Up to the child's murder, Sameer Sahib said he had been restricted from seeing his child for the past six months whilst his estranged wife had blocked his phone number. Which raises the question, was this the damned rebuke that the mother could dish out against the child's father by taking their daughter's life…?