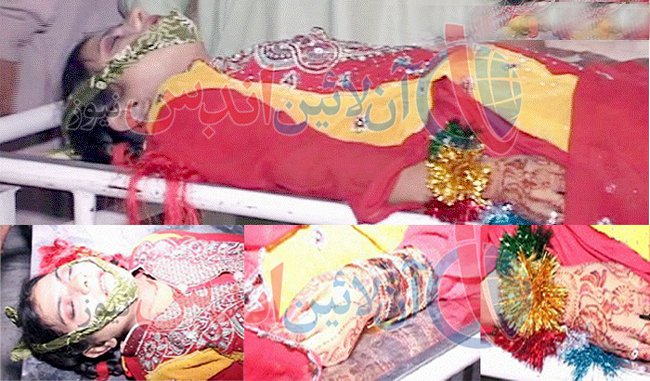 Khanzadi Lashari: To what degree was the honor killing of a newly wedded Jacobadad Pakistani bride abetted by a culture of debasement towards women?
A 19 year old newly wed bride, Khanzadi Lashari has been strangled to death on the night of her wedding by her husband during a wedding in the province of Jacobadad in Pakistan.
The murder of the woman, deemed an 'honor killing' according to local reports comes after the husband discovered that his newly wedded bride was not a virgin.
Notes a report via Pakistan's express tribune: Khanzadi, daughter of Lal Mohammad Lashari, married her cousin Qalandar Bux Khokhar the night before her lifeless body was found in her bedroom in ADC Colony. The suspect, her husband, remains on the run.
News of the bride's death, also known as Khanzadi Bux Khokhar upon her marriage came after Khanzadi Lashari's mother notified police when her daughter failed to receive any response from their house the morning after the wedding.
Policemen, with the help of the victim's brother Ali Sher Lashari, forced entry into the house, only to discover Khanzadi Lashari's lifeless body on the bed. Her husband was missing.
Relatives of the deceased woman have since filed a complaint against Qalandar Bux and his four brothers, accusing them of strangulating the newly wedded Jacobadad bride.
The victim's mother told that the groom and bride were cousins and the marriage took place with their consent.
A local report told of the furious groom telling his wife was 'damaged goods' on their wedding night, prompting him to squeeze the life out of her and then sharing photos of her mangled corpse on social media.
Next to images of the woman's deceased body, the groom claimed that Khanzadi Lashari, the daughter of Lal Mohammad Lashari, was presented to him as an undefiled bride and had no choice but to kill her for dishonoring him.
News of the death has since led to local reports telling that Bilawal Bhutto Zardari, the Chairman of the Pakistan Peoples Party asking Sindh Home Minister to take immediate action against the 'culprit' involved in the brutal murder.
PPP Chairman went on to tell that his Party refused to tolerate the murder of innocent and helpless women in the name of so-called honor killings along with imploring the Sindh government to come hard on honor-killings, with zero tolerance afforded to perpetrators.
Amnesty International reports that 'the failure of the authorities to prevent these killings by investigating and punishing the perpetrators' has resulted in legislation being twisted to support such crimes.
Area police have since carried out several raids but have failed to make any arrests.
This 17 year old bride was killed by her husband on her wedding night in #jacobabad– #honorkilling #pakistan #shame pic.twitter.com/voa2PPNSbe

— Sharmeen Obaid (@sharmeenochinoy) April 1, 2016