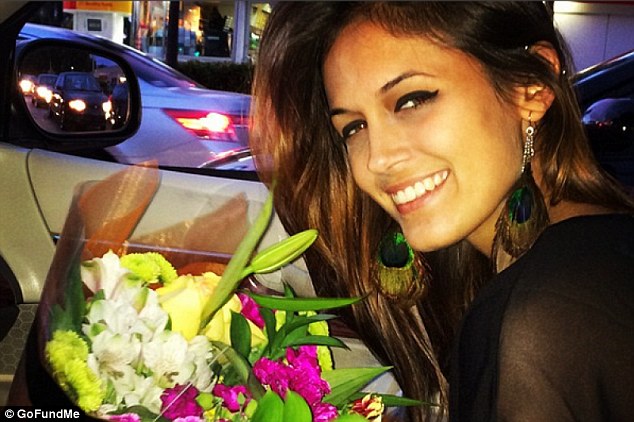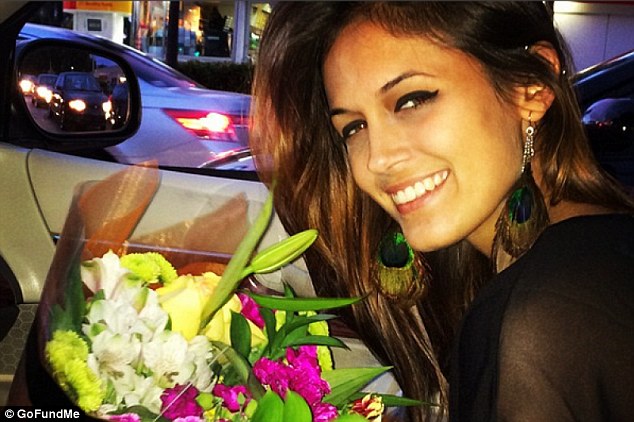 How did Savannah Rey Finn's disappearance lead to open dissent on a gofundme page on her behalf?
Savannah Rey Finn (also known as Savannah Rae Finn) a 22 year old Fort Lauderdale, Florida woman is believed to have drowned on Friday after going on a holiday trip with her boyfriend to St Thomas in the U.S. Virgin Islands.
According to a report via the St. Thomas Source wrote, Finn a Florida International University student was on rocks by Peterborg Point with her boyfriend when strong waves swept them in.
While the woman's boyfriend was able to climb back onto rocks, investigators told observing Savannah Rey Finn  'face down' and apparently 'lifeless' in the water before eventually disappearing into the waves.
Savannah Rae Finn missing: GoFundMe issues refund after feud
Since Friday's incident, Chief Liston Thomas of St. Thomas Rescue maintained that in all likelihood Finn had drowned despite the failure to locate her body.
A local report told of a search for Finn 'being dismissed at approximately 8:00 p.m. and reconvened at roughly 5:30 a.m. March 19, 2016.  The Department of Planning and Natural Resources enforcement officers and V.I.P.D. officers continued their search of Peterborg Point coastal waters for Ms. Finn to no avail.'
A report via the Sun-Sentinel told of Finn visiting the island with her boyfriend and two others.
Since her disappearance, Finn's parents, Ray and Julie Finn, two siblings and two uncles traveled to the island in the hope of recovering the doomed woman's body, according to family friend Michael Hull.
Told Hull: 'The family is obviously devastated, destroyed by this. There are no words in this type of situation so we just let the family know that we are there for them,' 
'It's weighing so heavily on [Finn's mother] that they haven't found the body… the family just needed to be there.'
Until recently, Savannah Finn had worked as a server for three years at Aruba Beach Cafe in Lauderdale-by-the-Sea. 
Its manager, Frank Scarpace, told the journal, 'She was a great employee, and we will miss her. We are all very sad.'
Hull added that Finn, was an 'ambitious and focused' woman who wanted to become an attorney. At the time of her disappearance Finn had been considering taking a year off and going to Hawaii before entering law school.
Yet here's where things become nebulous.
Soon after reports of her presumed death, a GoFundMe page, 'Bring Savannah Home' was set up on behalf of the woman in a bid to bring her body back, asking for an earmarked target of $25 000. An amount which has since led to donators questioning the family's motives and intentions.
Reads the post: 'Our friend Savannah, who we love very much, went on vacation to St. Thomas for some much needed sun and fun. She is such a hard worker with school and work that she was looking forward to this long weekend.
Savannah, being the adventurous spirit she is, went exploring on some rocks on the edge of the island. Not knowing how dangerous this area was, a large wave washed her and her boyfriend off. Tragically she was unable to fight the strength of the ocean.
We desperately need to get her home, which is a very costly endeavor. The money raised on this page will go towards bringing Savannah home to her family and friends. Please please help us.
Savannah is so loved and missed. Anything you can do, as soon as possible, to help her family will be greatly appreciated.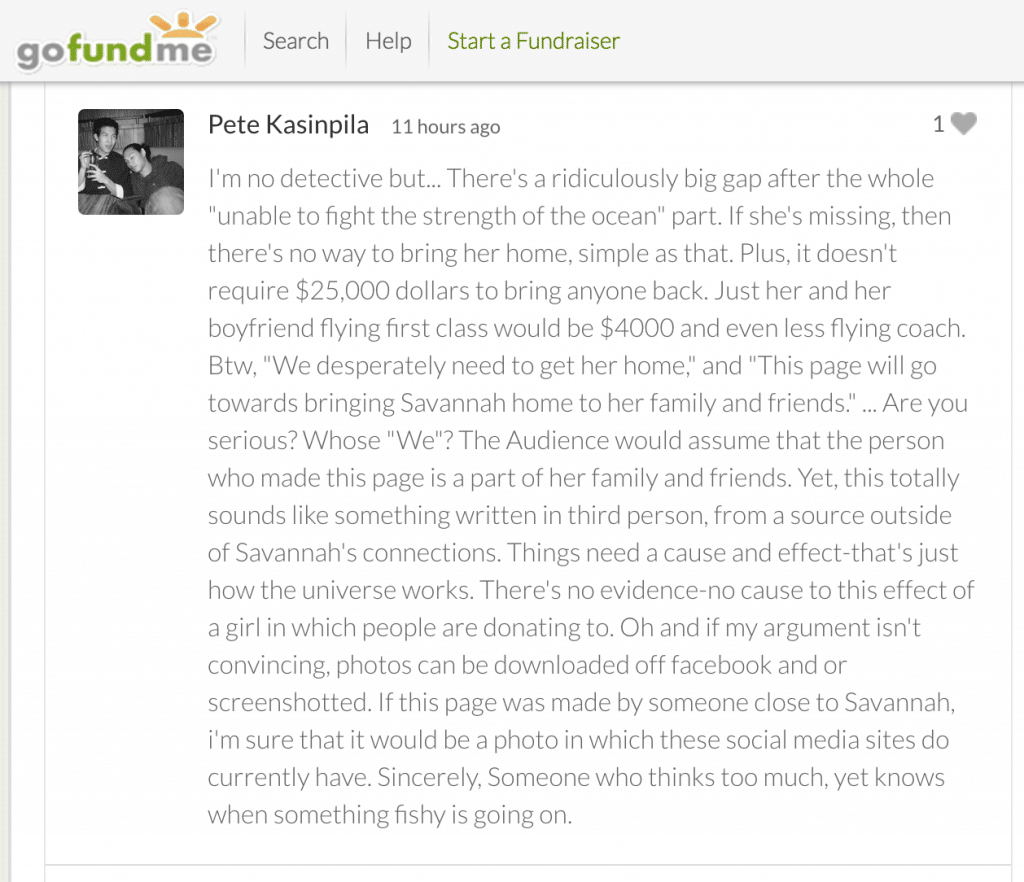 Responded one individual, Peter Kasinpila:
I'm no detective but… There's a ridiculously big gap after the whole "unable to fight the strength of the ocean" part. If she's missing, then there's no way to bring her home, simple as that. Plus, it doesn't require $25,000 dollars to bring anyone back. Just her and her boyfriend flying first class would be $4000 and even less flying coach. Btw, "We desperately need to get her home," and "This page will go towards bringing Savannah home to her family and friends." … Are you serious? Whose "We"? The Audience would assume that the person who made this page is a part of her family and friends. Yet, this totally sounds like something written in third person, from a source outside of Savannah's connections. Things need a cause and effect-that's just how the universe works. There's no evidence-no cause to this effect of a girl in which people are donating to. Oh and if my argument isn't convincing, photos can be downloaded off facebook and or screenshotted. If this page was made by someone close to Savannah, i'm sure that it would be a photo in which these social media sites do currently have. Sincerely, Someone who thinks too much, yet knows when something fishy is going on.
Since taken to task, the man has offered a muted apology while adding, 'My questions come from skepticism, i can assure that, and those words written earlier were spilled from my thoughts with the intent of disorganizing this fund.'
To date the fund has raised $6020.