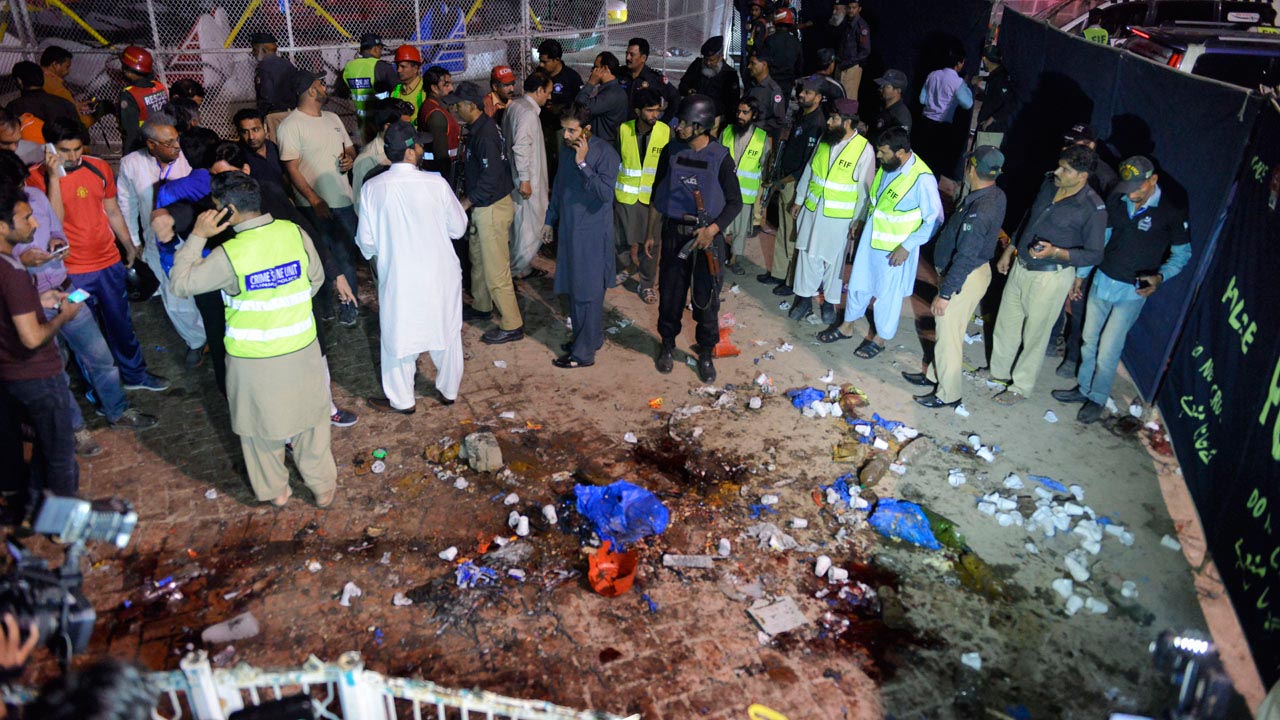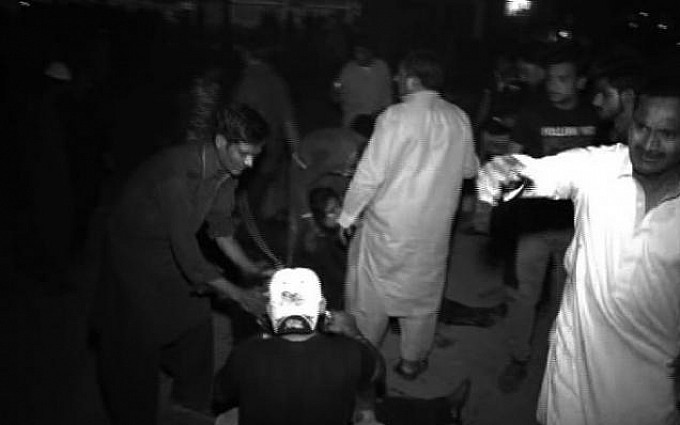 Pakistan Lahore Park bomb blast: Rising tide of hostility shows no sign of abating as no group has claimed responsibility with eyes on the Taliban and insurgents as government forces maintained combat missions. 
Tragedy has struck in Lahore, Pakistan on Sunday after a suicide bomber self detonated at a public park killing at least 62 plus people, mostly women and children, along with injuring up to 200 people with severed limbs observed scattering the area.
Authorities told of the bomb blast occurring in the parking area of Gulshan-e-Iqbal park, a few feet away from children's swings.
Javed Ali, a 35-year-old resident who lives opposite park notes a report via AP, said the force of the blast had shattered his home's windows.
Told the man: 'Everything was shaking, there were cries and dust everywhere.'
'After ten minutes I went outside. There was human flesh on the walls of our house. People were crying, I could hear ambulances.'
Deadly bomb blast hits public park in Pakistan's city of Lahore https://t.co/4TvA3FFMdu pic.twitter.com/4rbh0bqmmD

— Huffington Post (@HuffingtonPost) March 27, 2016
Bomb blast hits Pakistani Christians leaving kids' park in Lahore; dozens killed https://t.co/2mKYbjbUlg pic.twitter.com/w1wnuSlUZ0

— CBS News (@CBSNews) March 27, 2016
The blast tells local media strikes at the heart of Prime Minister Nawaz Sharif's political base of Punjab.
At the time of the blast, the park had been particularly busy on Sunday evening due to the Easter holiday weekend. It is thought that the timing of the blast was by design in lieu of public holidays. Of question is why the families and children were targeted? 
Salman Rafique, a health adviser for the Punjab provincial government, put the death toll at least 52 people.
'Most of the dead and injured are women and children,' said Mustansar Feroz, police superintendent for the area in which the park is located.
Aftermath of #Lahore Suicide Attack pic.twitter.com/t84kQkGU9n

— C0deRed (@Carpe_Di3m_) March 27, 2016
This is what #GulshaneIqbal Park looks like on a busy day. Today was Easter Sunday. Pc: The News #LahoreBlast pic.twitter.com/mn8eBUTXkW

— Amal Khan (@amalkhan) March 27, 2016
To date there no group has claimed responsibility for the blast.
The blast comes as Pakistan, a nuclear-armed nation of 190 million people, is plagued by a Taliban insurgency, criminal gangs and sectarian violence. Punjab is its biggest and wealthiest province.
That said speculation has already begun to mount that the bomb blast might be in retaliation to government forced launching operatives against the Taliban.
A report via smh.com.au tells of Pakistan having launched an offensive against Taliban and affiliated jihadist fighters in North Waziristan, seeking to deprive them of safe havens from which to launch attacks in both Pakistan and Afghanistan.
Gulshan park is the only entertainment for local kids who can't afford xbox, iPad etc #LahoreBlast pic.twitter.com/DPvzqtFzAk

— Rehman Anwer (@rehmananwer) March 27, 2016
Punjab has traditionally been more peaceful than other parts of Pakistan. Sharif's opponents have accused him of tolerating militancy in return for peace in his province, a charge he strongly denies.
Last year, a bomb killed a popular Pakistani provincial minister and at least eight others when it destroyed the minister's home in Punjab.
In the aftermath of the blast, Pakistan's President Mamnoon Hussain strongly condemned the explosion as the Punjab government announced three days of mourning.
Suicide bomber kills over 50 in Lahore park https://t.co/x4cmEWxLqb pic.twitter.com/BXorj1boJs

— ABP News (@abpnewstv) March 27, 2016
A powerful bomb blast at Lahore Iqbal park,#Pakistan,at least 54 people were killed and more than 100s wre wounded, pic.twitter.com/ne7nIFabjr

— Khair Jan Baloch (@khairjan_Baloch) March 27, 2016
A suicide bomber has killed at least 56 people outside a park in Lahore, Pakistan https://t.co/dzDxAruE4W pic.twitter.com/VdizEQdarY

— Sky News (@SkyNews) March 27, 2016
Updated toll:
"The Latest: Bomb blast in #Lahore, #Pakistan park kills 60, wounds 300″ https://t.co/0FmPqTJXAY

— Matt Lee (@APDiploWriter) March 27, 2016
The park which was blown up by a suicide bomber in #Lahore was full of Christians celebrating Easter. ??? https://t.co/STLq3BaF4A

— Jenan Moussa (@jenanmoussa) March 27, 2016
More @cbcnews Pakistan bomb blast kills 44 in #Lahore park. Many of the 91 wounded are in critical condition: https://t.co/L1nImce4xJ

— CBC News Alerts (@CBCAlerts) March 27, 2016
More Than 40 Killed In Bomb Blast Near Children's Rides At Park https://t.co/ikHIVHjY1B #newyork #nyc

— NY News Now (@nynewsn) March 27, 2016
Savagery: Suicide attack targets park full of children in #Lahore, kills at least 63 ppl https://t.co/KXXdNm7QY9 pic.twitter.com/QWPOVknbyC

— Yannis Koutsomitis (@YanniKouts) March 27, 2016