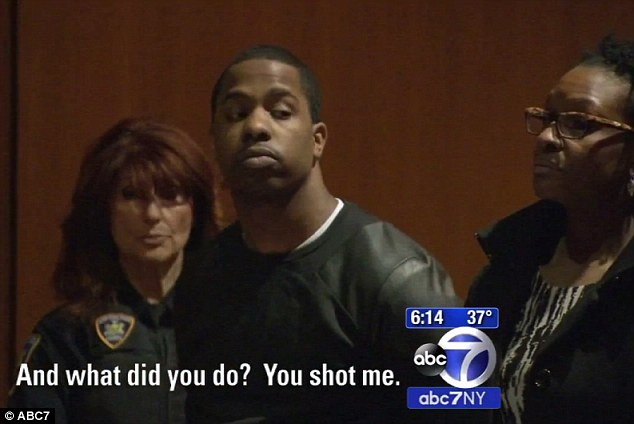 John Thomas sentencing: Did a career criminal get what he deserved? 
Career criminal, John F. Thomas, 28, had the book thrown at him courtesy of Judge Gregory Lasak who sentenced the man on Wednesday to 55 years to life jail, the maximum allowable, after shooting at a heavily decorated NYPD cop, Sgt Craig Bier.
Told the Queens judge as the NYPD cop who survived an attempt on his life sat in the courtroom gloating: 'You will never step foot outside of prison before you die.'
Adding: 'Who are you, to take a gun, and try to kill a New York City Police Officer?'
'It's all about choices, and you made some very bad choices.'
The sentencing came despite Thomas reiterating his innocence when asked if he had anything to say before being sentenced.
Said an incredulous Judge Gregory Lasak after the accused declined to say more: 'You have nothing else to say?'
Reiterated the accused: 'I'm innocent- I have nothing else to say.
Replied the judge: 'Instead of telling me you're innocent, you would have been better off asking for the minimum sentence,'
'The proof against you is overwhelming!'
Told the still active Sgt Craig Bier as he rose to address his attempted murderer: 'I never think of you, except when I'm putting on a bathing suit and I see the scars on my legs, or when I'm shoveling snow,'
'You could have gotten away, but you shot me, and that tells me two things,'
'The first is that you're an idiot– and you made a bad choice — and the second is that you're a menace to my brothers and sisters in blue, and to everyone else in New York City.'
Thomas — who had 11 priors — was convicted on charges of attempted murder after taking four shots at Bier and hitting him in the legs during a foot chase in August 2012.
At the time, Sgt Craig Bier and his partner were in plainclothes as they patrolled South Jamaica in an unmarked van when they tried to stop a man on a bike. The suspect (Thomas) dropped his bike and ran, and a foot chase ensued before Thomas opened fire, wounding Bier.
Soon after the suspect skipped town, leading authorities on a manhunt that spanned five states before Thomas turned himself in a month later.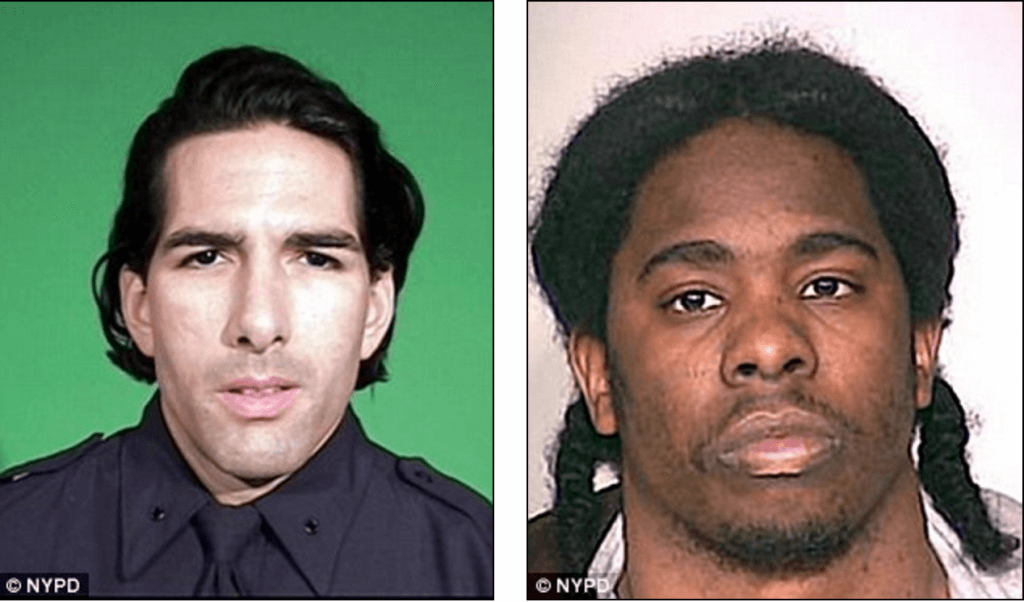 During the man's trial, Thomas' attorney Ikiesha Al Shabazz had sought to argue 'evidence tampering' had been responsible for framing her client.
'My client had previously been offered 15 years,' Shabazz said Wednesday, citing an expired plea deal as she begged Lasak to impose the minimum sentence. 'Hopefully my client won't be punished for going to trial.'
Bier, a 16-year veteran of the NYPD, has received over 65 medals over the course of his career. The decorated Sgt now works as a member of the NYPD's Regional Fugitive Task Force.
Responding to John Thomas' sentencing, Queens district Attorney Richard Brown told: 'This was a senseless violent act, and once again, illustrates how dangerous police work is,'
'The defendant has shown that he has no regard for authority, and is a menace to society. Today's sentence — the maximum allowed by law — is more than justified.'
Thomas, wearing a black sweatshirt and jeans, maintained a small smirk as he was led out of the courtroom.
Told  Sgt Craig Bier after the sentencing of his would be killer: 'I've spent most of my career in Brooklyn, and I'm elated, because nobody gets 55 to life in Brooklyn, not even if you kill the president and burn down an orphanage,'
'He made a conscious choice to shoot and kill me, and there's no place in society for someone like that."
'I'm relieved that this chapter is finally over,'
'In the end, he is in a cage for his whole life.'