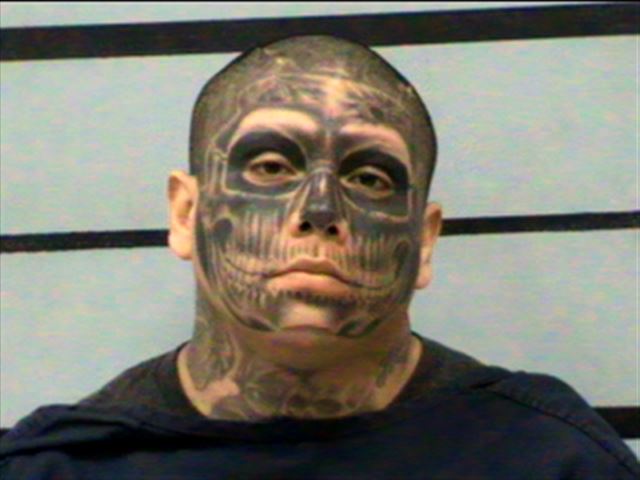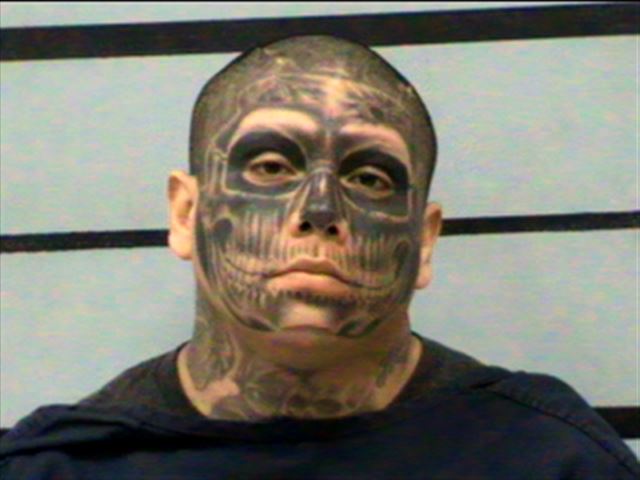 Jacob Pauda: Just tell me is it my baby? 
Making their entry into the tabloid sweepstakes is the mesmerizing visage of Lubbock, Texas man Jacob Pauda after the man's 'compelling' tattoo bookings mugshot photo defied imagination.
Arrested after allegedly punching his pregnant girlfriend in the face and chasing her around the home with a butcher knife, it wasn't necessarily the severity of the man's alleged misdeeds that caused attending police to wince, but Pauda's indelible facial tattoos. 
Bearing a full face skull tattoo running the gamut of Pauda's face, neck and the top of his bald head, police were clearly able to identify the  presumed assailant after the man's girlfriend gave a careful description of her assailant, including the fact that Pauda was high on coke, running around with a razor sharp kitchen knife and permanently emblazoned with a non refundable skull tattoo on his head.
'Fxck Cops' Paul Terry tattoo robber easily identified by victim
Robert Michael: 'How my face tattoos led to my arrest'
Shalin Ren Payne, tattoo monster rapes fiance's 12 year old daughter
Oh really? Caius Veiovis lawyer worried his clients 666 tattoo and horns could turn jurors off
According to a report via KCBD, matters came to a head on the evening of February 8th when Jacob Padua brought his pregnant girlfriend back to his home where he questioned the woman if he was truly the father of her unborn child along with whether she was using drugs.
As 'discussions' hit a roadblock, Pauda is alleged to have then punched his pregnant girlfriend in the face with a closed fist.
Warning her not to scratch him or 'it will be worse for you' Pauda then allegedly threw the woman on the ground by her hair before then kicking her.
Yes kids, Jacob Pauda knows love when he sees it. Every day of the week.
With the girlfriend on the phone, pleading with her mother for help, Pauda is alleged to then have started slamming her into 'several metal objects in the living room.'
By the time police arrived at the home at 2am, Pauda and his two sons, who had been in another room, were gone. 
Padua's girlfriend was treated and he was booked into the Lubbock County Detention Center two days after the alleged attack. He was indicted on Wednesday. Needless to say, the girlfriend's careful description of her ex boyfriend's indelible facial features made Jacob Pauda's arrest a more imminent event. Indeed.