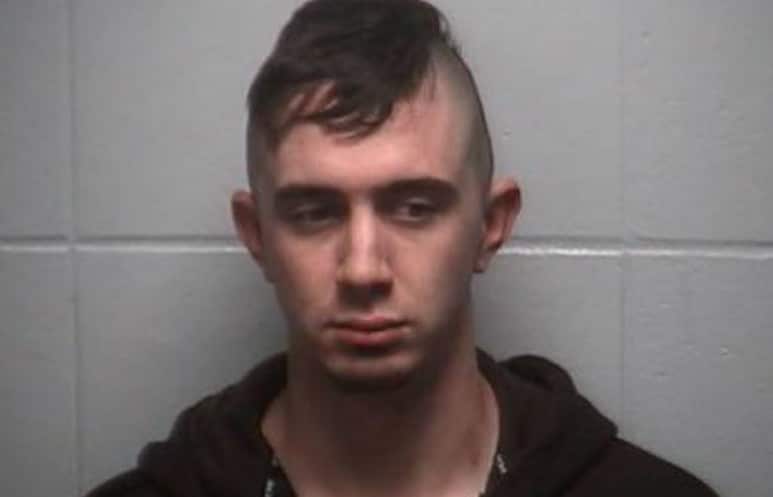 Dylan VanCamp: 'My girlfriend belongs to me and does what I tell her.'
Dylan VanCamp a 22 year old Wisconsin man has been arrested after waterboarding his girlfriend in a bid to find out whether the woman had cheated on him.
The incident according to a report via the smokinggun was provoked after the crazed boyfriend 'spotted' his on and off girlfriend 'speaking with a boy.'
According to a criminal complain obtained via WAOW the sicko covered the woman's mouth with a cloth before dumping three cups of water on her face in a bid to make her talk.
At the time, the creep had pulled his girlfriend out of the shower by her hair 'to get her to admit that she was cheating with the guy she had been on the computer with,' the woman said.
The woman had a 'hard time breathing and felt as if she was drowning,' according to Merrill cops.
Waterboarding is a much-debated interrogation method that has been used in the past by the U.S. to question terror suspects.
The incident, which took place in June, was one of many violent episodes reports the nydailynews where Dylan VanCamp became violent with her told the girlfriend in a criminal complaint.
Oh Yeah, This Guy Is A Real Prize Ladies… Man accused of waterboarding girlfriend he thought was cheating on himhttps://t.co/RShAbiofc2

— DissGifts (@DissGifts) March 1, 2016
Had no idea this was illegal. Still cool to waterboard anyone I suspect to be an illegal immigrant, right? https://t.co/v4gUIt7TNd

— Brian Malone (@julesdynasty) March 1, 2016
Other incidents of abuse included Dylan VanCamp punching the woman in the face in June of last year, and throwing a salad fork at her, which got stuck in her shin, in October. Van Camp also violently picked her up, causing her to hit her head on furniture.
'One thing has to go: a tooth or a nail,' VanCamp allegedly threatened her once, according to WAOW.
But it gets better.
According to the cited criminal complaint, while choking her, VanCamp is alleged to have said to the abused woman, 'I'm sorry. I'm sorry. I am not going back to prison.'
The couple dated from May to December last year, but never lived together.
Relenting the girlfriend told she was afraid to report VanCamp to the authorities.
It wasn't until with the urging of a state probation and parole agent that the woman finally went to cops this year.
And then there was this everipedia entry that made my eyeballs spin:
Although he has a girlfriend, Vancamp is active on the dating site PlentyOfFish. He says in his profile that he has a high school education and works as a lead technician. He is looking for "A first date that leads to a 2ed date." (sic) In the "about me" section, he writes: "I like out door stuff," to "live life," and says "I'm me no one else." 
VanCamp has since been charged with six felonies and three misdemeanors, including suffocation, battery, and stalking, for a series of attacks over their seven-month relationship.
 He is in custody and slated to appear in court on March 16.