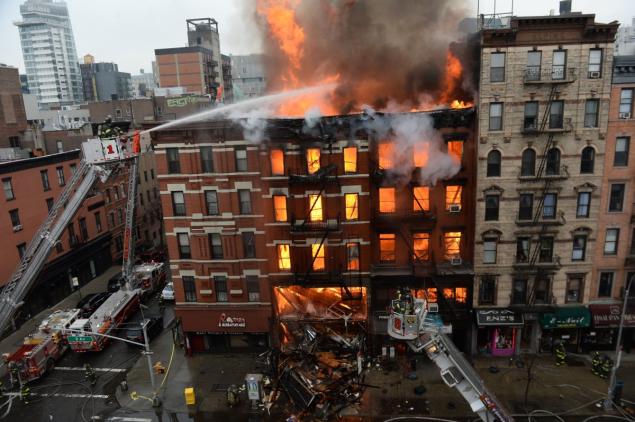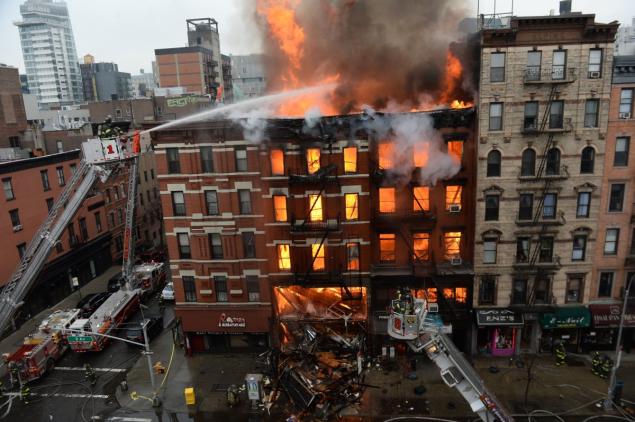 Landlord, Maria Hrynenko, 56, along with four other individuals have been indicted on charges of manslaughter, criminally negligent homicide, assault in connection to the East Village gas explosion in March, 2015, in NYC that killed two people, injured 22 others and leveled three buildings.
Also indicted by a Manhattan Supreme Court on Thursday was the landlord's son, Michael Hrynenko, 30; plumber, Athanasios Ioannidis, 59; contractor, Dilber Kukic, 40; and fifth man, Andrew Trombettas, 57, who faces the lesser charge of allowing his master plumbing license to be used by Ioannidis to perform work.
Other charges cited by the Manhattan District Attorney's Office also included the attainment of a phony plumbing license.
Sting pitches in for East Village Fundraiser gas explosion. Surprise guest stars in store.
The charges come after Kukic, whose construction firm did work on the property at 121 Second Ave. prior to the blast, was in the building with the owner's son, Michael trying to find the source of a gas odor in the basement when the room blew up.
Responding to the charges, Kukic's lawyer Mark Bederow offered: 'We intend to vigorously fight the charges,'
'People should keep an open mind. Because there was a tragedy doesn't mean there was a crime.'
Killed in the blast, were Nicholas Figueroa, 23 and Moises Locon Yac, a worker in Sushi Park restaurant located on the first floor of the building.
Told Maria Hrynenko as she was brought in Thursday morning, 'I'm a good person.'
Maria Hrynenko's lawyers hold that Con Edison bore responsibility for the blast for failing to shut off the gas during a visit to the property earlier that day.
Told Thomas M. Curtis last spring: 'Maria would not have sent her son in there if she knew the building was going to explode,'
'I think Con Ed is really culpable here for not shutting off the gas,'
'They could have shut off the main valve.'
5 Arrested in Connection With East Village Gas Explosion https://t.co/3cfMuEspwo pic.twitter.com/TVNbZzfqfU

— David Anderson (@worldsnews3) February 11, 2016
Told Mayor Bill de Blasio, in a statement after news of the indictment: 'The defendants showed a blatant and callous disregard for human life.'
Adding: 'We are heartened that today these defendants will be brought to justice and forced to answer for their criminal actions.'
The charges come after Kukic earlier pleaded guilty in an unrelated case for attempting to bribe a city building inspector, had performed plumbing work on the building where the explosion happened.
Investigators believe that the building's gas line had been improperly set up to feed more units than it was supposed during building renovations. A second, larger pipe had been installed in August 2014 to accommodate an increased demand for hot water, cooking and laundry dryers, according to sources cited by DNAinfo.
On the day of the explosion, Con Edison workers had been by the property to inspect the new pipe and found that it had been improperly installed.
It was after they left, investigators believe work was done to reinstall a bypass pipe which was improperly fitted, causing gas to leak.
About an hour later, Kukic and Hryenko went to check on the smell and that's when the building went up in flames.