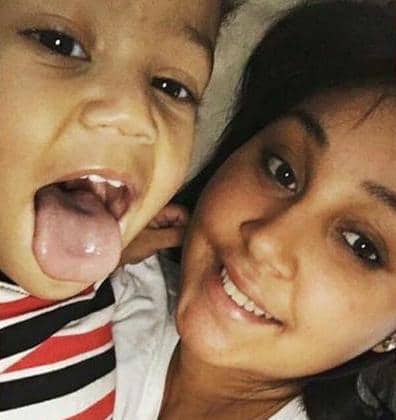 Tragedy has struck a Passaic, NJ family after 23 year old woman, Sashalynn Rosa and her one year old son, Messiah died as a result of carbon monoxide poisoning.
The death of the mother and son comes as the vehicle they were sitting in along with the woman's 3 year old daughter, Saniyah became intoxicated with lethal fumes as the woman's husband sought to clear a path free from snow. The three year old was rushed to hospital where she remains in critical condition. 
According to a report via ABC7, the family were returning home Saturday night when the father was unable to find a space to park the family car.
Forced to get out and shovel, the man's wife and two children sat inside the car which continued running to keep the man's wife and two children warm from the outside blizzard.
At 8pm the husband got out and began shoveling but some eleven minutes, at 8.11pm the man noticed his wife and children unresponsive, having suddenly lost consciousness.
Unable to detect that they were ingesting carbon monoxide, as a result of the gas being odorless, the mother and children gave no sign there was danger.
Unbeknownst to the family, snow had served to clog the car's exhaust pipe, effectively blocking the fumes from escaping and spreading back into the car instead.
A neighbor who lived nearby said she exited her home to find the husband frantically saying that his family was unconscious.
From there the man and neighbor attempted performing CPR on the children and mother. The neighbor told her nephew also tried to give the family CPR along with paramedics. However, she says the little boy had 'no life' left as he was not revived at all by their efforts.
Told the neighbor, Ivonne Figueroa: 'I know that the boy don't have life because he's like this and I try and try, and my nephew tried, and premedical tried, those people worked so hard. I tried to help the girl and I put my mouth on the girl's and paramedics worked so hard to save that kid.'
Paramedics pronounced the mother and infant son dead on the scene, whilst the 3-year-old girl was rushed to nearby St. Joseph's Hospital in Paterson where she remains in critical condition. 
Images via facebook