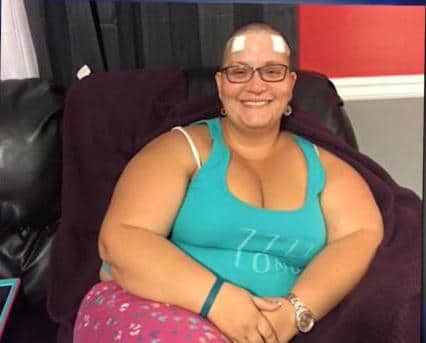 Mary Bennett a Georgia nurse has been arrested after faking cancer and scamming $25 000 in free trips, donations and gifts over a period of three years, after claiming she had cancer. Except the woman never had cancer to begin with.
According to a report via Inside Edition, the 29 year old fraudster told of being being diagnosed with Stage IV cancer in 2013, documenting her 'struggle' on social media as the woman told of being laid off from her job.
Yes kids, start sending off those checks forthwith.
One of Georgia nurse's posts included Mary Bennett writing about her 'quest' to fulfill her bucket list, which led to the woman being gifted a hot air balloon ride, skydiving jaunts and a trip to New Orleans.
In one instance, the woman was even able to get a fundraiser to pay her way to Houston, Texas with $4000 in donations so that she could receive alleged medical treatment.
Donation pages were set up in honor of Bennett's bucket list, detailing her plight with titles such as 'Moving Mountains for Mary'. 
Wrote the woman in one post on her facebook page: 'I just wanted to tell you all, thank you! I am so appreciative for the donations and the orders that people have placed,'
'It's certainly hard going thru cancer (sic) at any age. But for this to be the 2nd time in my short 27 years has certainly made me wiser and humbled'. 
Bennett, who had 'Ovarian Cancer Survivor' written on her Twitter bio, went so far as to promise friends and family she would repay their generous donations by paying it forward through her career as a nurse. 
To boot, Bennett also shaved and placed bandages on her friend (got to keep the scam looking legit), telling well wishers the cancer had spread and she had four tumors on her brain and brainstem, according to Forsyth County Sheriff's Deputy Epifanio Rodriguez.
Offered Rodriguez via The Atlanta Journal Constitution: 'Her family was completely in the dark,'
'She would go to these doctors and her family would take her, but no one ever actually went in with her. She was not actually having procedures…She went to the extreme.' 
Adding: 'She was going to the hospital and was not actually having procedures.'
 'She would have people take her, but she never wanted anyone going in with her.'
Authorities said there is no record of Bennett receiving any kind of cancer treatment anywhere. 
The woman's scam would eventually implode after an anonymous tip led to uncovering Bennett's lies.
Notes the dailymail: A felony first-degree forgery charge was added after officials said Bennett, who has already been charged with misdemeanor theft by taking, faked letters from a cancer institute claiming she was a patient. 
Rodriguez said the Emory Winship Cancer Institute had not only never treated Bennett, they had never even heard of her. 
Bennett's misdemeanor charge could be upgraded to a felony depending on how many more people have proof they were allegedly tricked by Bennett. 
Rodriguez said a dozen additional people have called saying they are victims of her alleged hoax.
How or why the woman came to believe her scheme could continue unchecked is yet to necessarily be understood. Then again perhaps all Mary Bennett really wanted is the attention and the idea of being a kind of icon?
Victims taken in by Bennett have been asked to notify authorities at 770-781-3038.
Isn't it time you orchestrated a national fraud scheme too?