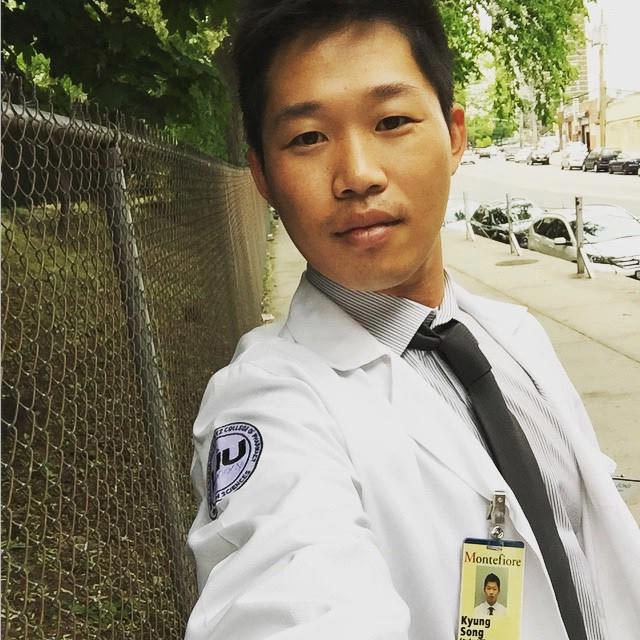 Kyung Song an Island Park, Long Island man has been with charged with DWI in Queens, NY after a fatal crash early Friday morning saw the man's passenger girlfriend immediately killed. Ironically the woman only moments earlier had pleaded with her speeding boyfriend to hit the brakes.
While the 29 year old Porsche driving man would survive relatively physically unscathed after plowing into a parked school bus along Sanford Ave near Murray st, in Flushing, investigators told that the man's female passenger never had a chance as she took the brunt of the collision.
## Update Nara An Kyung Song dead fiance had just flown in from South Korea
According to a report via the nydailynews, the front passenger side of the black Porsche Cayman was completely caved in. The $64,000 coupe's roof was sheared off and its hood peeled back to an open sky.
A report via newsday cites Song having told cops after seeing his girlfriend's condition as saying, 'I knew Alice was about to die. I wanted to kill myself.'
Song told detectives he tried to strangle himself with the string from his hoodie.
The Island Park, L.I. resident had a blood-alcohol content of .176 — more than twice the legal limit.
Porsche slams into parked school bus in deadly #Flushing crash https://t.co/skQGfpQloq pic.twitter.com/j72KGtPetL

— QueensCourier.com (@queenscourier) December 18, 2015
During investigations, the man told he downed six beers and three shots before leaving a bar with his girlfriend.
Song also admitted his girlfriend pleading with him to slow down as he insisted taking a curve at 33 mph when his 'tire slipped', propelling the Porsche into the back of the bus.
The incident has since led to the fast driving action man Porsche driver, who'd been studying to be a pharmacist hit with a slew of charges including vehicular manslaughter and driving while intoxicated. If convicted, he faces up to 15 years in prison.
Of note, court documents show Song was previously charged with drunken driving in 2008. He pleaded guilty and paid a $1,000 fine in that case.
Appeared in court Friday night Kyung Song was held on $750,000 bond or $500,000 cash bail and placed on suicide watch. He is due back in court on Jan. 7.
'I don't know anything,' his mother told the nydailynews. 'My husband went to the 109th (precinct stationhouse). I haven't heard anything from him.'
Offered local resident Lucrecia McKay, 56, who jolted awoke by the sound of a loud bang: 'I knew immediately it was an accident,'
'We came out right away and we saw the car underneath the bus.'
McKay said she noticed the driver pacing near his car.
Added the woman: 'He had his head in his hands. He looked very disoriented.'
McKay said she and her son went back to bed after the police arrived.
Told the woman after realizing the driver's girlfriend had been killed: 'It's really a tragedy,'
'They had the rest of their lives in front of them.'
Of note, Kyung Song's Facebook page features a banner photo of a black Porsche Cayman.
'Did u tint the window?' a friend posted.
'Yes sir,' Song replied.
'Hope you don't get pulled over', the friend responded.
Along with posting images on his personal facebook account of his beloved Porsche, Song was an active user of Facebook group 'Porsche Cayman Club,' where he also took to posting images of his black fast defying Porsche.