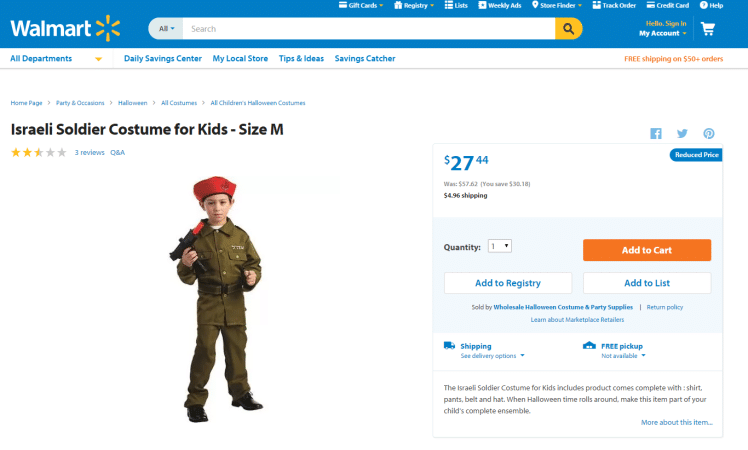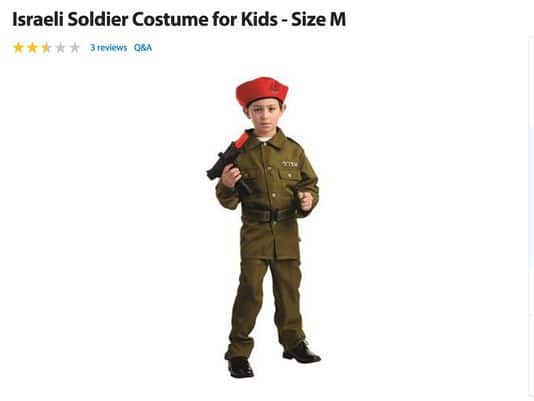 Retailer, Walmart has sparked outrage after notice that it is selling an Israeli children's soldier costume complete with a toy Uzi machine gun. The going cost? A mere $27.44.
Needless to say the Halloween costume has led to the retailer being taken to task.
Told one review, posted on Walmart's website, 'Costume of the Chosen Apartheid Army': Your little one can now go to his friend's house, and take over their bedroom, and all of their toys and claim that God has given him/her the right to take it.
'If the friend refuses, your little IDF soldier can respond with force, and if they fight back, claim anti-Semitism, the right to defend their new room full of God given toys and level the whole family and neighbourhood block!'
While another said: 'Might as well sell a Hitler outfit for children as well! Pitiful!'
Others took to Twitter to share their views on the costume, with many referencing the current violence between Israelis and Palestinians.
So little kids will be knocking on my door next Saturday saying, "Trick or… wow, your house is nice. Get out." https://t.co/ZmBhtRfths

— Amer Zahr (@AmerZahr) October 27, 2015
Fun! Dress kids as the #IDF 4 #Halloween, steal other kids candy, then egg their house & claim it was 4 security! ? https://t.co/2wmDjDWBYB — Laila El-Haddad (@gazamom) October 27, 2015
Perfect Halloween/Festival of Satan costume from Walmart? https://t.co/Ap7PU5BA3j pic.twitter.com/LmsBws2nfl

— Afshin Rattansi (@afshinrattansi) October 27, 2015
Social media users also pointed out the selling of a prosthetic 'Sheik Fagin Nose' by Walmart, which featured a stereotypical large nose on a man who appears to be an Arab.
Walmart to date has declined to respond to media overtures.