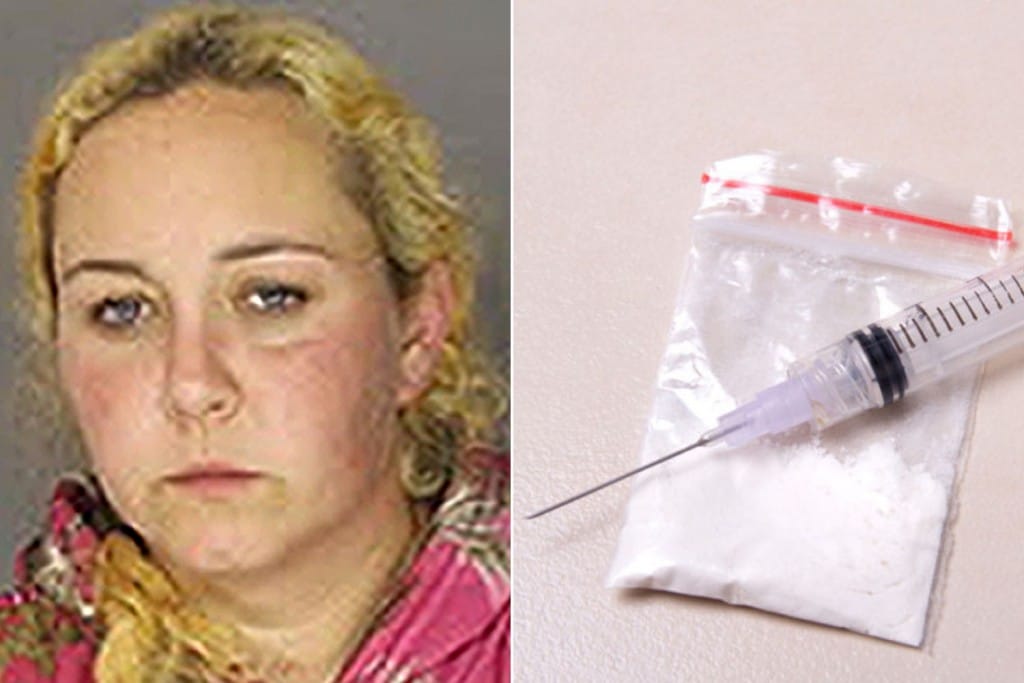 Mother, Jessica Lynn Riffey, 34, of Honey Brook, Chester County has been charged with endangering the welfare of children, corruption of minors, drug delivery, and related offenses after injecting two teenagers, including her own 14-year-old daughter, with heroin.
Chester County District Attorney Tom Hogan said according to a report via abcaction news, West Caln Township police were called to Riffey's home last Thursday to check on Riffey's 14-year-old daughter and a 16-year-old boy.
The teens told police that Riffey supplied them with heroin and had injected them with the drug on several occasions at her home in September.
During questioning last Thursday, Riffey admitted injecting the teens with heroin one to three times in her bedroom between July and September, according to an affidavit.
Reiterated Hogan: 'For both of these children, the defendant would actually tie off their arms so that the veins would pop out, and then she could inject them with the heroin.'
According to cops the children told the mother had more than once taken them to her bedroom to use the drug.
Explains philly: Riffey tied a string around their arms to make their veins pop out, then used a hypodermic needle to inject them with heroin. They said Burn brought the paraphernalia to the house and also supplied the children with heroin to snort, according to the criminal complaint.
A neighbor tells things escalated last year, beginning with the now 14-year-old having access to alcohol and marijuana.
That neighbor said Riffey had worked as a manager at a local restaurant. She now faces drug and corruption of minors charges and is behind bars in lieu of $50,000 bail.
Prosecutors said Riffey's boyfriend, Jameson Burn, has been charged in a separate complaint with drug dealing and other offenses.
The mother's actions have since elicited questions as to why a mother would endanger children, never mind their own child, to the use of drugs and alcohol.
Told Hogan: 'In law enforcement we get to see a lot of bad things. But this this level of depravity really makes you begin to lose faith in humankind. A mother is supposed to take care of her child.'
The mother's arrest has since led to the daughter now placed with her biological father, with some wondering if the man may have known what was going on at home and if not, why not?
Added Hogan: 'The 14-year-old is still going to have a rough road. She obviously will have to go through detox. She is with a family member, and we are hopeful that she can turn her life around.'
Causing pause for concern, the violated 16-year-old does not have a good family support system which led to County Services stepping in. The DA says the hope is to have as soft a landing as possible for both these kids, fully aware of the trauma inflicted.