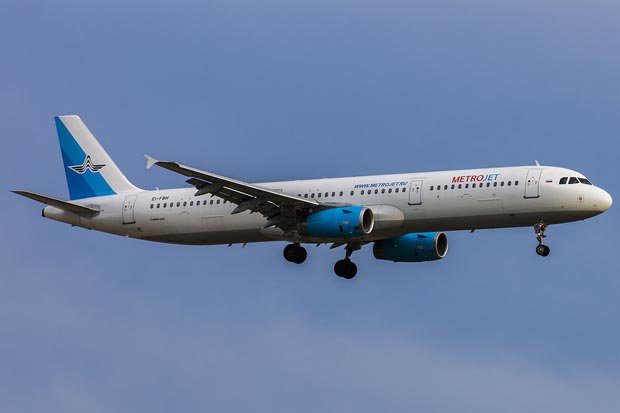 A Russian passenger plane flying under the charter name Metrojet has this morning crashed in central Sinai, after having taking off from Egyptian Red Sea resort of El-Sheikh bound for Russia's St Petersburg, with militant ISIS group now claiming that they shot down the plane.
The plane flying mainly Russian tourists, crashed 23 minutes after take off with the plane's pilot having called shortly after take off requesting immediate emergency landing rights citing 'technical' issues. At the time the plane's captain,Valery Nemov had attempted to land in Al-Arish's airport in North Sinai.
The plane, Kogalymavia Flight 9268 an Airbus 321 was carrying a total of 224 individuals, 200 of them adult passengers, 17 children and seven air crew. Of the 224 individuals, 221 were Russian, with three Ukrainian. 
While reuters quotes Egyptian authorities asserting the plane crashed due to a technical fault, there are now circulating reports that ISIS claiming responsibility for the Russian Metrojet passenger jet crash via twitter and on Arabic Aamaq website which acts as a semi official news agency for Islamic State.
'The fighters of the Islamic State were able to down a Russian plane over Sinai province that was carrying over 220 Russian crusaders. They were all killed, thanks be to God,' a statement circulated on Twitter said.
@AFP Claiming the Russian plane was shot down by Islamic Group. @ajam reported witnesses saw plane burning in air. https://t.co/iAPv4lytYx

— Peggy Polenberg (@PPolenberg) October 31, 2015
#Sinai IS branch claims responsibility for the Russian Plane Crash #KGL9268 #Egypt pic.twitter.com/tLnxGXLIUR — Mohamed Ibrahim (@Ipress_) October 31, 2015
To date Egyptian authorities having already recovered the bodies of up to 100 individuals, including all 17 children hold fears that no passengers survived the crash, despite earlier assertions rescue workers heard voices inside the plane which had been split in two.
Offered an anonymous source via reuters: 'There is another section of the plane with passengers inside that the rescue team is still trying to enter and we hope to find survivors especially after hearing pained voices of people inside.'
Adding: 'A lot of dead on the ground and many who died (were) strapped to their seats,'
'The plane split into two, a small part on the tail end that burned and a larger part that crashed into a rock. We have extracted at least 100 bodies and the rest are still inside.'
The source confirmed that the plane's black box flight recorders being found.
Egyptian security closed the location where the Russian airplane crashed #russianplane in Sinai pic.twitter.com/cgANjsdfSY
— Mohammed Omer  (@Mogaza) October 31, 2015
According to Sputnik International an official Russian news agency, air controllers lost contact with the doomed Russian passenger plane at 6.20 am CLT, less than 25 minutes after taking off in clear weather.
The agency added that the plane was flying at 31 000 feet when it disappeared from radars.
Russia 24, a  a state-owned news channel reported the pilot reported technical problems and requested a landing at the nearest airport before the plane went missing. Officials have not corroborated those reports. The crash comes after Russian pilots earlier this week purportedly complained of engine problems with the Airbus.
The plane, registration, EI-ETJ, was produced in 1997 and had been operated by Metrojet (Kogalymavia ) since 2012, doing 56,000 flight hours in nearly 21,000 flights.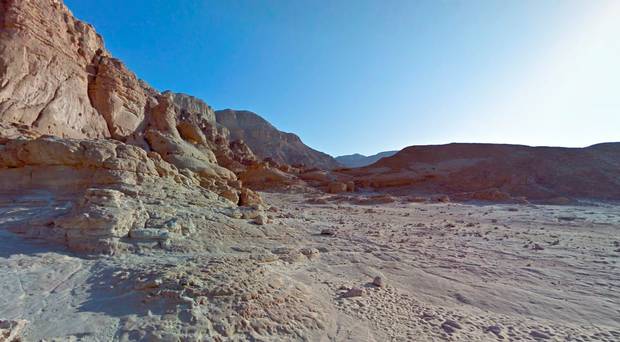 Oxana Golovina, a spokesperson for Kogalymavia, named the captain as Valery Nemov and said he had more than 12,000 hours of flying experience and asserted that the airline did not believe human error was at fault.
Told the spokesperson via a statement: 'Our aircraft was in full working order, our crew was experienced, our pilot had a great deal of flying experience, so we don't know (what caused the crash)'.
Russia's investigative committee, the country's top investigative body, has opened an investigation into the crash for possible violations of flight safety procedures.
Responding to the crash, Egypt's Civil Aviation Minister, Mohamed Hossam Kemal, said that the Russian Metrojet passenger plane had successfully undergone technical checks while at Sharm el-Sheikh's airport, while adding it was 'too soon to determine the cause' of the crash. There had been earlier concerns that the plane may have been shot down by ISIS affiliated terrorist groups in the region.
Previous reports allege militants having acquired Russian shoulder-fired, anti-aircraft missiles. That said according to a report via fox these types of missiles can only be effective against low-flying aircraft or helicopters.