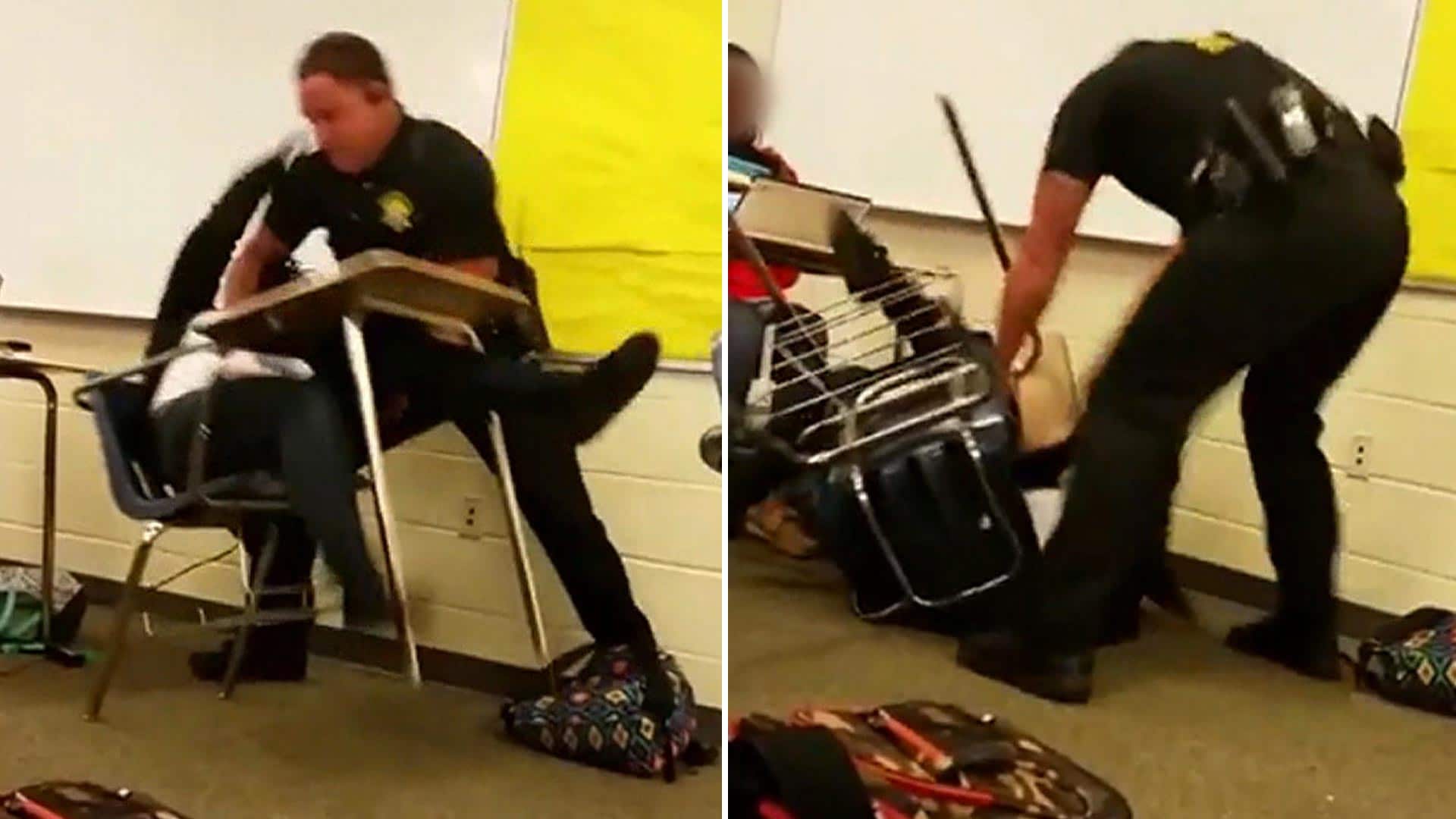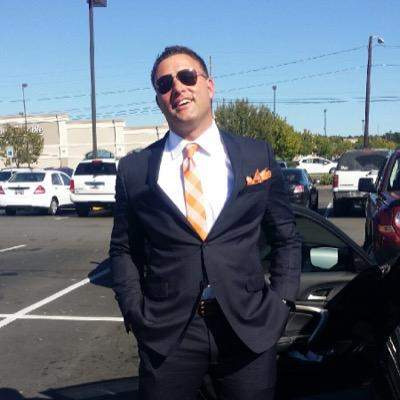 Going viral is a disturbing video (see below) at South Carolina's Spring Valley high in which a school officer is caught grabbing a high school student from her chair and knocking her to the floor before dragging her across the classroom.
The video filmed at a classroom on Monday shows the officer, since identified as Deputy Ben Fields grabbing the student by her arms whilst sitting at her desk and flipping her over, toppling her desk in the process. Not finished, Fields then drags the humiliated girl in front of the classroom.
Deputy Ben Fields: 'I have a history of acting roughly with black students'
Since put on administrative duty, according to Richland County Sheriff Dept spokesperson, Lt. Curtis Wilson, questions have been asked if Fields ought to be fired all together?
According to local TV station, WIST, the incident came about after the student refused to leave class. Why the student declined to follow directives is not necessarily understood.
Fields, according to Richland County Sheriff Leon Lott, was acting in response to the student, who was refusing to leave class.
'The student was told she was under arrest for disturbing school and given instructions which she again refused,' Lott said. 'The video then shows the student resisting and being arrested by the SRO.'
It was later revealed the student along with a male student in the class, were arrested for 'disturbing the peace.'
Reacting to blowback and condemnation as to the heavy handiness off the school officer, Libby Roof, a communications officer for Richland School District Two, told News19 officials were "deeply concerned".
'Student safety is and always will be the district's top priority,' Roof said in a statement. 'The district will not tolerate any actions that jeopardize the safety of our students. Pending the outcome of the investigation, the district has directed that the school resource officer not return to any school in the district.'
A group calling themselves the Richland Two Black Parents Association called the video 'egregious' and 'unacceptable.' 
'Parents are heartbroken as this is just another example of the intolerance that continues to be of issue in Richland School District Two particularly with families and children of color,' the statement said. 'As we have stated in the past, we stand ready to work in collaboration to address these horrible acts of violence and inequities among our children'.
Fields will not be back at any school pending the results of an investigation, Lt. Wilson said.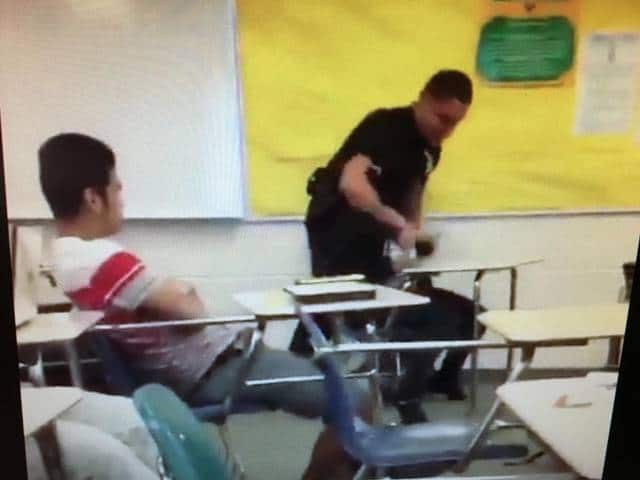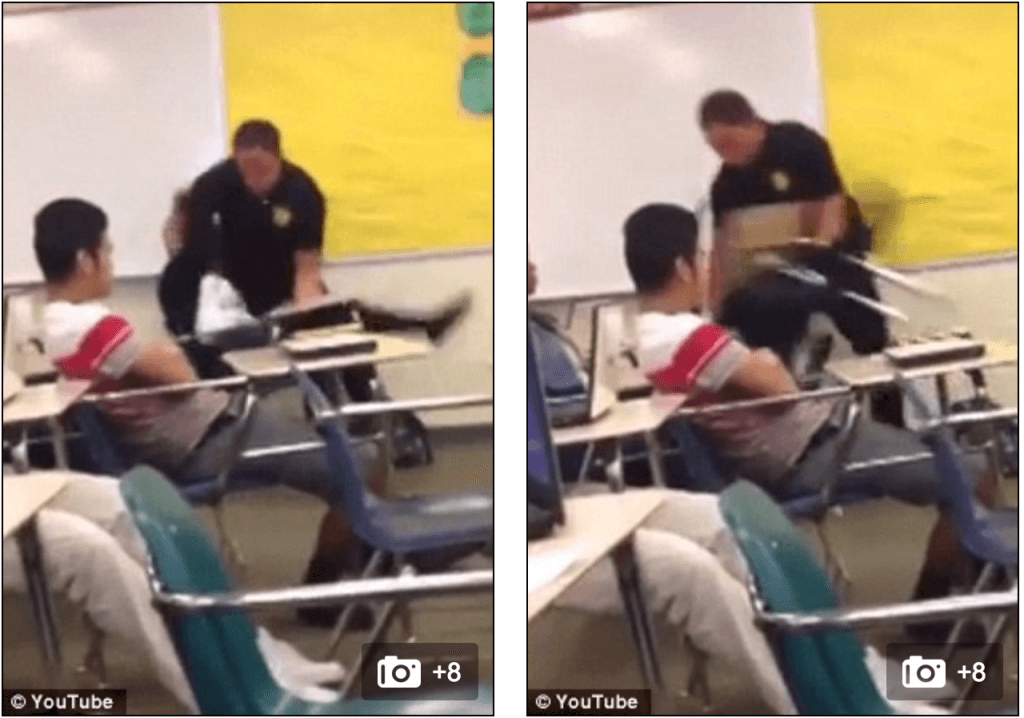 The issue has led to questions regarding how the existence of police officers on school grounds lead to bias and the overall subjugation and criminalization of black students, especially those from poor regions.
Reflects vox: So schools aren't just more likely to criminalize their students nowadays; they're more likely to criminalize their black students in particular. Some socioeconomic issues — black kids are more likely to be poor, and poorer schools tend to be more punitive — play a role. But subconscious racial biases play a significant role, as well.
What do you think? Did Deputy Ben Fields go beyond the call of duty? Could he have found another way to deal with the situation? And what if the student had been a white female? Would he have reacted in the same way and what does this say about attitudes towards colored children and the African American community in general? Or is that the media conflating an instance of a taxed officer 'momentarily' losing his cool? 
Or to put it more succinctly, would you be demanding for the firing of Deputy Ben Fields if this was your child being manhandled by school authorities?