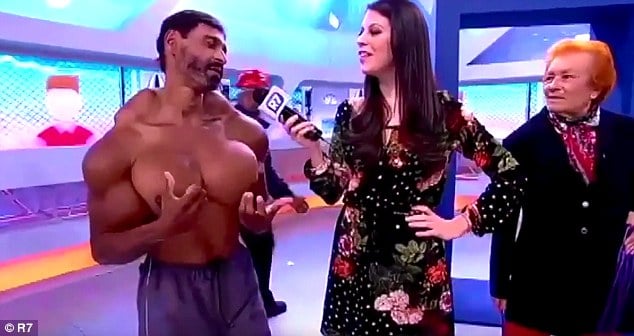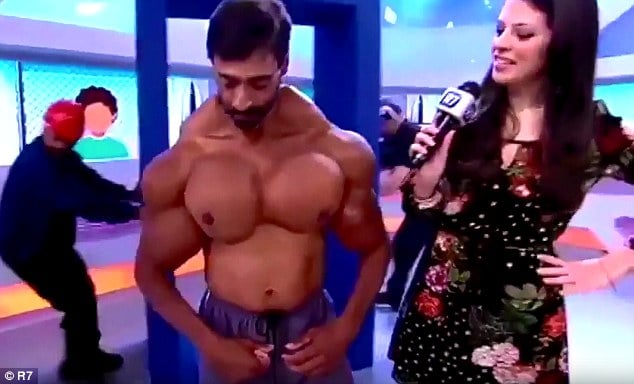 A Portuguese bodybuilder known simply as Valdir has caused disconcert after appearing on a local tv show where he showed off his 'whopping muscles.' Except rather than impress the show's host and viewers, the pumped up muscle man may have left all deflated.
Appearing on the show Portuguese TV show 'A Transformação Mais Incrível' (which roughly translates as 'amazing transformations'), Valdir proceeded to explain how he was fed up with people joking about how thin he was, which is when naturally he decided to bulk up.
That said not all great and big things come naturally as the man conceded 'maybe' being hooked to anabolic steroids and as some have suspected, a more dangerous enhancer called Synthol to exact the lopsided muscular the former thin Valdir has since exacted. A substance known for its risks of pulmonary embolisms, nerve damage, infections, strokes, ulcers and cysts.
That though didn't stop the show's guest flexing his inflated disproportionate pecs, traps and biceps to the bemused incredulity of the tv show's host.
Contemplated commentators on the web: 'He says he does not recommend it to anyone as well, but he loves it, that's why he does it,'
'He wanted to get big so he also used anabolic steroids and actually wants to get even bigger, especially in the legs.'
During the program the bodybuilder would emphasize that he was rather happy and proud of his body and glad that no one could call him 'thin' anymore …