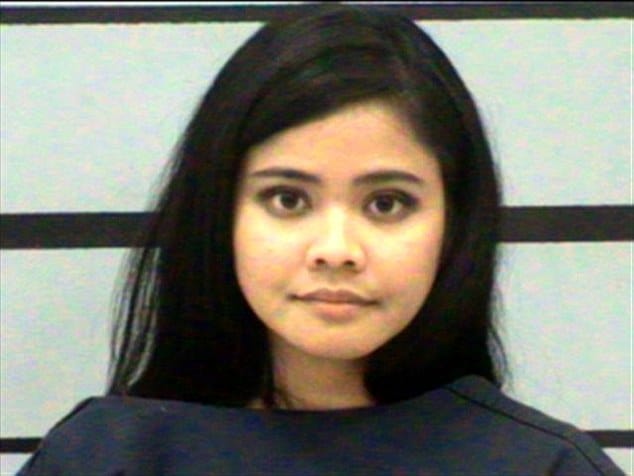 Rising 23 year old KCBD TV reporter, Patricia Janelle Cun Villacin has been fired by her employer after a hit and run incident in Lubbock,Texas.
The journalist was arrested after a witness saw the woman run over a man's leg before driving off in a KCBD van.
The victim, 24-year-old Taylor Hammond, was taken to local Covenant Medical Center where he was treated for injuries that were serious but not life-threatening. He has since been released.
The woman's failure to stop has led to Villacin according to a report via the Lubbock Avalanche Journal being charged with a third-degree felony count of failure to stop and render aid.
Since her arrest last Thursday, KCBD removed her bio page from its website, in the section listing reporters.
Dan Jackson, the station's vice president and general manager, gave A-J Media a brief statement, saying: 'We're fully cooperating with authorities and waiting for them to gather the facts,'
It is thought the removal of the woman's bio was a subtle gesture to effectively announce the woman's termination at the outlet or even a suspension. A detailed description was not offered.
Lubbock Police Lieutenant Ray Mendoza said she hit the man at around 6.30pm on Thursday at a pedestrian crossing near main road South Loop 289 and Slide Road. 
He added that the status of the traffic signals at the intersection was not immediately clear, Mendoza said. The crash remains under investigation.
Mendoza said a witness followed the vehicle and took down its license plate number.
Police located the vehicle at the station. Investigators took photos of the vehicle but left the SUV with the station, Mendoza said.
Villacin, who posted $5,000 bond on Friday, has been mum about the incident on social media.
Villacin graduated from Southern Methodist University in 2014 and interned for Dallas' WFAA-TV prior to joining KCBD-TV in January 2015, according to her LinkedIn page.
Of question is why the news journalist decided to run and not help the man she injured, an action some commentators have deemed remarkable given her until now recent professional mandate.