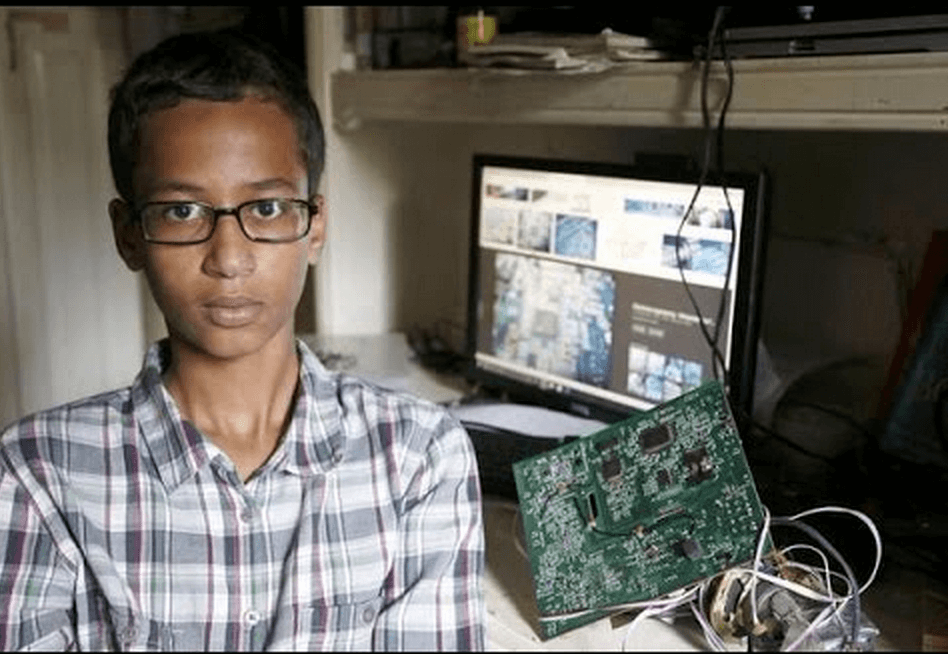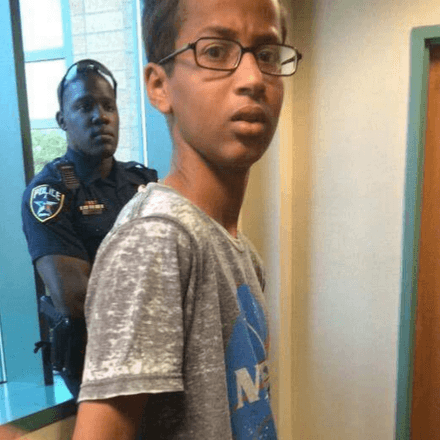 How #IStandWithAhmed became a rising social media trend challenging the banality of education, preconceived attitudes and unrelenting negative attitudes and perceptions…
Ahmed Mohamed, a 14 year old Irving, Texas, Muslim teen has been arrested after MacArthur High school authorities believed a clock device that the teen built and brought to the school was a bomb instead. A natural reaction when it comes time to anyone of Muslim origin behaving or acting in a way that would normally lead to a pass for anyone else. Or would it?
Ahmed Mohamed clock teacher: 'He has a future in crime'
The student's arrest came after the teen brought in a school assignment to show to his engineering teacher. Prior to Mohamed's arrest, the teen had been known for being proficient in electronics and showing off his inventor prowess.
He told the Dallas Morning News that he built the clock on Sunday in his bedroom in about 20 minutes, using a circuit board, a digital display and several wires. He enclosed the device into a pencil case with a tiger hologram on the front. 
Upon showing the device to his engineering teacher, the teen told the teacher responding:
'He was like, "That's really nice. I would advise you not to show that to other teachers."
He kept the clock in his bag, but it started to beep later in the day during an English class. It's then that the teen showed his clock to the teacher who said it looked like a bomb. 
He said he made the clock using a circuit board, a digital display and put it into a metal 'pencil box'. He said he did not lock the box as he 'did not want it to look suspicious'. Instead he secured it with a cable.  
Taken to the school principal's office, the school principal, Daniel Cummings claimed the teen's clock looked like a 'movie bomb'.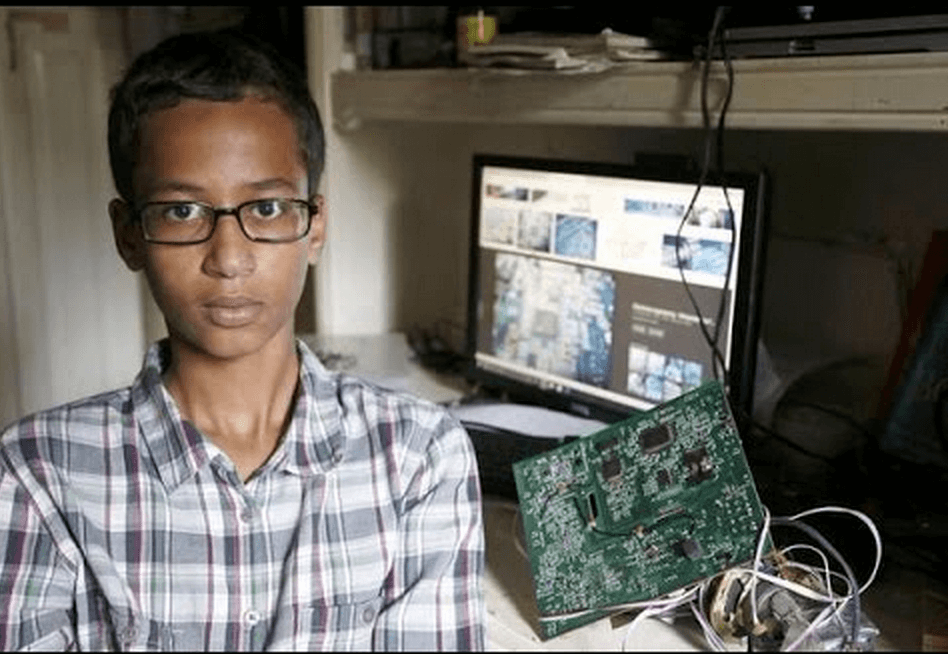 From there, police arrived where the teen was questioned, had his belongings searched before he was arrested,  and taken to juvenile detention along with being suspended from school. Images of the teen being led away in handcuffs would soon go viral.
Speaking after his release, Ahmed said: 'It made me feel like a I wasn't a human. It made me feel like I was a criminal.'  
Reiterated police spokesman James McLellan: 'We have no information that he claimed it was a bomb. He kept maintaining it was a clock, but there was no broader explanation. 
'It could reasonably be mistaken as a device if left in a bathroom or under a car. The concern was, what was this thing built for? Do we take him into custody?'
Suspended for 3 days from school, the teen has not been charged.
The Council on American-Islamic Relations has already spoken to lawyers in connection with Ahmed's situation. According to a report via cbs, the outlet tells the body said the incident is typical of the negative attitudes toward Muslims in Irving.
Reaction on social media has been overwhelmingly critical of the handling of the situation, whilst others have commended the school's 'quick response' to what could have been a dangerous situation, albeit with many questioning whether the teen's religious background is really what did the teen in? 
Since the harrowing and humiliating incident, Mohamed's family has asked campaigners to share the photograph of Ahmed been led away in handcuffs. 
A twitter hashtag #IStandWithAhmed has been trending prominently, with celebrities such as Wil Wheaton, who played a child science prodigy in Star Trek Next Generation supporting the teenager.
During the interrogation, Ahmed was not allowed to contact his mother or father and the authorities seized his invention as well as his tablet computer.
And here's a video on youtube that I came across that had me wanting to throttle the commentator and which betrays the prevailing attitudes. See what you think?
Students can carry firearms at colleges in Texas but a 14 year old can't make a clock. #IStandWithAhmed http://t.co/Y1Nsjld9TC

— Brienne of Snarth (@femme_esq) September 16, 2015
#IStandWithAhmed because it make me sad we live in a place where we assume danger/evil, because the color of ones skin. — Philip DeFranco (@PhillyD) September 16, 2015
#IStandWithAhmed because a principal who uses TV knowledge of what a bomb looks like doesn't get to rob this kid of his intellect.

— Davon Magwood (@davonmagwood) September 16, 2015
Aww look at those cute little white kids with guns. Wait, is that a Muslim boy with a CLOCK?! RUN! #IStandWithAhmed pic.twitter.com/Nsce7Z8kpk — Nikki Gloudeman (@NikkiGloudeman) September 16, 2015
The truth is that if he was white he would've been rewarded for what he made, not arrested #IStandWithAhmed pic.twitter.com/zZlcVRuTcB

— McBaŋɠ (@TheMcBang) September 16, 2015