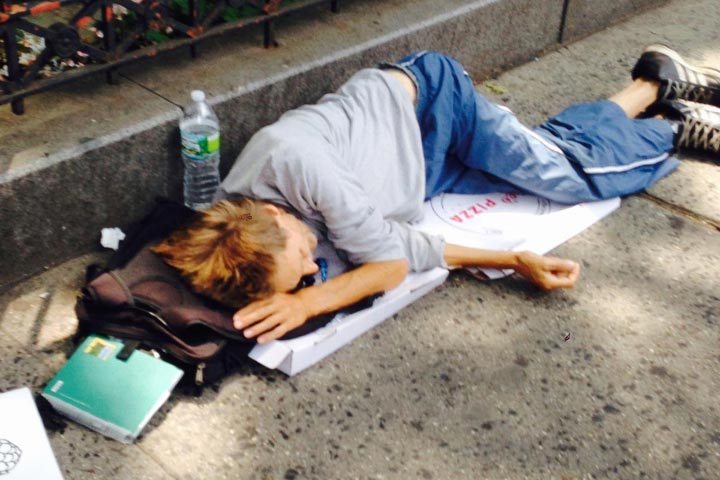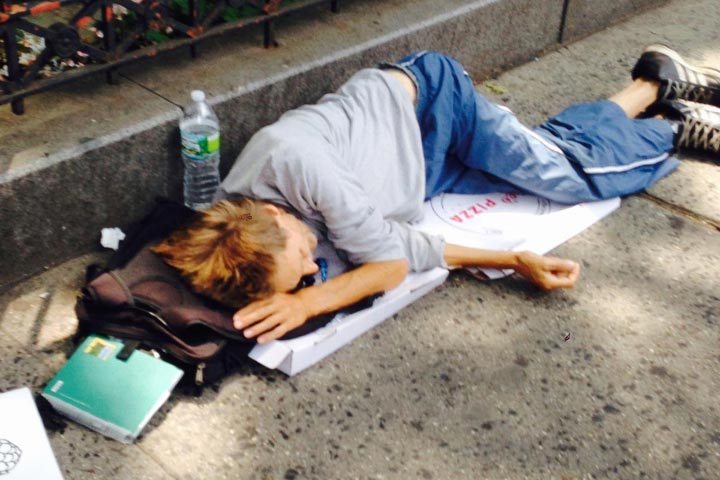 William Preston a former high flying stockbroker has this morning become the subject of fissure after an image of the former Wall street 'Wolf of Wall Street' pal of Jordan Belfort bad boy was seen in an image posted on the Sergeant Benevolent Association's Flickr account documenting down and out vagrants. So called quality of nuisance individuals according to a report via the nypost.
It wasn't until the man's down and out sister came across the image of her brother, that she decided to reach the outlet in the hopes of re locating her brother who had apparently once been a high flyer but pissed it all away on booze and coke.
Laments King's younger sister of her 52 year old brother who these days sleeps on cardboard pizza boxes on the street: 'The kid had everything at his fingertips,'
'Anything he wanted he could have.'
Added Kristine King, 45, whose last contact with her brother was in January after she threw him to the curb for refusing to get sober: ' Where he was then, and where he is now, sleeping on cardboard boxes, it's unthinkable to me and heartbreaking.'
According to Kristine, her brother back in the 80's had scored in the top 2% on the series 7 stockbroker exams, (despite earlier dropping out of school and NYU, notice the clues…), could speak 5 languages and used to live in a large Soho loft and drive around in a BMW.
But something fell apart inside Preston King. Whether the torment led to the drugs and excess or whether the excess leads to one's  eventual discord one can never say for sure. Either way, the heady times led to the destruction of the stockbroker's marriage and the inability to hold on to a job on a reality tv show, after one morning turning up drunk.
Kristine also tells the post that her brother had been seeing a psychiatrist who prescribed him Adderall (wise move?) which led to the addictive personality abusing that shit to the point of paranoia.
But enough was enough and the family eventually cut Preston off after the man was busted stealing cash.
Reiterated Kristine who tells us would give anything to relocate the brother she recently let skip back to the streets: 'I screamed at him about taking the money and told him to write me a letter and apologize when he comes clean, and we'll talk.'
And maybe that's the thing, maybe Preston King has got to want to get clean before re entering a productive life. Tough love they call it. But maybe the man is outright tormented and just needs a warm human being shoulder to cry onto and begin little by little to forgive himself and redeem himself as human beings are known to do with love and support….