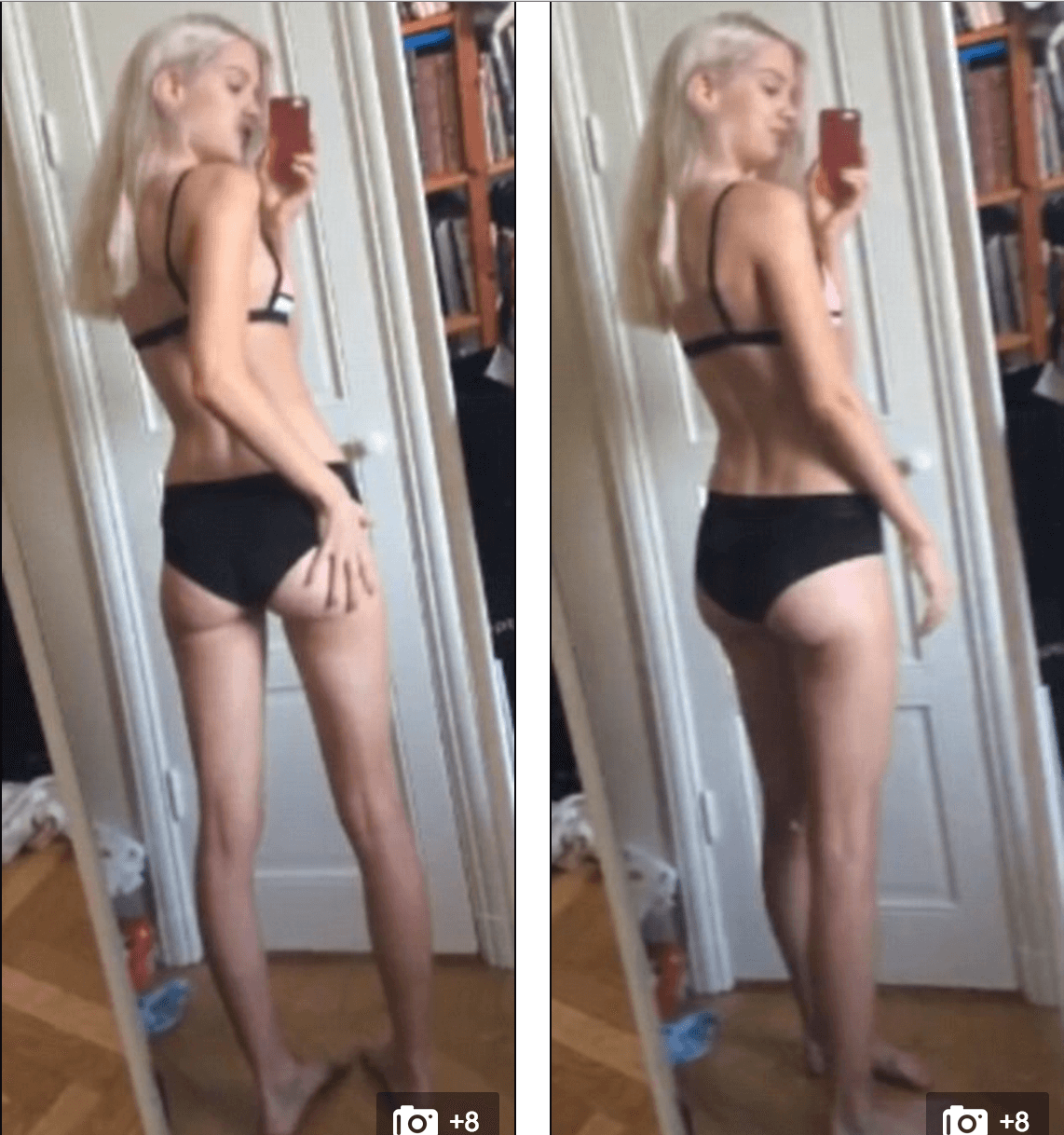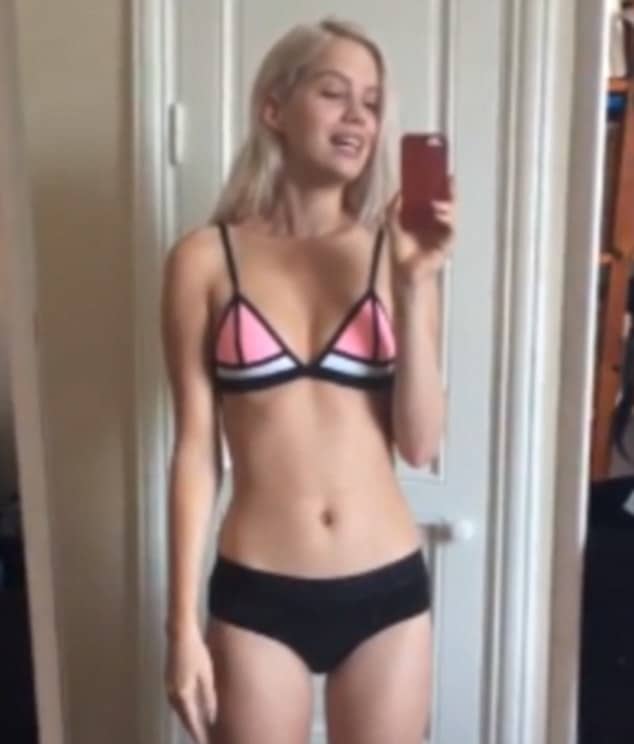 Swedish model, Agnes Hedengard has condemned 'absurd' standards in which the fashion industry has called into question the size of her butt and hips, branding her too big despite being classified as underweight.
Taking to social media, the 19 year old model from Arvika has revealed she has been forced to give up full time modeling as a result of struggling to get work due to her size.
Despite having a body mass index of just 17.5, the model told she has been remonstrated by agencies and clients to get into shape.
Standing in front of a mirror in her underwear, the model in a youtube video tells (see below) how after five years of modeling, work has dried up because of her size.
Relents the model: 'I don't get any more jobs since the industry thinks I'm too big.'
Pointing at her body, the teenager adds: 'They think this is too big. They think my butt is too big, and they thinks my hips are too wide.
'According to the modelling industry, you cannot look like this. You need to be thinner. 
'I have been in contact with big agencies and clients that really wants to work with me, but as soon as they get hold of my measurements, its a whole other story.' 
'They are like "no, she's too big", "she needs to get in a better shape, we will not work with her", "whoah, no, she's way too big".
At 5ft11in(180cm), the teenager has a Body Mass Index of 17.5 – with 'normal weight' BMI ranging from 18.5 to 25, this classifies her as underweight.
Reiterates the incredulous model: 'It's absurd and I hate it. And just want other people to see this. 
'You guys, I'm too big!', she adds, twirling in front of the camera. 'Too big for the industry!'  
Despite coming in third in Sweden's Next Top Model last year and being told she needs to lose more weight, the model reveals via Swedish mag,Veckorevyn she is no longer able to make a living from modeling, and now works as a sales assistant in Stockholm. 
Told the model: 'I can't get booked for any jobs, or I don't get enough to make a living out of it. Modeling is more like a part time job now.
'I gave [the modelling world] a shot for a year – I barely ate and counting calories was a daily chore. I have anorectic thoughts, but I fight them constantly.
'It's hard, but if you put all the energy you normally would waste on these eating disorter-thoughts towards instead loving yourself, the bad comments are like water off a duck's back.'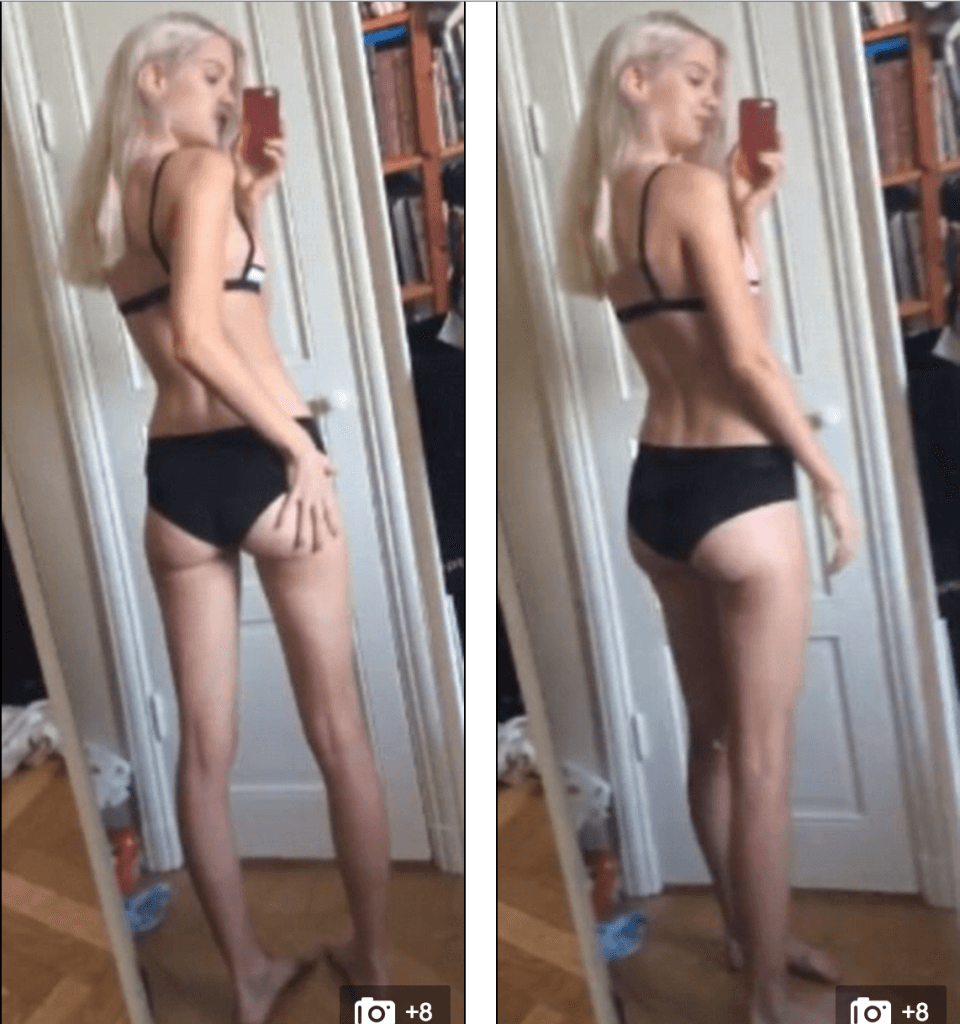 Last year, the Swedish beauty, then only 56kg(some 8st11lbs) to her 5ft11 body, wrote on her blog how she needed to lose 1-2cm around her waist and that her hips needed to 'shrink' from 91cm (35.8in) to 87-88cm (34in). 
She describes how she exercises every day to maintain her body, going for 50-60 minute runs and hitting the gym two to three times a week and follows a strict diet.
And then there were these comments on the web that caught my eye. See what you think?
If anything you can gain a few KG maybe 5-10kg and look even better in my opinion! If that's "to big" i don't want to see what is skinny
She's gorgeous. I guess the fashion industry wants prepubescent girls, girls who look like little boys. How sick is that.
Is it surprising that male designers would want to see females who have the shape of a child or young man? Disgusting yes, but not surprising.
Perfection. Of course this story is entirely to get publicity. Which has worked.