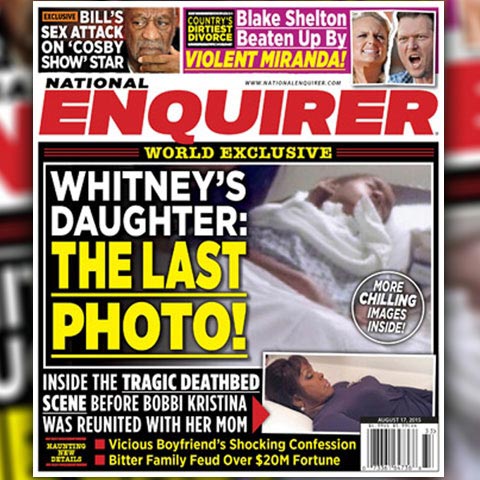 Tabloid outlet the National Enquirer has caused disconcert with the release Wednesday afternoon of Bobbi Kristina Brown death bed photo.
The image purports to show the late Whitney Houston daughter in the final hours of her life, with the tabloid tooting the 'leaked' image a 'world exclusive'.
The image shows the 22 year old daughter lying unconscious under a blanket in her bed at the Peachtree Christian Hospice in Georgia where her family decided to move her after doctors had said to expect the worse.
Bobbi Brown would finally succumb to her January 31 images over a week ago on July 26, with National Enquirer insisting that the above image was taken literally hours before Bobbi Kristina's passing.
The magazine cover also features a smaller photo of Bobbi Kristina's famous mother lying in her casket in 2012 after her own drowning death. The release of that image had initially led to widespread condemnation and a hunt for the individual responsible for leaking the image to the press despite the family's demands no such photos be leaked.
The latest leak raises the question how the tabloid came to attain the latest image and at whose hands and what 'fees' were paid to run the image?
According to rumors, the hospice picture was being shopped around for $100,000 before the National Enquirer acquired it. What fee the tabloid paid has yet to be disclosed.
According to the tabloid, the last photograph of Bobbi Kristina was taken just hours before her passing July 26.
After learning someone had taken a photo of Bobbi Kristina as she lay dying, Leolah Brown – Bobby Brown's sister – wrote on Facebook; 'Please know that, that picture that was taken of my niece, Bobbi Kristina was taken when NO other Brown was around her. My brothers KNOW this and we have already determined who we are sure it WAS NOT! And believe me-IT WAS NOT A BROWN!'
Adding; 'Meanwhile Bobbi Kristina is not comfortable with NOT ONE HOUSTON coming up there to see her! Yes, I said it because it's the DAM TRUTH! FURTHERMORE, BOBBI KRISS DOES NOT WANT PAT GARLAND [Houston] NOWHERE NEAR HER!!!'
The release of the deathbed snapshot is bound to intensify the feud between the Brown and Houston families, which have been locked in a fight over another photo of Bobbi Kristina, this one showing her lying in her coffin during her memorial service last week.
The yet-to-be seen picture of the deceased has reportedly been sold for six figures after a heated bidding battle.
Both sides are accusing the other of being responsible for inviting the unknown guest who allegedly snapped the picture.
TMZ reports that the photo was taken during Bobbi Kristina's viewing and that the winning bid topped $100,000.
It is not known which media outlet purchased the picture.