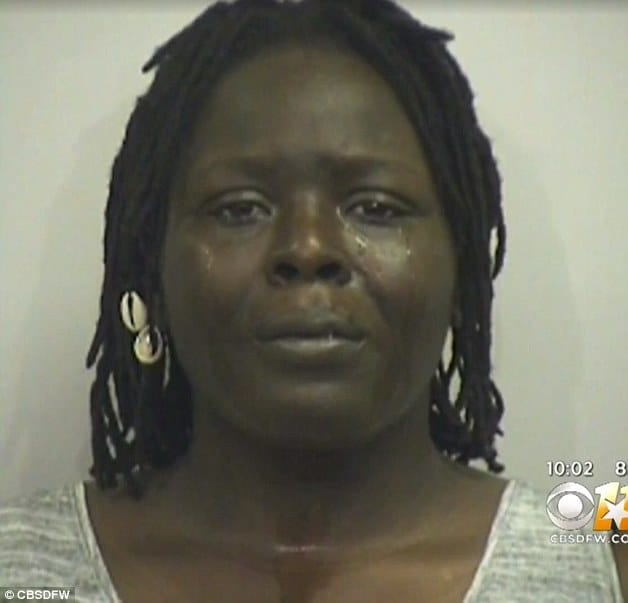 Texas mother Patricia Allen, 30 has been arrested after three of her children drowned in a swimming pool accident during which time the woman was 'distracted by her cell phone, texting' according to a witness and not watching her children. 
Irving Police Department documents revealed that the three children died as a consequence of not being able to swim after slipping under the water, resulting in their drowning last month. At the time the mother was preoccupied watching her two other younger children whom she had also brought for a day at the Irving apartment complex pool.
Discovered deceased were the woman's three children, 11-year-old Anthony Smith, 9-year-old Treshawn Smith and 10-year-old August Smith.
It was only after the mother began to scream for help that an apartment maintenance man along with others were able to mount a rescue effort by which time one of the children died at the scene whilst the two brothers died five days later.
Of contention is when the mother sought help, with witnesses saying that the mother was unawares that anything was amiss as she had her back to the pool, and only responded when witnesses noticed the children drowning.
According to two witnesses the three children were nowhere in sight and Allen was doing nothing when they entered the apartment complex pool.
Offered Officer James McLellan, with the Irving Police Department: 'They walked up to the pool and saw the mother sitting on the edge of the pool, looking outward toward the deeper end area of the pool and also observed that the water was still and calm, and no flapping or splashing or bubbles in the water. It was at that point that the mother stepped out.'
Added the officer: 'That was recklessness,'
'She should have known that was behavior that could have led to the result to it did.'
Responding to the criticism against her, family spokesperson, Anthony Bond said: 'Patricia Allen is far from a criminal. She is a loving, caring and one of the sweetest people I've met for the first time. And she's a grieving mother,'
'Everybody's saying that she's an irresponsible mother. Squash that! It's not true.'
Police say the children and Allen couldn't swim, but Allen's husband says the children could swim well enough to be in the water. Child Protective Services have since taken custody of the mother's surviving children, a 6-year-old and a 3-year-old.
The Dallas Morning News reports the swimming pool where the drowning occurred has a history of problems. City records show the pool has been cited for poor visibility and gates that did not latch.
Allen was charged Friday with injury to a child, a second-degree felony that carries a possible penalty of two to 20 years, stemming from the triple drowning. She posted $50,000 bond and was released from jail Saturday morning.
Police say the case remains under investigation.