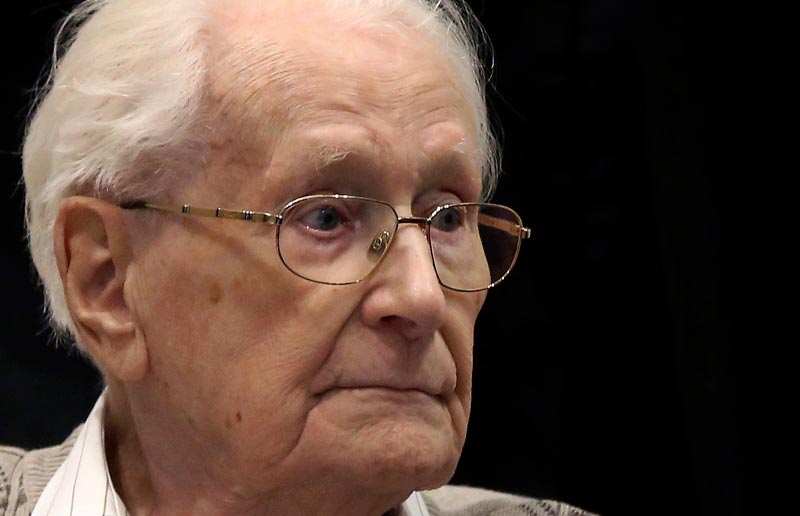 Questions have been raised with the sentencing of Oskar Groening, the former SS officer who became known as the Bookkeeper of Auschwitz to four years in jail for facilitating mass murder by a German court.
Today's sentence concludes a three month trial which has heard testimony from the victims of the Nazis' largest and most infamous death camp.
Eva Mozes Kor: 'Oskar Groening should not be prosecuted.'
While none of the victims were able to recall seeing Groening at the camp, the former Nazi was charged with being accessory to the killings because he was essential to the running of Auschwitz.
During testimony, Groening never denied he had served at the camp, even accepting moral guilt for his crimes, but had denied criminal responsibility on the basis that he was not directly involved in the killings.
Nevertheless Judge Franz Kompisch cast those arguments aside, holding the frail 94-year-old former then 21 year old accountant culpable for his role at the death camps during WW2, during which time the judge insisted that the former Nazi was 'guilty of accessory to murder in 300,000 legally connected cases' of Jews sent to the gas chambers' at the camp from May to July 1944.
The Judge told that Groening had willingly taken a 'safe desk job' in 'a machinery designed entirely for the killing of humans', a system that was 'inhumane and all but unbearable for the human psyche'.
As the proceedings concluded yesterday with the defense calling for an acquittal, Groening addressed the judges.
Begging for mercy, he stated he was 'very sorry' for his time stationed at the Nazi death camp, adding: 'No one should have taken part in Auschwitz.'
Adding: 'I know that. I sincerely regret not having lived up to this realisation earlier and more consistently. I am very sorry.'
This despite the fact that for all intents and purposes, as many have pointed out, the man in all likelihood had little recourse as a citizen and soldier of the Third Reich, which would of almost seen himself committed to a concentration camp or certain death had he not 'followed orders.'
In turn raising the question was the former self avowed and proud Nazi morally compelled to resist his position as deemed of him by higher ups? And if so, at what cost to himself and what could one argue for the balance of other operatives who came to take part during WW2 atrocities?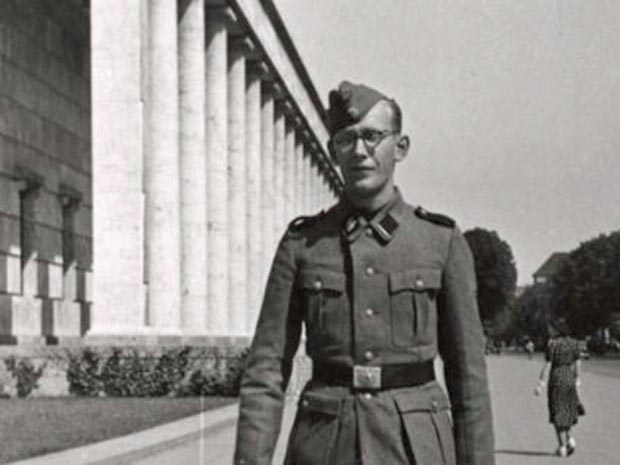 Giving ammunition to the fact that the former Nazi operative had found the actions at the facility morally repugnant, Groening had on three different occasions requested a transfer out of the camp during his 2 year tenor at the camp, only after his third request being granted a reprieve to head to the Battle of the Bulge where his unit was later captured by English forces, leading to the man himself to be imprisoned in a camp in turn.
Reacting to the verdict, Dr Moshe Kantor, President of the European Jewish Congress, said: 'We welcome today's verdict and the historic significance of the trial of Oskar Groening, and the opportunity it provides for to educate a generation that is all too distant from the horrors of the Holocaust. 
'Although more than 70 years have passed since the liberation of the Nazi death camps, this trial reminds us that there is no statute of limitations for those responsible for Nazi horrors and of the real and present danger of intolerance and demonstrates the constant need to guard against anti-Semitism, racism and hate.'
Holocaust survivors and victims' relatives who were co-plaintiffs welcomed the verdict, calling it a 'very late step toward justice'.
In a joint statement, they said: 'SS members such as Groening who took part in the murder of our families have created lifelong and unbearable suffering for us.'
'Neither the criminal proceedings nor the words of the accused can alleviate this suffering. But it gives us satisfaction that now the perpetrators cannot evade prosecution as long as they live.'
Groening was accused of 300,000 counts of accessory to murder in the cases of deported Hungarian Jews sent to the gas chambers between May and July 1944.  
Groening served as a bookkeeper at Auschwitz, sorting and counting the money taken from those killed or used as slave labour, collecting cash in different European currencies, and shipping it back to his Nazi bosses in Berlin.
He testified in April and again this month that he was so horrified by the crimes he witnessed at the camp after his arrival in 1942 that he appealed three times to his superiors for a transfer to the front, which was not granted until Autumn 1944.
Groening has acknowledged 'moral guilt' but said it is up to the court to rule on his legal culpability seven decades after the Holocaust. 
Prior to Wednesday's verdict, one of Groening's two defense attorneys, Hans Holtermann, argued that the state had failed to prove that he 'aided and abetted a crime'.
'Mr Groening was never an accessory to the Holocaust, neither with his presence at the ramp nor by transferring and counting money nor with any other actions, at least not in any legal sense,' he said.
Groening's defense team asked the judges to take into account the man's deteriorating health but also his willingness to testify in detail about his time in Auschwitz, which many defendants in similar cases had refused to do.
Today's decision comes despite Groening having previously been cleared by German authorities after lengthy criminal probes dating back to the 1970s.
But the legal foundation for prosecuting ex-Nazis changed in 2011 with the German trial of former death camp guard John Demjanjuk.
While previously courts had punished defendants for individual atrocities, Demjanjuk was convicted solely on the basis of having worked at the Sobibor camp in occupied Poland.
The head of the federal office investigating Nazi era crimes, Kurt Schrimm, told the Bild newspaper this month that other probes of former concentration camp guards were still ongoing, although 'many had to be terminated because the accused had died or were no longer capable of standing trial'.
Some 1.1 million people, most of them European Jews, perished between 1940 and 1945 in the Auschwitz-Birkenau camp before it was liberated by Soviet forces.
And then there were these comments on the web that made me wonder, see what you think?
71 year after he helped kill jews? He was a clerk, do you think he had a choice at being a clerk? do you think he could have decided not to join up and been a conscientious objector? they would have killed him, pathetic trial.
Convicted for the crime of outliving those who actually committed the crimes. A sad day for everyone.
This is wrong. He was an office boy. He played no p art in the barbarity and asked three times to be moved out, but he was denied. Do you expect him to run away? They would have killed him. This is nothing more than publicity.
He chose to live and kill other, thats a choice!!!!! One die or 30 000. You always have a choice, even its believing you have no choice, you choosing to do nothing, or to go along with it to save yourself!
You ALWAYS have a choice? When was the last time someone said to you, you sign here, or you die. Nazi Germany wasn't a democracy, my dear.
Absolute rubbish, we all have freedom of choice, he chose to join the SS, he chose to work in a system design for mass slaughter, he chose to take orders and he chose to live with the blood of 10s of thousands on his hands.