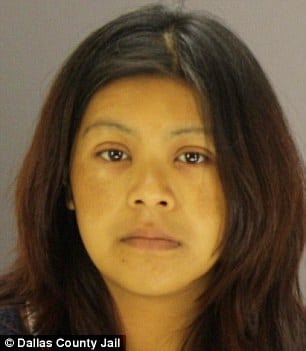 Luz Granados-Reyes a 25 year old Dallas, Texas woman has been arrested after allegedly killing her newborn child.
Since her arrest, the woman has been charged with capital murder of a person under the age of six, which means she could be punished with death.
According to CBS Dallas-Forth Worth, paramedics were called to a hotel in Addison, Texas on Sunday to assist a worker who had given birth in the employee locker room. They performed CPR on the baby girl, but were unable to save her life. Police were made aware of the situation and, after an investigation, arrested the mother.
How or why the child came to die has yet to be publicly disseminated, with authorities believing that the newborn baby's death attributable to the actions of the mother.
Since her arrest, Granados-Reyes was checked into the Dallas County Jail on Tuesday afternoon.
She is being represented by a local attorney who specializes in cases involving Spanish-speakers.
Her attorney was not available for comment on Wednesday morning. 
Jailhouse records shown Granados-Reyes remains behind bars, in a part of the county jail designed for housing mentally unstable inmates. 
Authorities have also told that it is not necessarily understood if Luz Granados-Reyes has other children and who the father of the deceased child may have been.
Her bail was set at $500,000. It is not clear when she will appear in court.
Cops are waiting for the results of the newborn's autopsy, and stressed that the investigation is still active.
At present it is not understood what may have motivated the mother to have murdered her newborn baby.