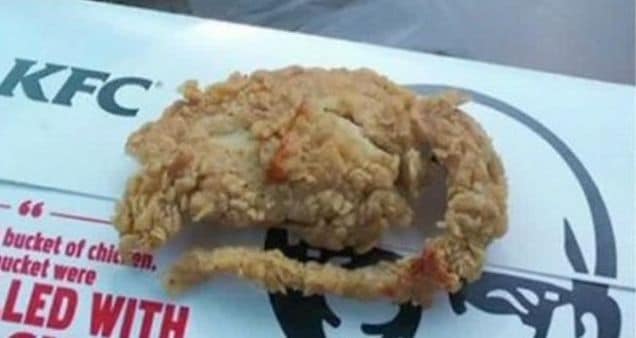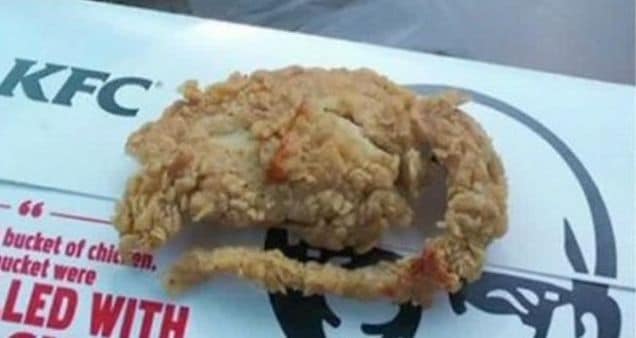 Making tabloid headlines this morning is California security guard, Devorise Dixon's assertion that a recent trip to his local Kentucky Fried Chicken (KFC) in Los Angeles turned out to be quite the mouthful after he inadvertently came to discover he had been munching on a delicious fried rat.
Explained the man via fox4kc: 'It was very nasty,'
'I spit it out. I looked down at my hand and I realized that it was in the shape of a rat with a tail and everything in it.'
Dixon posted photos and a video (see below) on his Facebook page, and he put the tender in the freezer.
He says he returned to the restaurant with photos and his receipt. Because what else would you do?
Reiterated the gypped customer: 'The manager actually freaked out, confirmed that it was a rat,'
'She apologized for it. They actually just offered me a free meal.'
A free meal which Dixon claims he declined.
Whilst the man may not want a free bucket of fried chicken he does want a large bucket full of KFC's money, after announcing that he has now 'lawyered up.'
In its defense KFC has insisted that Dixon is in essence bat shit crazy, tendering, 'our chicken tenders often vary in size and shape, and we currently have no evidence to support Dixon's claim.'
Reiterated the fast food outlet via CNN: 'KFC takes customer claims very seriously, and we are continuing to investigate this matter. Our chicken tenders often vary in size and shape, and we currently have no evidence to support this claim. We are aggressively trying to reach Mr. Dixon, and we request that he return to the restaurant with the product for testing, or call us at 1-800-Call-KFC,'
Adding: 'We have made various attempts to contact him, but he is refusing to either talk to us personally or through a lawyer. Nor has he come forth with the chicken piece in question for verification' which KFC offered to have done free of charge at an independent lab.
Dixon claims that single bite affected his appetite.
'It sent deep chills throughout my whole body! I've been feeling weird ever since. It's time for a lawyer, be safe don't eat fast food!'
Reports say Dixon has not gone to a lawyer or spoken to KFC officials, and this has now led to doubts over the authenticity of the photo.
What about you? Have you spat out a delicious fried rat's tail lately?