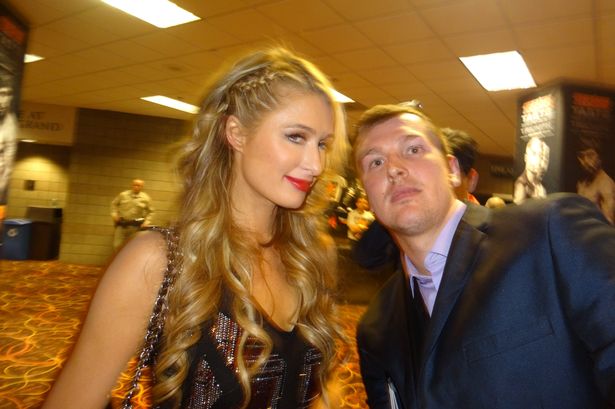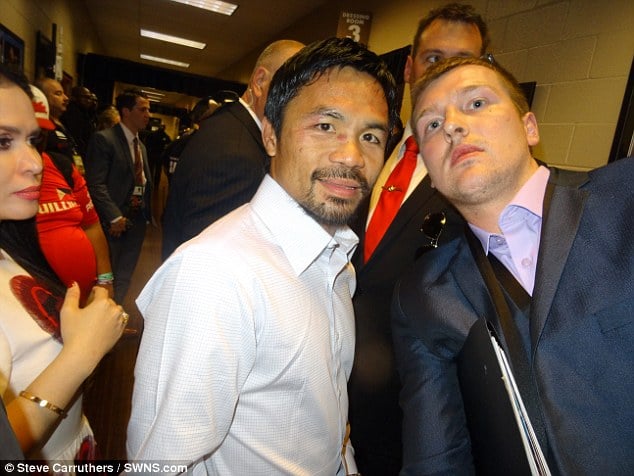 Here is a lesson for all you aspiring tabloid writers and hanger ons. Observe with ardent respect the wieldly panache of UK businessman Steve Carruthers who was able to 'blag' (smooth talk) himself VIP ringside access to both the Mayweather vs Pacquiao fight and VIP after party festivities.
Donning a suit and waiting outside the MGM Grand Garden Arena Saturday night the fearless interloper waited for the perfect opportunity to make his way.
Pretending to be part of passing Leonardo DiCaprio's A team posse that was now making its way into the VIP area the UK businessman managed to mingle with celebrities and jet setters alike where he was able to get selfies with Christian Bale, Donald Trump, Michael Keaton as well as Paris Hilton.
Told the blagger who must be fielding a cache of offers from any self respecting sleaze journal tabloid:
'I was outside and I saw Leo DiCaprio – he had a cap on and his sunglasses and head down so that nobody recognised him, but I did and followed him in.'
'I just walked in with him to the ballroom after tagging on with about six of his entourage.
'He went straight to the bar and that was where he took off his cap.
'He said he didn't do photos but he was really polite and shook my hand.
'He went towards the ring side so I just followed him in there and that was where I met loads of people and took a selfie with Mark Wahlberg. He was really nice.'
But if that wasn't enough, the businessman thought he'd try his luck again after the fight after he once again stepped past security guards (oh the memories are flooding back ….) by joining accredited journalists to wait outside Floyd Mayweather's and Manny Pacquiao's dressing rooms.
It wasn't upon snapping a pic with Manny that the blagger got rumbled by MGM security when he now asked Mayweather for an autograph.
Unbelievably the boxer vouched for the business graduate, telling the security guard: 'I've got him.'
Indeed and how!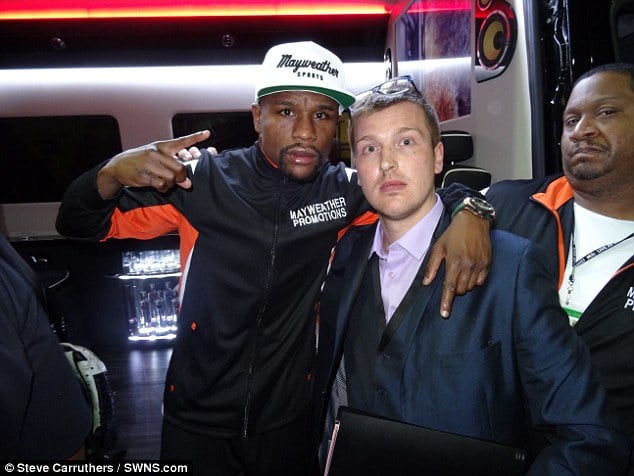 Told Steve Carruthers who was on a 6 week business trip in the US:
'It was quite hard. You've got to have the balls to do it.
'If I was in jeans and trainers I don't think it would have worked. Everyone was suited and booted so I just blended in.
'Leonardo DiCaprio said he didn't do photos, but he was really nice and polite and gave me a handshake.
'Mark Wahlberg was really friendly. He did a shout out to my friend to my phone.
'I took a selfie with Donald Trump with both of us pulling silly faces, and Manny was really nice considering he had just lost the biggest fight of his career.'
Interestingly Carruthers already had himself a $3,000 ticket in block 208 to watch the fight, but donned a suit in the hope of blagging a MILLION dollar ring side view. Which of course he did after the 12th round (yes persistence will always pay off…)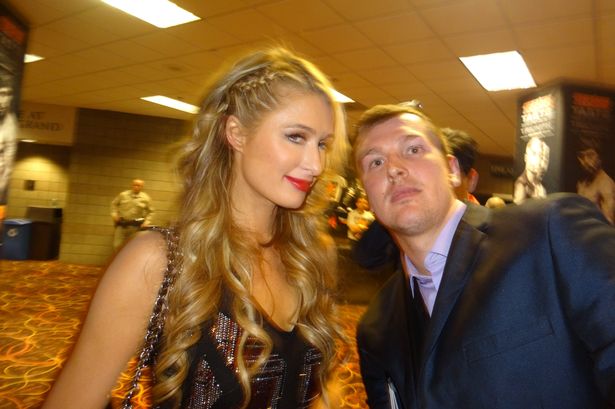 Braving entry into the after party in the VIP area the cunning blagger told:
'There was about four other people there already with their accreditation badges around their necks – so I just walked through and evaded security,'
'I just waited outside their dressing rooms and just avoided eye contact with anyone.
'Manny was the first one to come out and I took a photo with him.
'He was really nice considering he had just lost the biggest fight of his career
'Nobody was asking who I was so I just stuck around and waited for Floyd to come out.
'He was really cool and had a huge entourage.
'I asked him for a photograph and also an autograph and I was walking with him.
'He said it was ok to walk along with him, but he had to go do an interview right then.
'The MGM security said I had no accreditation on, but he said 'I got him' and said it was fine, he said 'just leave him, don't worry it's fine'.
"He said I could come and watch the press conference so the MGM guy had to just leave it and he said 'don't worry, I've got you'."
Cheeky Steve, who has now flown to LA for three weeks, added: 'After the interview he was like 'let's go do the photos outside'.
'I got one and I was going to leave it but he got security to take quite a few photos.
'He was really, really nice.'