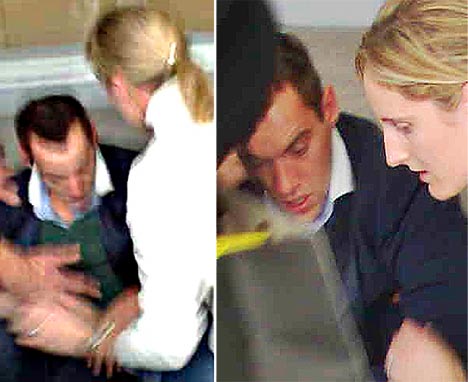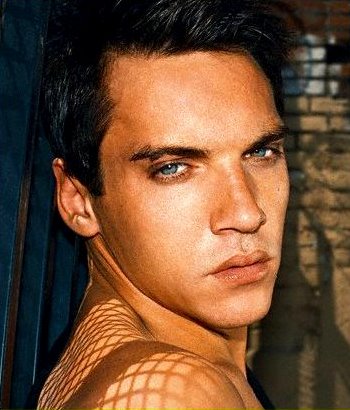 It seems not all is well in the camp of Jonathan Rhys Meyers, 37 who was spotted over the weekend drinking to abandon along the streets of London.
Wearing a stained t shirt inside out, an open red jacket along with tattered jeans and his zipper undone the Tudors actor was spotted carrying a crumpled brown paper bag of the good stuff as he nonchalantly freely set about drinking his woes away.
Pictures of the actor show him with bloodshot eyes and pleading to baby Jesus for the paparazzi to go away as he wavered about visibly publicly intoxicated.
The actor's public display of debauchery/misery has given rise to rumors that the former alcoholic recovery addict has fallen off the wagon in lieu of his well publicized battle with addiction.
According to the UK's dailymail the actor checked into Promises in Malibu, California in 2005 seeking treatment for alcohol abuse, before returning for treatment again in 2007. 
On 27 February 2009, the actor checked into rehab a third time, checking out less than a month later on 15 March 2009.
Things would get hairy for the actor when in November 2011 he was ordered by a French court to pay a restitution of €1,000 and was given a judgment of a suspended sentence for public intoxication 24 months earlier.
How did talented hunky actor go from hunk to drunk. So sad! http://t.co/5XIOEL5CJW pic.twitter.com/9TrZmsMws7

— Daily Express (@Daily_Express) May 17, 2015
I'm disgusted w/ papers that published pictures of Jonathan Rhys Meyers drinking. Alcoholism is a disease, not a quick way to shift papers — Gee Linford-Grayson (@GeeLinfGray) May 18, 2015
Those pictures of Jonathan Rhys Meyers drinking are incredibly sad… Also, it doesn't feel right to even look at them…

— Jennifer O'Brien (@Jen_OBrien1) May 18, 2015
The pictures of Jonathan Rhys Meyers are really sad. We all walk a very thin line. 😟 http://t.co/W2pJqBZd9F pic.twitter.com/iuE902UfpJ — Phil Mathers (@hairydoughnut) May 17, 2015
Shortly after his mother died in November 2007, Jonathan gave an interview in which he insisted his drinking had been 'blown out of all proportion.'
'I haven't even thought about drinking since my mother passed away. Drinking is not the way forward for me at all,' he said. 'I never even drank till I was 25 anyway. I was in Thailand on my own, filming. I was a little bit lonely and I started drinking.'
'Since I was 27 I must have drunk maybe a dozen-and-a-half times – but when I do, I'm like Bambi. I'm all over the place, hopeless, like a 16-year-old kid. People notice.'
'Now drink doesn't fit into where I want to go. I want to do something useful with my life. Drinking is not synonymous with that. And I don't put any emphasis on it. 
'To be honest, I just leave it alone and hope people will, too, but I don't really care. The whole drinking thing with me has been blown out of all proportion anyway.
He added that the public's perception of him is all wrong:
'I kind of like people having this idea that I'm this wild, rebellious guy. But the reality is that I'm not, and I'm not quite sure I want to reveal how boring my life is. Of course, as a young Irish actor you're tarred before you start. It's the enduring cliché.' 
In December it was reported that the actor had proposed to his girlfriend Mara Lane after just seven months of dating. It is not necessarily understood how that relationship is progressing and whether any potential conflict has led to the actor hitting the bottle again?
Despite his problems, the actor has kept up a steady stream of acting jobs, starring in the TV series Dracula while he had four movies currently in development. Or does he?
Interestingly the actor's publicist has declined media overtures for comment…