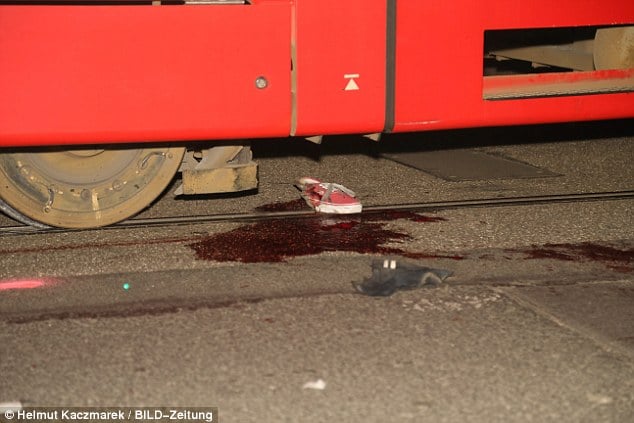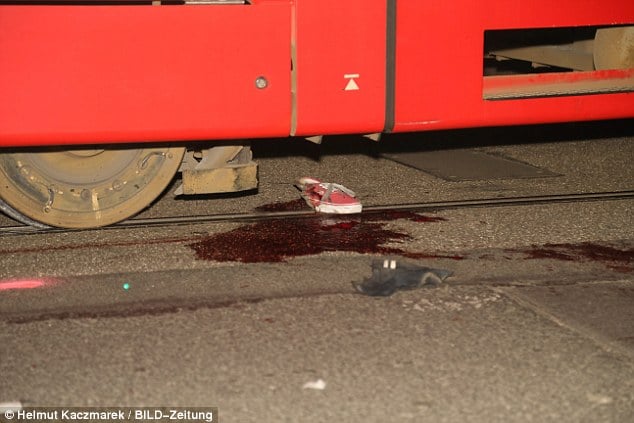 Jan Norman a 20 year old machine apprentice from Dortmund, German has lost an arm and both legs after being dragged for more than two miles by a tram after getting caught between two cars.
According to local reports the man became trapped upside down between the number U43 tram couplings after attempting to alight, becoming trapped by the axle and dragged as the tram moved forward.
Unaware that the man had become trapped the tram proceeded to make six more stops over the next ten minutes before the screaming man was discovered.
The incident would leave him bereft of an arm and having to have both legs amputated after both came to be mangled.
Told a medic: 'It was a terrible sight to behold. The poor guy had literally been flayed alive during this nightmare. It was heartbreaking.'
The incident has now led to German police investigating why no-one raised the alarm.
A friend who had been with Norman had screamed after the tram: 'My friend is dying! For God's sake stop!'
He later had to be treated for severe shock.
Jan Norman screamed in agony, but passengers later claimed they could not hear him because of the noise of the tram as it rattled through the streets. 
A pool of blood would later be collected at each of the six stops. 
One traveller later told police that she heard someone screaming but could not locate where it was coming from and assumed it was a street fight.
No alighting or departing travelers saw him, nor, apparently, did anyone walking along the road as the incident came to happen late at night.
It wasn't until the sixth stop that newspaper kiosk owner, Celal Emliki finally saw the man.
'I immediately ran to the tram and banged on the sides for all I was worth,' he said.
The tram was moving off to the seventh stop when passengers aboard reacted and pulled the emergency stop lever.
Police and medics arrived at the scene shortly afterwards to free him, by then Norman was no longer conscious. 
Told the man's mother Silke: 'I fear for his life. My boy was going off to enjoy himself with a friend. 
'I am at a loss to understand how the tram could have continued along its route with no-one stopping it.'
Police have since told that the tram driver is not considered a suspect.