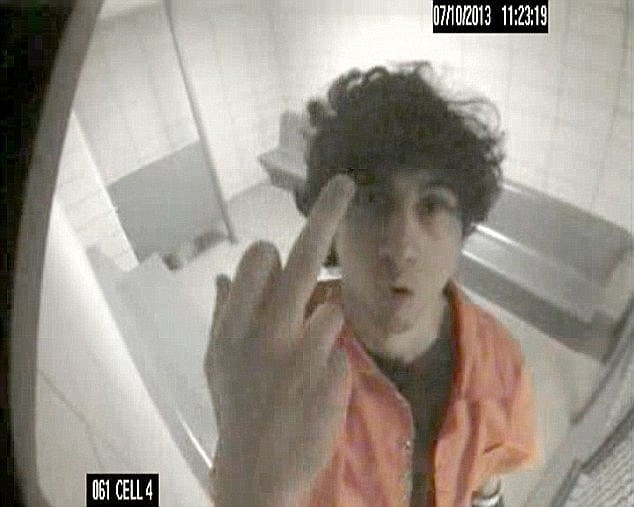 A jury has this afternoon elected to sentence Boston bomber Dzhokhar Tsarnaev to death for his role in the 2012 Boston Marathon bombing  which saw three killed and up to 260 injured.
The 21 year old's sentencing comes after Tsarnaev was convicted last month of all 30 federal charges against him, 17 of which carried the possibility of the death penalty.
The decision of whether Dzhokhar Tsarnaev would serve life behind bars without parole or face the death penalty was given to the discretion of the jury.
Leading up to the jury's decision this afternoon the prosecution told that was a swathe of aggravating factors against the man, including the fact that he had extensively planned the attack, had purposefully targeted a child and had acted in a heinous and cruel manner with no remorse for his actions.
Defense lawyers insisted that their client deserved life in prison only, blaming Dzhokhar's older and since deceased elder 'radicalized' brother, Tamerlan Tsarnaev as the ringleader.
They would also tell that their client's age of 19 at the time of the crime should be considered as well as his lack of criminal record.
During closing arguments, Tsarnaev's defense reiterated that 'Dzhokhar is not the worst of the worst, and that's what the death penalty is reserved for – the worst of the worst.'
Attorney Judy Clarke added that the 21 year old Boston bomber is 'genuinely sorry for what he's done' and has 'the potential for redemption'.
The defense would also argue that their client's actions were not grounded in an act of obvious terrorism or to with an agenda of political rebellion.
Prosecution lawyer Steve Mellin would counter that Tsarnaev's actions 'earned him a sentence of death'.
Offering: 'The defendant knew what kind of hell was going to be unleashed.' 
With the death sentence, Tsarnaev's case will automatically be appealed to a higher federal court. That likely begins a series of appeals that could take years to resolve.
The federal government currently has a moratorium on all executions, and has not executed a death row inmate since 2003.
Since news of the death sentence, Dzhokhar Tsarnaev's father, Anzor Tsarnaev who lives in Dagestan, Russia is said to have 'moaned deeply on hearing the news and hung up.'
Zubeidat Tsarnaeva, Dzhokhar's mother, has in the interim insisted on her son's innocence and called American authorities 'terrorists' for imprisoning her son.
Dzhokhar would upon having his death sentence served would be escorted in the custody of US marshals emotionless, as he coolly greeted the news of the jury's judgement of him.