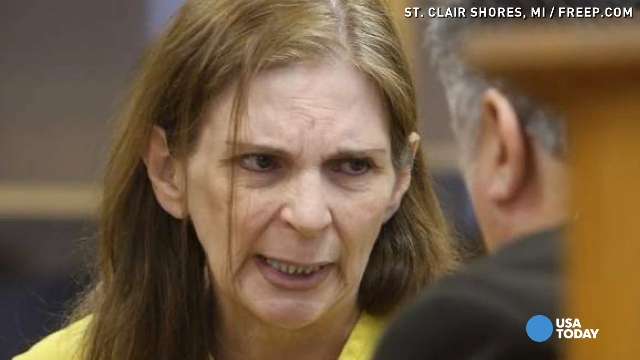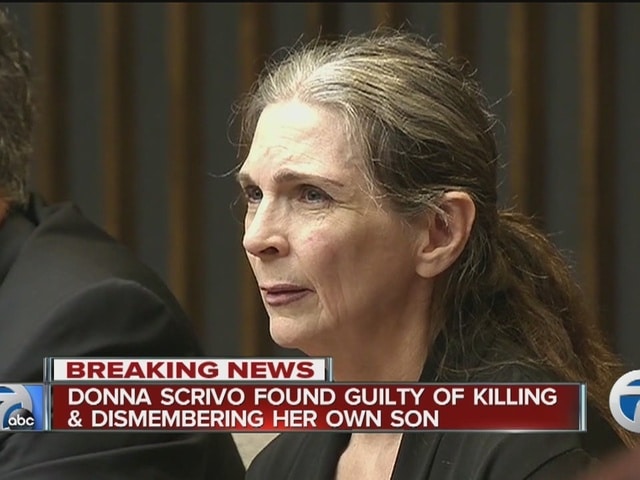 Donna Scrivo a 61 year old widowed mother has been found guilty of killing and dismembering her son, convicted of first degree murder.
Yesterday's unanimous decision by the Macomb County Court jury comes despite the mother's testimony that a masked armed intruder killed her son and kept him hostage for five days.
Things first came to a head when Scrivo, a registered nurse filed a missing person's report in January 2014, asserting that her 32 year old son Ramsay Scrivo left their St Clair Shores family home and failed to return.
Five bags containing his body parts were found a few days later in St. Clair County, northeast of Detroit. An electric saw was in one of the bags.
According to prosecutors, Scrivo drugged her son with Xanax, strangled him and dumped his body in a bathtub.
Argued Assistant Prosecutor William Cataldo in closing remarks of the mother's assertion of kidnapping: 'You either believe that … or you believe the physical evidence,' Cataldo said.
Defense lawyer Mark Haddad in turn had argued that none of Ramsay Scrivo's DNA was found on his mother. 
Haddad also said his 110-pound client couldn't lift the body of her 235-pound son into a bathtub, imploring jurors what reason she would have for killing and mutilating him.
Told Haddad: 'She would have to be the stupidest murderer in the world unless she was forced,'
'Unless she was directed at gunpoint to do these seemingly stupid things.'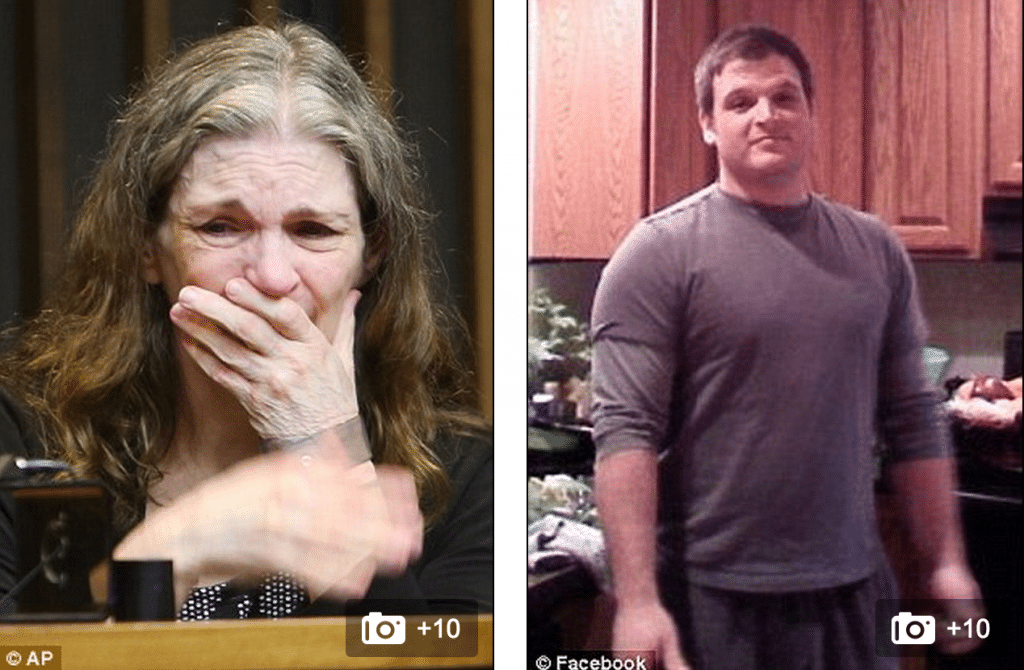 Damning evidence against the mother included surveillance footage showing Scrivo in the vicinity where the bags with her son's body parts were discovered. Additional CCTV video captured her purchasing a circular saw.
Another witness reported seeing the mother carrying black plastic bags out of the condo in St Clair Shores she shared with her son.
A police search of the condo and Donna's SUV also turned up blood stains belonging to her son. There was also sign of bleach being used in the condo.
Police said they had contact with the mother and the son in the past over domestic problems. 
As the last witness in her defense, Donna Scrivo testified that she found an armed intruder in her son's room and that he made her help him, including carrying the bags with her son's remains out of the home and driving them to St. Clair County.
'I'm not mother of the year. I have multiple problems,' Scrivo said. 'I think I did everything to protect the rest of my family. I did everything he told me to.'
Nevertheless it took the jury panel only two hours of deliberations to convict Donna Scrivo.
In presenting to a motive, the prosecution made note of a petition the mother had filed on May 16, 2013, the day after her husband died, asking that her son be hospitalized.
Court documents reveal that Ramsay's anger 'had escalated to unsafe levels' and that he 'threatened to commit suicide'.
At the time the son was also on probation for assault and his mother said he had been getting into a lot of fights lately because of 'poor judgement'.
First-degree murder carries a mandatory penalty of life in prison without possibility of parole under Michigan law. Judge Richard Caretti set Scrivo's sentencing for June 23.