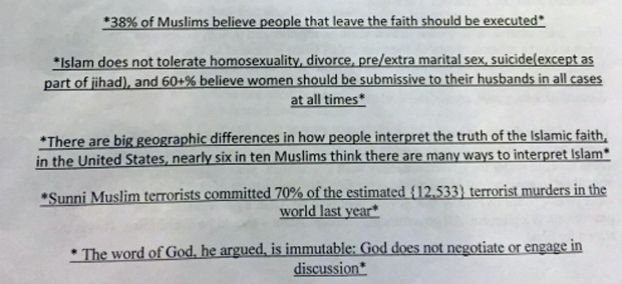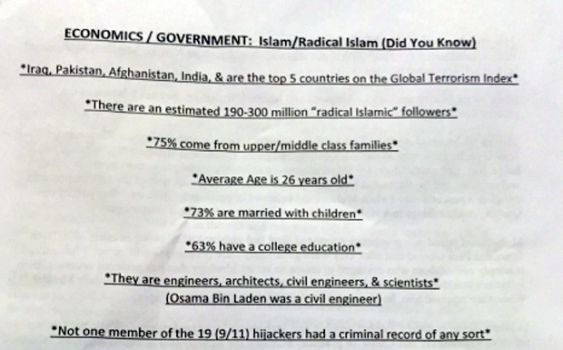 An unnamed teacher at Foster High school, Richmond, Houston area faces the prospect of disciplinary action after handing out purportedly anti Muslim propaganda during class.
Officials with the Lamar Consolidated Independent School District (LCSID) say the eight-page handout, which included references to terrorism and beheadings hadn't been approved by administrators.
It would be disclosed that the handout was distributed in a senior economics class.
The handout, entitled Islam/Radical Islam (Did You Know), made unsubstantiated claims including: '38 percent of Muslims believe people that leave the faith should be executed' as well: 'There are an estimated 190-300 million 'radical Islam' followers.'
The document states Islam is more of an 'ideology' than a religion. Adding, 'It is also a ideology of war.'
The handout also contends that Muslims believe all governments except Islamic ones should be overthrown, claiming that the religion's noble rule is 'You will become a Muslim yourself or you will die.'
The handout also mentioned Sharia Law, jihad, and had a section entitled; 'If taken hostage by radical Islamists, what to do', reports KHOU.
Attention to the handout came after a Muslim student took a handout and showed it to their parents who in turn reached out to the Council of American Islamic Relations (CAIR).
The organization would in turn lodge a complaint, citing erroneous information from an online anti-Muslim site.
Council officials also demanded that the unnamed teacher be disciplined. 
Offered CAIR Executive leader Mustafaa Carroll upon the school conceding action against the teacher would be taken: 'We thank school officials for taking this issue seriously and await appropriate disciplinary action for the teacher. Only a strong response to this attempt at student indoctrination will send a message that our schools must never be incubators of hate.'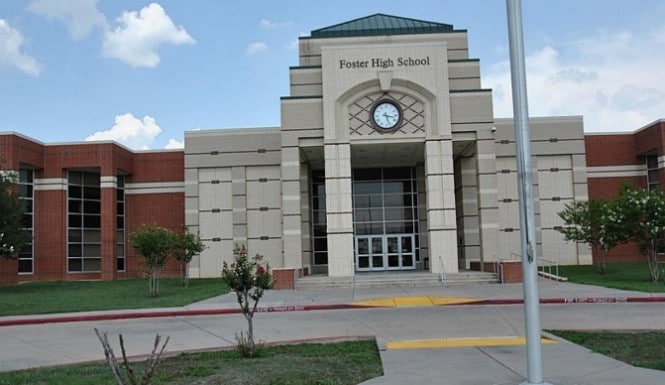 Told a Lamar ISD spokesperson pursuant to the complaint: 'We're disappointed to learn one teacher made independent changes to a lesson plan, resulting in information being given that didn't follow subject matter, or state and local curriculum plans,' 
'As soon as this issue was brought to our attention, the administration addressed the situation with the teacher.
'Ensuring our students have access to factual information, given in the proper context, is a priority in our District.
'Arbitrary curriculum decisions, which are clearly outside of the guidelines, won't be tolerated.'
Offered Janie Pena, a grandmother of one of the students from the school: 'I don't think it should have been passed out. I think we should just let people do their religion thing.'
At this juncture it is not understood what type of discipline will be meted out including dismissal of said position.
At present it is not understood what motivated the teacher and whether hate played a part in their decision to share anti Muslim propaganda?