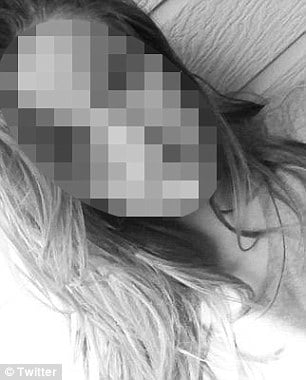 Entering the public foray since her mother came to be caught up in a kinky twister party at the family home which has since seen her lose custody of her five children is Rachel Lehnardt's daughter who had initially called her mother with the hope of bringing her friends over for a make shift party.
Rachel Lehnardt photos: Mom escapes jail after kinky twister game
Georgia mom hosts naked twister party, drugs, booze with teen daughter friends
Taking to social media two days after her mother, Rachel Lynn Lenhardt was charged with the two counts of contributing to the delinquency of a minor, the woman's 16 year old teen daughter sought to defend her mother.
Told the daughter earlier this week after it was revealed her mother had supplied booze and drugs to her teen friends as well as having sex with two of her male friends, including the teen's 16 year old purported boyfriend: 'Yes my mom was arrested,'
'Yes she made some mistakes. Yes she is an alcoholic. Yea I've f***ed up too. But nobody deserves this s***. So stop.'
It's at this point the teen was regaled by other social media users which led to the 16 year old daughter responding:
'Everyone screwed up at some point,'
The UK's dailymail also notes the teen backing up her mother's assertion that she had been raped by her 16 year old boyfriend after Lehnardt said she awoke to find the teen having sex with her before throwing him off.
Posted the teen: 'She was passed out drunk and he was wasted of his ass,'
'She didn't have sex with a 16 year old she was raped by one [sic].'
The teen would further deny that the boy involved was her boyfriend as had earlier been reported.
In new developments, fox has quoted the woman's attorney who has told that the Georgia mother is 'remorseful' and 'plans to atone for her actions'.
How she plans to atone for her actions isn't necessarily described.
Whilst denying she instigated the party, the Georgia mother concedes she behaved inappropriately and had succumbed to the temptation of alcohol after separating from her husband of 15 years in November.
That separation was facilitated by her husband returning from deployment in Iraq and returning with PTSD and subsequent marital woes and the prospect of single motherhood.
The mother insists she hasn't drunk since the incident which saw her confessing to an Alcoholics Anonymous sponsor who in turn then notified authorities of Lehnardt's 'misadventures.'
In the interim cops have declined to charge a 16 year old boy with rape because of a lack of evidence.