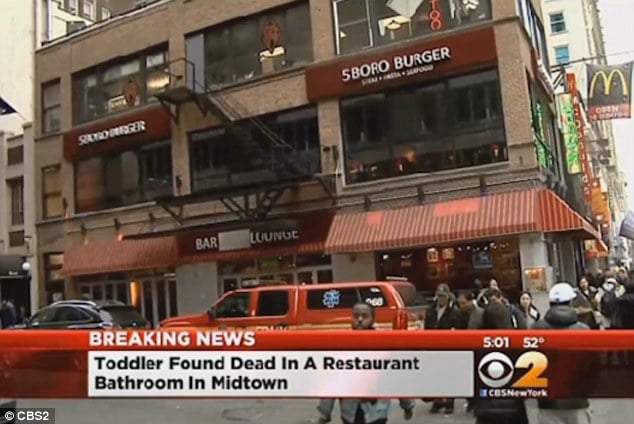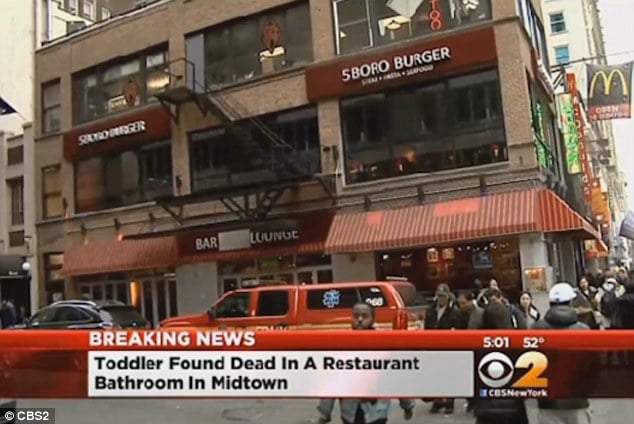 Latisha Fisher a 35 year old woman has been arrested after allegedly killing her 20 month old baby son in the bathroom stall of a NYC midtown restaurant 5 Boro Burger Monday afternoon.
Gavriel Ortiz Fisher: Mother charged with murder, blames the devil.
According to an eyewitness the mother locked herself and her son Gabriel Ortiz inside a bathroom stall at the fast food outlet on 6th avenue at West 36th st circa 2.25pm
Things would get dicey reports the nydailynews when a female restaurant patron walked into the bathroom and saw the mother holding her hand over the child's mouth.
Told the mother to the woman: 'I put my hand over his mouth to put him to sleep.'
With the woman walking back out, Fisher is said to have then locked the bathroom door behind her.
It wasn't until store workers noted that Fisher had been in the bathroom for an extended period of time that they sought to gain entry to the bathroom with the woman unyielding.
Using a key to open the bathroom door store employees they found the child unconscious and foaming at the nose and mouth recoiled on the mother's lap.
Despite one of the male employees performing CPR until paramedics arrived and the child rushed to Bellevue hospital the 20 month old child died.
Told an attending cop: 'She put her hand over his mouth and smothered him.'
Offered witness Marcus Comeau: 'The mother was coming out in handcuffs,'
'She didn't seem too distressed, kind of had her head down.'
"She didn't make a lot of noise,' 'Not a big fit."
Adding: 'It was scary.'
As of 5pm, about eight to 10 police officers were seen interviewing staffers and other customers at the restaurant.
Neighbors at Fisher's Lower East Side apartment building described the mother as violent with one saying her apartment reeked of weed.
Chargers against the woman are currently pending.