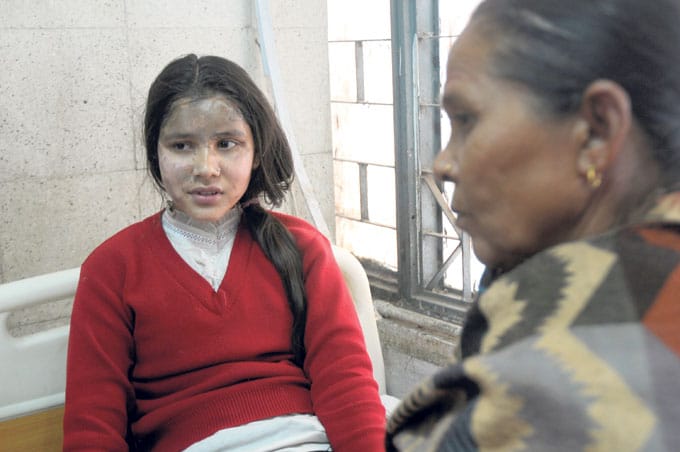 Two Nepalese schoolgirls have been scarred for life after four masked boys burst into their classroom and threw acid on their faces. The incident is thought to be the result of a revenge attack.
Since being violated, Sangita Magar, 16, and Sima Basnet, 15, are recovering in hospital amid an outcry over the attack today in Nepal's capital Kathmandu.
The female students suffered chemical burns to their faces, torsos and legs in the assault, which it is feared may have targeted them directly as a form of revenge. That said it is not necessarily understood if the attack was a result of the student's gender, an often precursor in acid attacks.
At the time of the attack, the girls were sitting in a tutoring centre in waiting for other students when masked intruders entered the classroom.
Reiterated senior officer Narayan Khadka: 'A masked boy came into the room and threw acid at them,'
An investigation has been launched to find the attackers, whose motives for hurling the bottle of chemicals remains a mystery.
Told Sima, one of the victims via the Baltic Review: 'I felt an intense burning. I knew from an Indian TV show that I had to pour water on my face to prevent the liquid melting my skin.
'I did not call the police; I ran home as fast as I could while my friend was taken to the hospital by her parents'.
Sangita's parents have hit out at the way the investigation was treated, claiming she did not receive proper treatment for five hours after the attack.
Acid attacks disfigure and often blind their victims, who are usually women and often the target of some form of revenge bid.
The disputes, which happen in many parts of South Asia, can be linked to dowry, land disputes or refusal to a man's advances.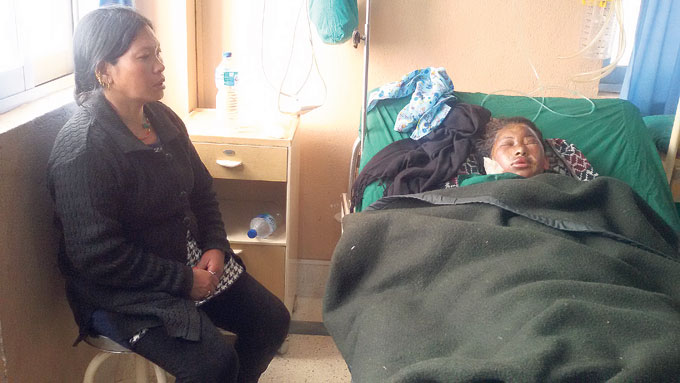 Although acid attacks are now a criminal offense in neighboring India, there are no specific laws addressing it in Nepal.
A police statement said: 'The victims were sitting in a tutoring center when a stranger entered and poured acid on the two girls.
'They suffered acid burns to their face, chest, stomach and legs.'
Offered DSP Bed Bahadur Bista, chief of Metropolitan Police Circle Office, Janasewa in latest developments: We are zeroing in on a suspect and will arrest him soon after we verify his involvement in the attack.'
Police have since refused to disclose the suspect's name saying the case is still under investigation.
At present officials have declined to tell why it took five hours before the girls were tended to by police or offered hospital treatment.
Images courtesy of myrepublica
More images can be found at ekantipur