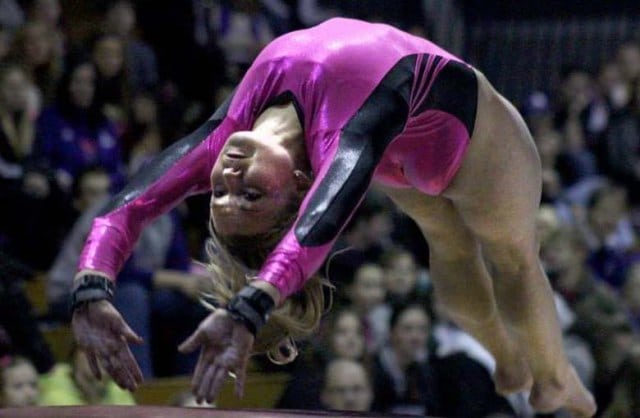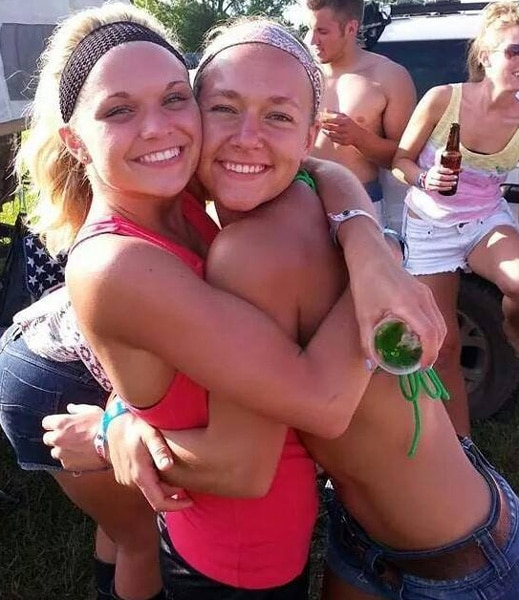 Cops are trying to make sense of the death of celebrated gymnast Brooke Burns who would come to die after being stuck in a 3 x 3 dumbwaiter connected to the kitchen where she worked as a waitress.
At the time of the 21 year old college gymnast's discovery at the WingDam Saloon and Grill in Fountain City, Wisconsin circa 8pm Monday night, the girl would be declared dead at the scene.
Preliminary investigations have led to cops telling that the girl's death was accidental and that no signs of foul play exist.
Police Chief Jason Mork said the dumbwaiter's opening is about 3 feet by 3 feet and the service elevator connects the first and second floors.
Mork would tell that the dumbwaiter which transfers food between the 2nd and 1st floors of the WingDam kitchen is obviously not designed for human use.
The opening is only three feet by three feet and the elevator works in a manner similar to a garage door.
Authorities would tell that Burns was trapped in the small elevator when her body was discovered. It would not be determined how long she had been trapped or when the girl had come to die.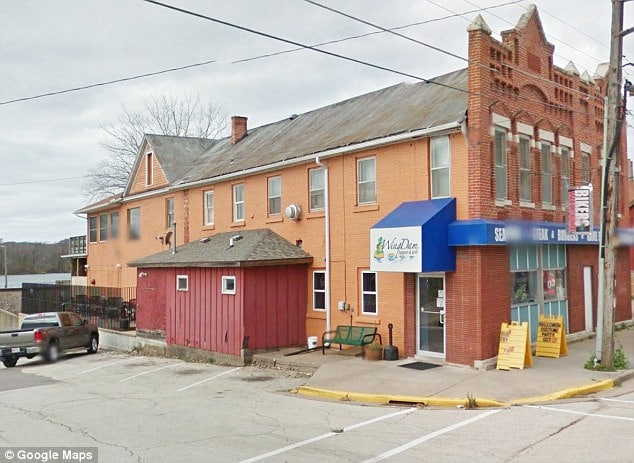 Offered a spokesman for the Fountain City Police Department: 'There are no indicators of of a criminal act; however the investigation remains open for the purpose of investigative follow-up and an immediate autopsy.'
Police Chief Jason Mork said the Winona State University student was currently majoring in social work and expected to graduate next year.
Local press would note that Brooke Baures was twice named the Wisconsin Intercollegiate Athletic Conference gymnast of the week earlier in 2014.
Since the gymnast's untimely death, WSU has paid tribute to Baures, who was an accomplished member of the gymnastics team from 2011 to 2014. 
Told WSU athletic director Eric Schoh: 'She was a leader on the team and a talented gymnast,'
'This is a tremendous loss for our community, and we ask that you keep Brooke and her family, friends, coaches and teammates in your thoughts.'
Reiterated Winona State women's gymnastics coach Beckie Rolbiecki: 'Brooke was a beautiful young lady both inside and out.'
'Brooke was passionate about gymnastics. A lot of tears were shed, a lot of disbelief, a lot of shock and horror. It's something you don't expect to ever be told; this vibrant, young person had life taken from them so early.'
Since the girl's death, Amanda Schabacker, manager at WingDam Saloon & Grill has told the restaurant would be closed on Tuesday, refusing to make further comments.
According to the U.S. Occupational Safety and Health Administration, dumbwaiter accidents are rare. According to the OSHA database, only two incidents, both fatal, have happened in the U.S. between 2003 and 2013.
At present it is not thought that the restaurant bears any culpability or why for that matter the gymnast had resolved to go inside the dumbwaiter where she would inevitably become stuck…
Family and friends have since taken to social media to grieve the passing of Brooke Baures.
images via facebook