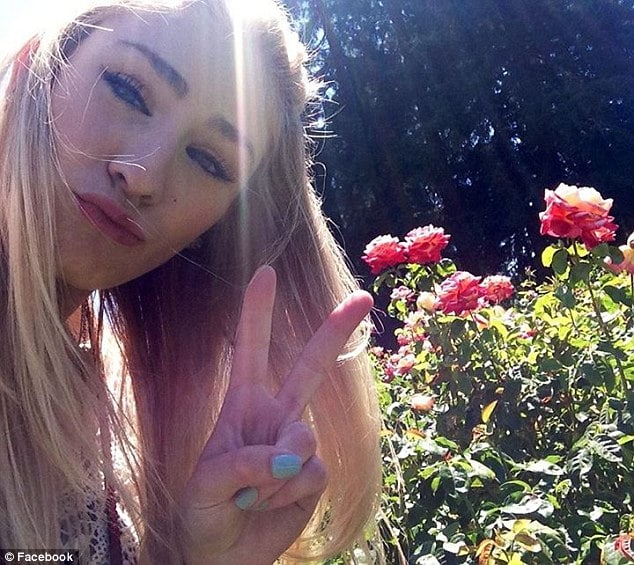 Melissa Kennon a 19 year old San Diego State University student early Friday morning fell to her death from the roof of a five story apartment near campus after telling a friend she wanted to do something daring.
Drunk at the time, the student plunged 50 ft off an apartment ledge just before 4am while horrified party goers looked on.
Told witness Kevin Rampev via 10News, 'she wanted to be daring by climbing out onto the ledge.'
Imploring the woman to get down, Kennon instead lost her balance, plunging to her death.
Reiterated Ramped: 'Literally [my] heart sank. I looked over, she just landed on the ground.
'I immediately called 911, rushed down to the floor and just talked to the operator … scariest thing I've ever seen,'
'She was breathing. It was kind of not consistent, which was really concerning to me.'
Offered Kepa Sanga: 'I could hear the loud, loud bang and then I walked over here and I saw a couple of her friends, they ran as fast as they could… someone was like 'somebody call police.'
Attending medics would tell that Melissa Kennon was awake and breathing when they rushed her to nearby Scripps Mercy Hospital.
Initially listed in critical condition, Kennon would come to die just before 10 a.m.
SDPED Officer Frank Cali would tell that the fall was believed to be an accident.
Told Eric Rivera, SDSU vice president of student affairs where the girl was a sophomore studying psychology: 'Our community is deeply saddened by the passing of Melissa Kennon,'
'Our heartfelt thoughts and prayers are with her family, friends and loved ones, who have shared with us how much Melissa loved SDSU.
'It is heartbreaking when a young life is lost. We will honor Melissa by Sharing strength and support with one another as we process through this difficult time.'
At present it is not understood whether the girl had a proclivity to drinking or had merely taken to consuming more alcohol that impaired her judgement….
images via facebook