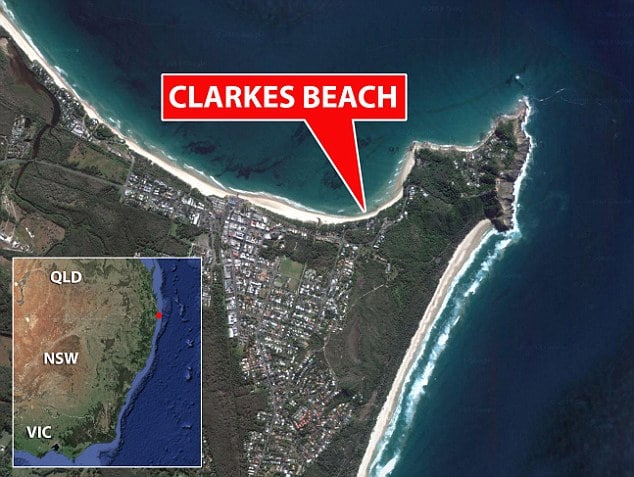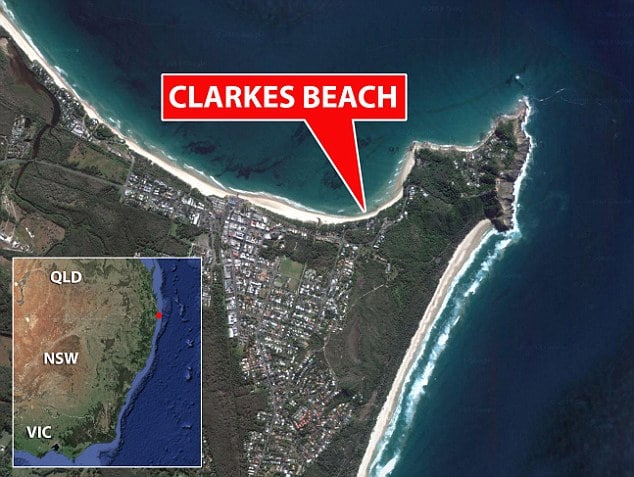 A Great white shark attack off Byron Bay, N.S.W Australia has left UK man, Paul Wilcox dead after he came to be bitten above the knee during a swim along a much traveled corridor amongst swimmers.
The Sydney Morning Herald reports that the man, aged 50, died on Clarkes Beach just after 11am.
Witnesses called triple-0 at 10.42am on Tuesday saying a man had been bitten by a shark at the southern end of the beach, off Lawson Street.
Despite a doctor performing CPR on the man, he could not be saved.
Bystanders spotted the man in the water, and dragged him to the beach. It is understood that part of the man's leg was missing, and was found floating in the surf.
One witness said he saw the victim, whom he described as a surfer, get pulled out of the water.
The witness told there was no shark alarm following the attack. Adding that there were 'still heaps of surfers in the water down near The Wreck [a surf spot at Byron Bay] and there wasn't any shark alarms or anything.'
A shark, estimated to be two metres long, was spotted near the site where the man died not long after the attack.
Police said the man, from Byron Bay, had been formally identified by a family member.
Paul Wilcox the deceased was the founder and managing director of Refocus Learning, a business which he set up in 2000.
On his website, his biography describes him as 'an entrepreneur with a passion for human behavior'.
The passionate swimmer – who was a member of Byron Bay Swim Club – moved to Australia after working in the IT industry.
His wife Victoria also has her own business in Byron Bay after previously being a personal trainer in Sydney.
It is understood the man may have been attempting to swim from The Pass to Byron Bay's Main Beach when he was attacked. A swim that locals estimate to be circa 900 meters (3000 feet).
The Sunshine Coast Daily reported the victim was wearing flippers and was swimming. 

Syl Reid, from the Winter Whales swimming club in Byron Bay, said many people did that swim each day.
'There are probably 20 to 30 people out there most days, and on weekends a bit more. It's popular. Lots of people swim out and go snorkeling on the little reefs, too,' he said.
Michelle Campano, who witnessed the attack told Daily Mail Australia: 'It was so horrible we were swimming and got yelled out of the water. It took them 45 minutes to close the beach. I think the whole town is in shock.' 

Inspector Bobbie Cullen would later tell that the man's wife was on the shore at the time at the time of the attack and had witnessed to her horror her husband's gruesome attack.
Cullen would add that a witness, Mark Hickey, who was paddle boarding in the water when the attack happened, pulled the victim to shore where he and an attending doctor then attempted to perform life saving CPR for up to 40 minutes on the man who had come to profusely lose a great amount of blood.

Offered Hickey: 'The shark came back to him and had another go. I didn't know it was a person — but when I realised I ran out and waded to the bank and grabbed him and did CPR but it was too late.'

'I brought him back in and worked on him on the beach.'

Surf Life Saving NSW spokeswoman Donna Wishart said Byron Bay beaches were closed from Belongil to Tallows Beach, south of Cape Byron.
'We've got our life guard service on its way and our lifeguard supervisor is on his way and they'll be instituting a full beach closure, that whole headland area,' she said.
Wishart said the beach was not supervised at the time of the attack, as it occurred about a week before the lifeguards' seasonal duties began.
Offered Wishart: 'We're going to put guard on for today and tomorrow because it's normal operating procedure to close the beach for at least 24 hours,'
'We'll be doing some surveillance work and we'll monitor the waterways to determine whether there's an ongoing hazard.'
Officials have since told that there is no plan to kill the great white shark, especially as they are a protected species, with the hope that they might be able to scare the shark back out to sea.
Officials would later add that the great white shark attack 'was a one in a million kind of thing.'

On April 3, a swimmer named Christine Armstrong, was also killed in the area by a shark.