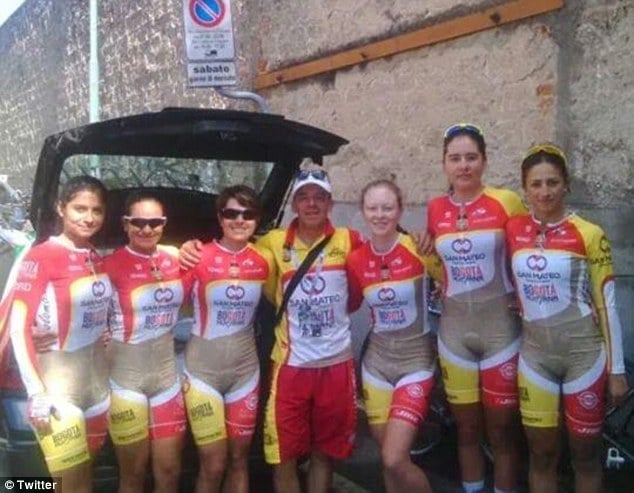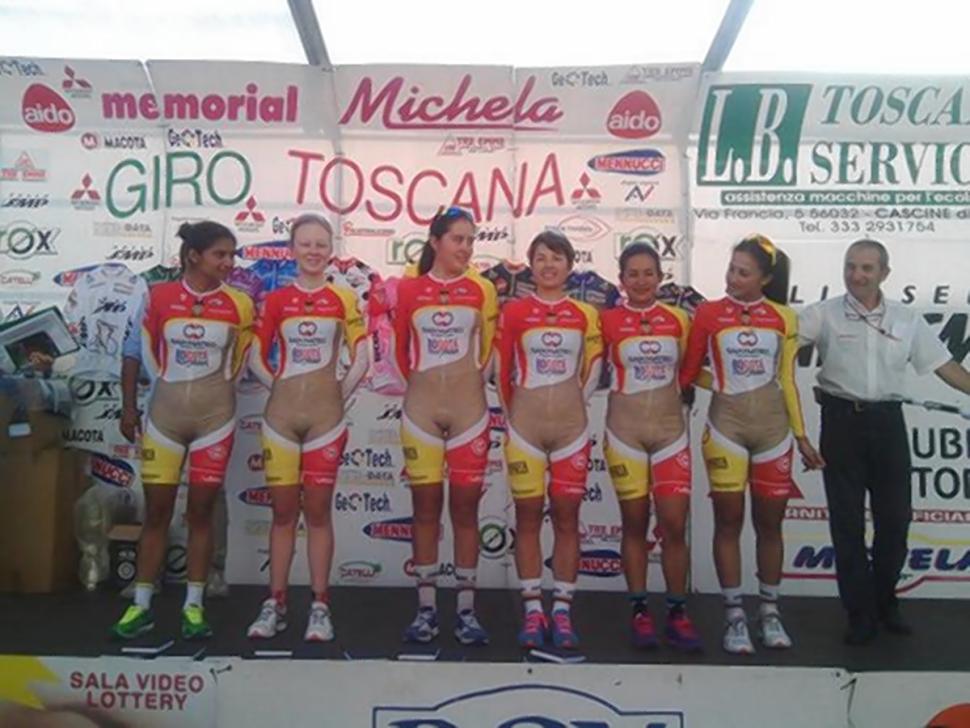 It seems the Colombian women's cycling team flesh colored outfit has failed to win new fans as the cycling outfit has raised questions as to whether it qualifies as quite possibly the worst and ill conceived professional sporting uniform ever devised?
The hubris has come as a result of designers having chosen to inexplicably use skin colored cloth around the groin area. The result being when the women are standing (as seen above after one meet) they appeared to be literally parading in their birthday suits.
The faux pas comes after the six riders of the Colombian women's cycling team were photographed after participating in last weekend's Giro Toscana in Italy.
It wouldn't be until a photograph of the female riders wearing the red, yellow and nude outfits (blissfully unaware of them looking bare in the groin area) was posted to Twitter by Colombian cycling account @Ultimo_km1 that commotion rose to the fore.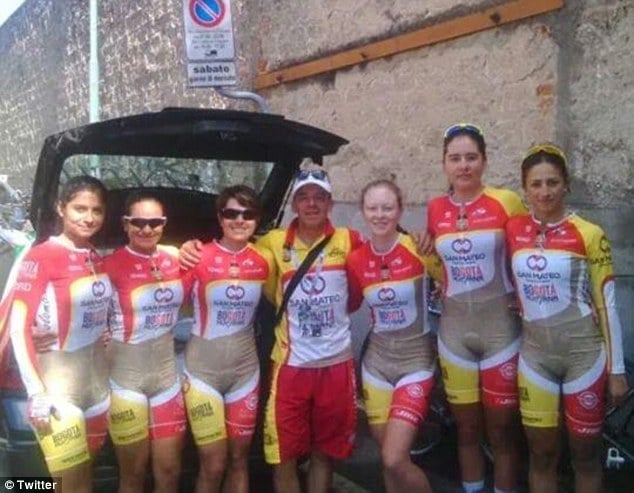 Since the release of the image commentators on the web have openly wondered whether it was simply just a publicity stunt (my bet), the failed efforts of a color-blind designer, the result of a chauvinist's efforts to cause embarrassment or a genuine fashion faux-pas?
Responded a variety of twitter users:
Fidelma Carolan: 'Not sure what to make of the Colombian women's cycling team's gear — sexist or feminist?'
 Hilary Evans: 'I'm no fashion expert but even I know that the Colombia women's cycling team kit seen here is a genuine disaster.'
@theBikeFaerie: 'Worst designed garment of clothing in the history of the human race.'
Whilst others contemplated: 'Why would someone agree to wear it?!'
'Extraordinary that someone would design it and even more extraordinary that any woman would wear it!! :-)'
And whilst social media users have been resilient in condemning the poor judgement of designers (you think? or was it just the unaffected poses of the women seemingly unaware of the faux pas that did the charm?) some have pointed to the Scottish team at this summer's Commonwealth Games as being a close contender. What do you think?