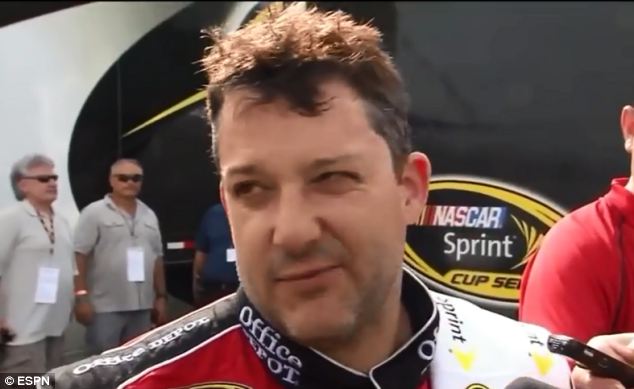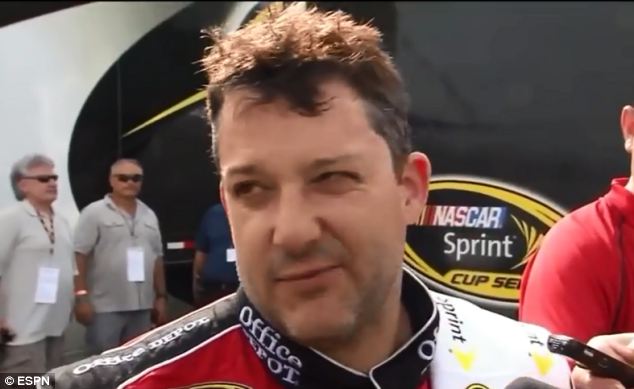 Whilst veteran NASCAR driver Tony Stewart has for the time being escaped charges stemming from Saturday's night's incident which saw fellow track rider, Kevin Ward Jr killed at what many are wondering willfully at Stewart's hands, new questions have surfaced with the release of new information.
Kevin Ward Jr aunt: Tony Stewart thanks for being a d**k!' 
Did NASCAR champion Tony Stewart willfully run over and kill Kevin Ward Jr? 
The revelation comes as previous dug up video footage of the veteran over the course of the last decade goes on to show Tony Stewart in a variety of confrontations, lending credibility that the NASCAR driver thrives on aggression and has a history of physical confrontation.
Video footage stemming back as far as 2002 shows in one instance the veteran erupting at fellow drivers, filmed plowing down pit crew members, threatening to run fellow competitors off the track, shoving drivers in anger and even throwing his helmet at a car.
Yet it was Saturday night's confrontation which has ended up being the most lethal, as a young irascible Kevin Ward Jr is seen jumping out of his crashed vehicle after being clipped by Tony Stewart and taking to the middle of the field, presumably to give the veteran a piece of his mind only to be hit by Stewart's car as Stewart inexplicably revs up his engines as he turns to pass the fallen driver, this despite the fact that caution flags have been raised. A point of contention which has caused many to wonder had the veteran sought to teach Ward manners, who was in fact the boss or was it a situation of Stewart merely attempting to scour dust in the young man's face only to see the 20 year old tragically sucked up under Stewar's car as the back part of his vehicle swayed sideways, collecting Ward and hurtling him down the field a further 50 feet?
To date, authorities have told no criminal charges are pending against Stewart but nevertheless they did indicate that the investigation is still ongoing and video and photos of the incident still need to be studied.
Reiterated Sheriff Philip C. Povero:  'As we speak at this time, there is no evidence in hand or no facts that would support a criminal charge or support criminal intent on the part of anybody,'
Adding: 'Stewart has been interviewed and is free to go about his business',
'After the investigation is finished, the findings will be given to the district attorney to decide on any charges.'
With the investigation still underway, criminal charges could still be filed or Stewart could face a possible wrongful death lawsuit, Sports Illustrated reported.
There has been speculation that the death came after a rivalry between Ward and Stewart.
'Tony Stewart and Kevin have raced against each other and they've always had a thing for each other,' friend Charlie Dorn, 21, told the New York Daily News. 'Kevin always beats him and Tony has crashed into him a few times and I think every time they race, Kevin saw it as an extra challenge.'
But the spats are just the latest for Stewart – whom the New York Times called 'NASCAR's resident hothead'.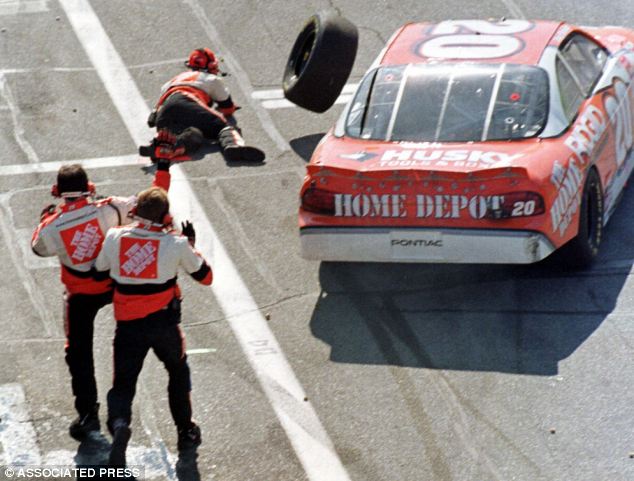 Like Ward on Saturday, Stewart, the fourth-highest paid NASCAR driver, tells the UK's dailymail has a history of often climbing out of his car following collisions to give the driver a piece of his mind.
One notable incident was in August 2012, when Tony Stewart threw his helmet at Matt Kenseth's car during a Tennessee race. The helmet hit the vehicle square on the hood as it sped past.
Afterwards, Stewart said he would 'run over' Kenseth 'every chance [he] got'.
In March 2013, he accused Joey Logano of blocking his car in a race in Fontana, California and when it was over, he stormed towards him, shoved him and threatened to run him over.
The two men were eventually separated by their crews.
Told Stewart at the time of the March 2013 confrontation: 'If he ever turns down across in front of me again, I don't care what lap it is, he won't make it through the other end of it.'
Saturday's crash site is also the same track where Stewart was involved in a July 2013 accident that seriously injured a 19-year-old driver.
He later took responsibility for his car making contact with another and triggering the 15-car accident that left Alysha Ruggles with a compression fracture in her back.
Nevertheless some have said that the show of anger and verve is simply part of the sport and culture and that fans have come to love the confrontations and often wildly cheering from the stands.
Told attendee Michael Messerly: 'I've seen it many times in NASCAR, where a driver will confront the other one, and a lot of times they'll try to speed past them. And that's what it appeared to me as if what Tony Stewart did, he tried to speed past Ward,'
'And the next thing I could see, I didn't see Ward any more. It just seemed like he was suddenly gone.'
After Saturday's tragedy, Stewart pulled out of a race scheduled for Sunday.
'There aren't words to describe the sadness I feel about the accident that took the life of Kevin Ward Jr.,' Stewart said in a statement that was released on Sunday.
David S. Weinsten, a former state and federal prosecutor in Miami would also opine it would be difficult to prove criminal intent.
'I think even with the video, it's going to be tough to prove that this was more than just an accident and that it was even culpable negligence, which he should've known or should've believed that by getting close to this guy, that it was going to cause the accident.'