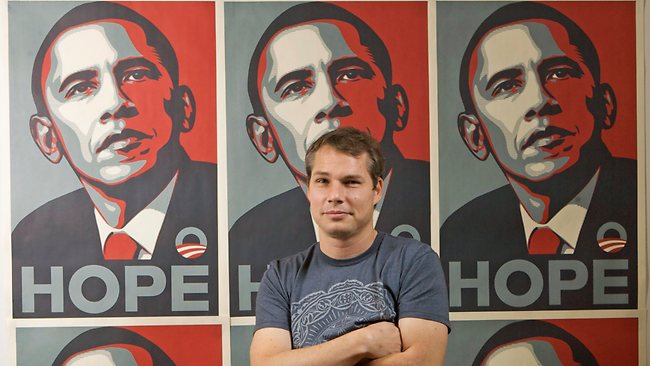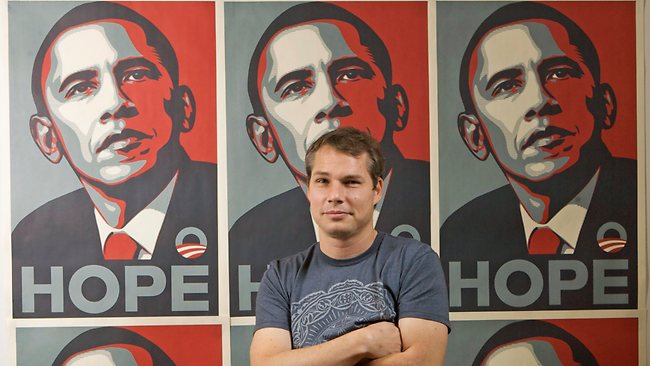 It might come as a tinge of irony and cynicism but million dollar street artist Shephard Fairey has come out to tell that NYC artists can no longer afford to live and work in NYC. Ironic because Shephard Fairey has long ceased to be a struggling artist and these days commands figures well into the five figures for his art work.
Tells page six of the artist who was speaking at a Hennessy V.S luncheon at Soho House New York celebrating his label design for a limited-edition bottle (indeed): 'You can't be in New York and not have ­either a trust fund or a good enough job to live,'
'Artists are screwed in New York right now.'
Asked about LA's (where he now lives) growing popularity as a center for emerging artists, Fairey noted, 'The reason why LA is becoming a hub is because LA still has affordable spaces for artists to have studios.'
Continuing: 'New York was a hub for so long [because] high-low culture, high-low economics co-mingled very fluidly for years.'
'But artists have been priced out of former lower-cost enclaves Soho, the Bowery, Greenwich Village and Williamsburg, with high-rent condos and office buildings moving into what were previously artist lofts.'
What the artist is neglecting to mention is that as much as preferred venues have long since ceased to become affordable (this writer once rented a 1000 sq foot loft space, albeit with no windows (save for a skylight) in the heart of Williamsburg for a mere $600 as late as 2004) there are always new areas, enclaves, zones that an aspiring artist can always move to.
Yes one will have to live in the 'ghetto' (as artists used to in Williamsburg, Soho and Bowery, all once were), assuming that East Williamsburg (Bushwick which has since become one such area) is available but one ought to remember, if one were to move to Los Angeles they won't be moving to Beverly Hills either.
Continued the artist: 'New York is incredibly successful, and one of the things that's suffering is space for people to be struggling to make something that ­nobody's seen before, or hear something ­nobody's seen before, where they have no money and it's not commercially viable yet, but it's going to be the next thing. That's happening in LA.'
One of the beauties that has always made NYC an enviable depot of talent intent on making it, it's an attitude which fosters creativity and zeal, a city that Shephard Fairey came to make it in as well. Sometimes one's best work comes when one is pushed to the limit, to despair, to utter poverty and the unknown. Which is why if you must know I don't give too much credence to 'trust fund' artists in the first place, as you will rarely come to see something too revealing if one isn't pushed to their mettle.
That said the artist is right to point out that NYC has become a mecca of high value living where the mores and sentiments have long shifted to outright consumerism and ostentatious display of wealth and the scene, with little regard to creative juices (at least what I have noticed in the last ten years).
Is Los Angeles the new mecca of creative zeal? Maybe, it certainly has been a mecca of inane Hollywood blockbuster film making (can we expect more of the same for the art world there?). That said I'd be curious to wonder how cities like Portland, Detroit, Chicago, Pittsburg also stack up as creative hot spots, albeit  less photogenic and probably not as chic. So much for being a creative in America….
above image found here