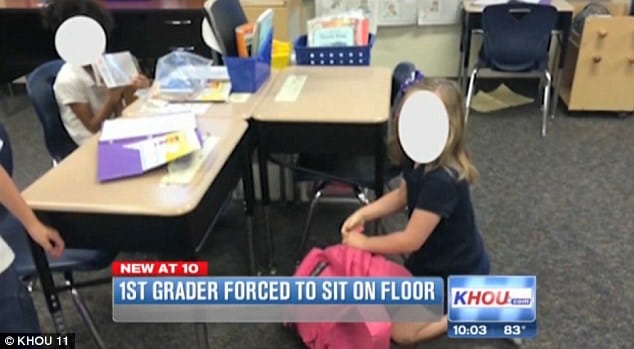 A Texas first grader was forced to sit on the floor of a classroom with a clipboard for more than a month as punishment for drawing on her desk.
The Westwood Elementary school student was sent to the principal's office, missed out on recess, washed the desk and wrote an apologetic letter to the janitor after sketching in pencil in May.
Yet without informing the girl's parents, the teacher also punished the unidentified girl by making her sit on the floor.
The girl went without a desk for a month, unable to see the teacher or blackboard, before she told her parents.
Told the Texas first grader's mother via KHOU 11: 'I was never told that her desk was removed,' 
'I asked her (the girl), 'Why did you not tell me?' And she said, 'I was too scared to tell you mama'. She thought what she had done was so bad she didn't deserve to have a desk.'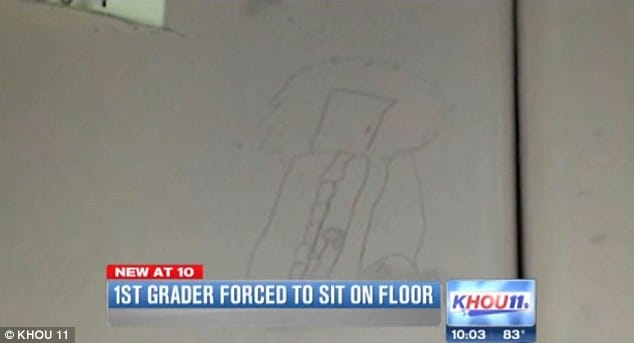 Since the incident, the mother has sought to transfer both her son and daughter to another school and has filed a grievance.
School district Spring Branch ISD has since retorted that the teacher in question has been reprimanded.
Told the district in a statement: 'The family has been offered multiple opportunities to transfer their child, either to another teacher within the school or to any elementary school in the district where enrollment is not capped.'
The mother has since told that her daughter now has a fear going into the second grade…
And then there were these comments on the web that made me wonder:
I actually think that there has to be more to this than this to get the teacher that riled. Check the kid's behavior record and then give the full story.
For everyone supporting the teacher, this child sat on the floor for a month. A month where she was unable to view the blackboard or see her teacher. So she had a month of time where she was not learning effectively, if at all.
 I wonder how much longer this stupid "teacher" would've kept this up for, had the parents not found out! It saddens me to think of how much self-esteem this took away from this little girl. Parents don't realize how much their children are being victimized at schools and daycare facilities on a daily basis, until something like this happens.