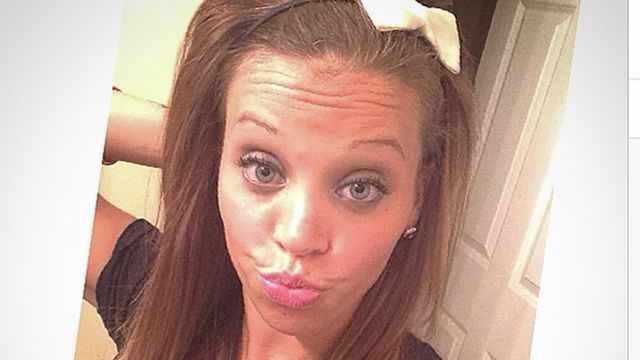 A coroner has told that Danielle Cogswell, a Louisville cheerleader died of a heroin overdose in July.
In her report, Jefferson County Coroner Barbara Weakley-Jones told the 22 year old beloved cheerleader had died of an overdose of heroin, amphetamines and Xanax.
Cheerleader Danielle Cogswell drug overdose. Found in football freshman drug dealer's apartment.
Danielle Cogswell Louisville cheerleader drug overdose? Was she living a double life?
Danielle Cogswell Louisville cheerleader dead in mysterious circumstances
University sports information director Kenny Klein said cheerleaders will now be required to undergo the same drug testing as other athletes.
Cogswell was found July 28 in Cardinal Towne, an off-campus student housing complex with ties to U of L.
Police said previously they were treating the death as a suspected overdose.
An associate athletic director for student life at U of L, Christine Simatacolos, said the circumstances of Cogswell's death and the coroner's report 'were saddening.'
Adding: 'We have continued to provide support for our spirit team members as they have worked through their grief.'
Since the revelation of the Cogswell's death, there have been scant reports as to the degree of drug use she was undertaking, what may have compelled her and or whether there was a pervasive incitement on school campus to partake?
School officials have also declined to tell if there are other issues of drug dependency on campus and whether there are other students and athletes who may embroiled in the young cheerleader's death. At the time of her death she was found alone.
Since Danielle Cogswell's death an outpouring of love and disbelief has flooded social media, with the prominent use of #RIPDani.
Cogswell was from Sammamish, Washington, and transferred to U of L from Arizona State last year.