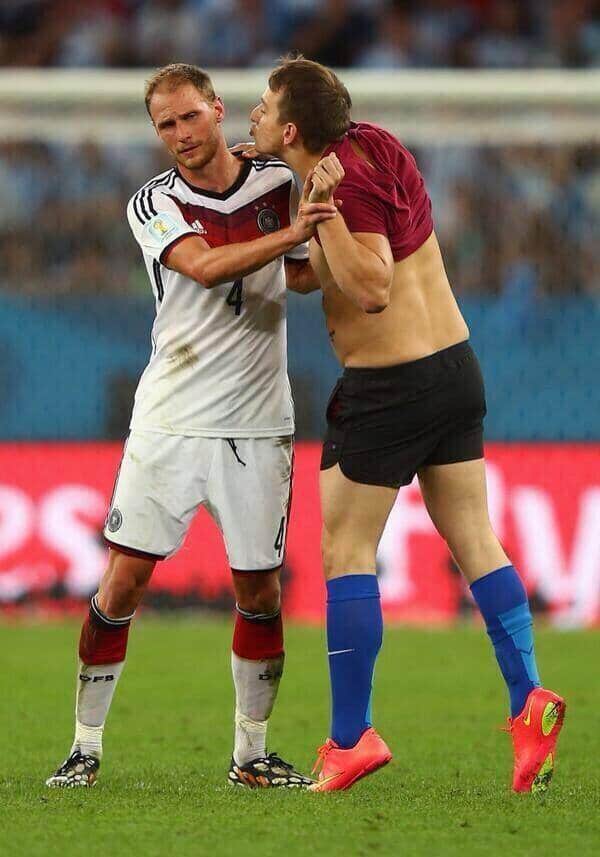 Great sporting matches always come with tension, grit, sweat and due or die results. They also come with the added comical relief of streakers too. Enter Russian streaker, Vitaly Zdrorovetskly who yesterday managed to impart on over a billion people watching the World Cup match between Germany and Argentina his own very special interpretation of zany, prima donna and spectacle.
The prankster who to date has made a name pulling off other audacious pranks took to the world stage last night circa half time when he suddenly came ambling onto the field in short shorts with his chest exposed during halftime. On his bare chest were the apropos words, 'Natural Born Prankster.'
For good measure the Russian streaker who boasts over 630 million youtube hits attempted to kiss Germany's Benedikt Höwedes. Who if judging my the smirk of disdain on his face, was having none of that shit.
To be fair to Vitaly Zdorovetskiy, the Russian prankster had given the world fair warning when he posted on Facebook his intentions of doing 'something' during the game the day prior.
'Make sure you tune in,' he told his followers, adding a winking emoticon. A number of his friends and other followers guessed that he would be streaking. '$10 he's gonna run on the field xD,' said one.
An easy bet to make considering that Vitaly Zdorovetskiy has come to make a name for himself misbehaving at other events.
In case you have forgotten who Vitaly Zdrorovetskly is, the Russian streaker is the un-beloved (at least according to Brad Pitt) anti hero who last month jumped a barrier in an attempt to make out with Brad Pitt. Other targets have included Leonardo DiCaprio (he just laughed) at Cannes and America Ferrera (she didn't).
According to Zdorovetskiy's facebook profile, the 22 year old attention seeker was burn in Murmansk, Russia and raised in Odessa, Ukraine.
'I used to be a class clown since first grade so my classmates told me I should start filming my actions..so after I moved to USA my grandmother bought me a video camera and I started acting since,' he says.
'In 2011 I started my own youtube channel..that follow Insane/Crazy Pranks..as of now I would like to get my name out there and pursue my acting career.'
Gawker has since reported that the stunt was intended as promotion for Vitalyzd's (the prankster's other known name) in an upcoming movie with fellow YouTube prank star Roman Atwood, Natural Born Pranksters.
Of course what remains to be seen is what will Vitaly Zdrorovetskly come up with next?