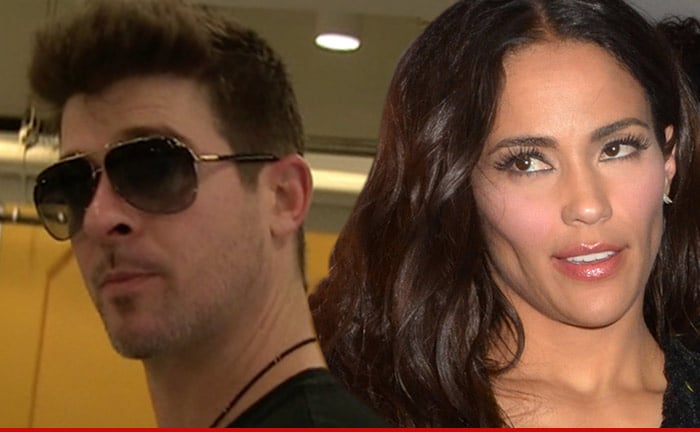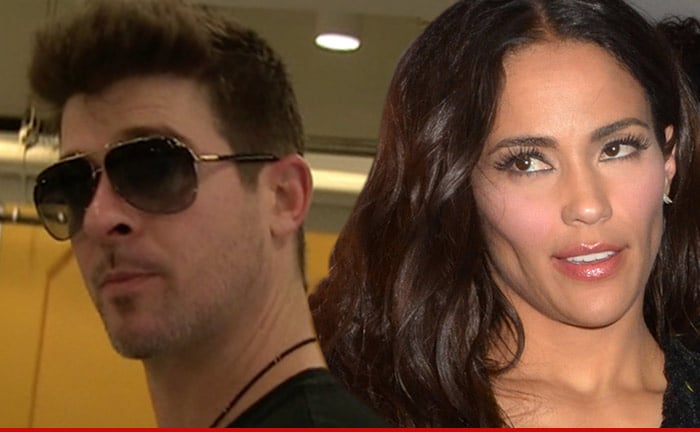 It seems crooner Robin Thicke has finally taken the hint and is said to finally be done with begging estranged wife Paula Patton to come back to him after she came to dump the 'Blurred Lines,' hit maker after allegations of sexual impropriety.
Did a three way between Robin Thicke, his wife and their masseuse lead to break up?
Is Lara Scolaro Robin Thicke's mistress?
Thicke who until the recent split had been together with the come hither actress going on 20 years, with the pair having married in 2005 before then going on to have a son, now 4 years old.
The singer would also tell tmz that although he will not be filing for divorce 'he's done begging and is moving on.'
Which is Robin Thicke's way of announcing that begging didn't really do much for his macho crooner image. Then again cheating and having affairs behind his wife's back didn't do much for his image as well nor for his new record sales as his latest album, titled 'Paula' has been extremely underwhelming in sales.
In the interim, Paula Patton is believed to have moved out of the property she shared with the Blurred Lines hitmaker and their four-year-old son four months ago, after the now infamous snap of Robin 'grabbing' a female fan's derriere emerged.
At the time further allegations would emerge that the crooner had also been involved in a three way affair with Paula, that would go bust when she found out that he had continued seeing the third party.
Told Robin Thicke to Good Morning America recently off the back of disappointing sales of his latest album, in stark contrast to his 2013 Blurred lines hit maker: 'I actually have no idea what I'm doing. I'm just kinda flying by the seat of my pants on this one.'
He added: 'I just wanted to make something artistic out of a very difficult period.'
Meanwhile their estate is now up for sale for $US2,985,000. The two-storey house sits on 3158 square feet and has three-bedrooms and 3.5-bathrooms, and was listed this week by Sotheby's International Realty according to Variety.