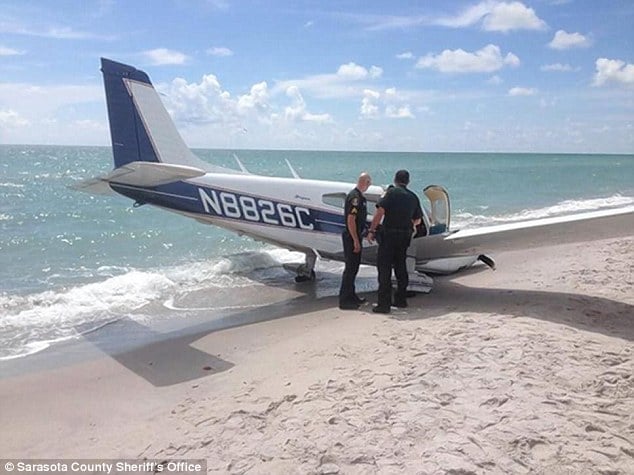 Ommy Irizarry, 36, a Georgia father of three, was killed yesterday afternoon when a light aircraft made an emergency landing on a crowded strip of Caspersen Beach, Florida. The emergency landing would also critically injure the man's 9 year old daughter, Oceana, along with causing one female witness to suffer a heart attack.
Local media reports tell it wasn't necessarily known how quickly the plane came down and why Ommy Irizarry, a soldier in the US forces and his daughter weren't able to get out of the way of the crashing aircraft in time.
The plane's pilot, Karl Kokomoor, 57, and his passenger David Theen, 60, would come not to be injured.
Told one attendee, Zack Arceneaux rushing to the scene: 'They were performing CPR. He had blood all over his face, and it looked like he wasn't breathing at all,'
'A wheel had been knocked off, the propeller was bent pretty badly, and there were some dents on the wings.'
During the emergency landing the aircraft would come to lose a wheel along with damaging a wing and smashing a propeller.
Images from the scene showed the Piper Cherokee its nose pointed down and nearly touching white sands only feet from surf.
Sarasota Sheriff's spokesperson, Wendy Rose, said that the plane issued a distress signal at 2.45pm and informed Venice Airport the craft could not make it back to the airport.
The pilot had reportedly told the tower in frantic calls he was going to try to land on the beach.
According to reports the plane careened into the sea and the NTSB has since launched investigation.
Told Sarasota County Sheriff's Office spokeswoman Wendy Rose via ABC News: 'One man is deceased, and a young girl, possibly around the age of 10 is very critically injured,' 
'The pilot radioed that he was not going to be able to make it back to the airport, and he was going to try to land on the hard-packed sand of the beach,' 
Kathleen Bergen, a spokeswoman for the Federal Aviation Administration, would reiterate that the plane had reportedly lost power.
Since the crash, three 911 calls have come to be released Monday highlighting the panic that bystanders experienced.
Wjcl would report Sgt. 1st Class Irizarry was a platoon sergeant assigned to Fort Stewart's Warrior Transition Battalion. He joined the Army in July 2002 and arrived at Fort Stewart in October 2010. He had two deployments, both to Iraq.
Ommy Irizarry's family had been in Florida celebrating their ninth wedding anniversary.
Wrote the husband on facebook: 'Today, 9 years ago, I tied my life to my beautiful wife, Rebecca Irizarry. Wow, how fast time has passed! They say time flies when you are having fun. It is true. Thank you for being with me through thick and thin. I love you with all my heart, mi Roma. I am very happy and can't wait to see what the next 100 have in store for us. I love you, Becci.'
And then there was this comment on the web that made me wonder:
Makes me very sad and very sick. The pilot knew there was trouble so instead of indangering themselves and landing in the water or where ever he lads on the sand and ruins another family. So I guess we are suppose to be happy that they are not injured? Sorry I would rather have them injured and an innocnamily still together. This was a selfish act that costs others a lot. Oh gee, I hope his plane isn't hurt…..really?!