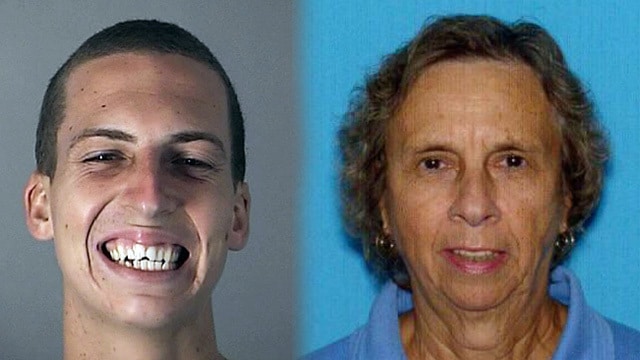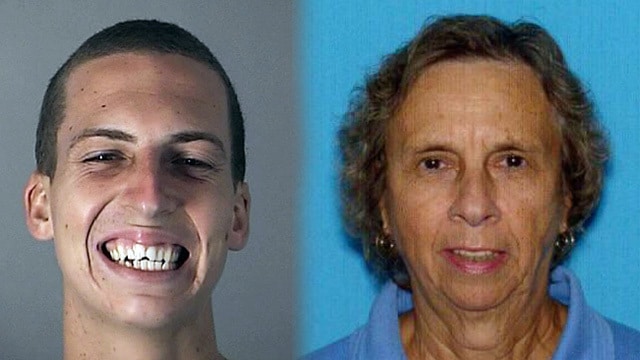 Authorities are grappling as to why Brandon Machetto an 18 year old Lutz, Florida youth came to kill his 74 year old grandmother, Sylvia Rosalie Schmitt.
The woman's death comes after she was reported missing from her home at the Paradise Lakes Condominium Association nudist colony in Lutz.
Authorities would come to be called after a neighbor saw Brandon Machetto acting suspiciously outside of Schmitt's home circa 5.30am Monday morning.
A neighbor would tell that Brandon Machetto had appeared to be placing what appeared to be a body inside his grandmother's minivan. The give away being what appeared to dangling feet from a wrapped package the boy carefully dragged outside of the home of his grandmother, after taking precautionary measures to make sure that the coast was clear.
By now having come to the house and finding 'large sums of blood,' Lutz authorities would make a call out for the whereabouts of Brandon Machetto.
Soon after an alerted patrolling deputy officer would come to spot Schmitt's minivan near the gated community just after 10 a.m. from which Brandon Machetto came to be taken into custody.
At the time, deputies say Schmitt's body was found inside the vehicle.
Prior to be taken in, the boy is said to have driven along a local freeway whilst a detective unsuccessfully sought to make his arrest. At the time having evaded the detective, the boy took to returning to the nudist colony grounds where he was apprehended by another detective.
heavy: The teen refused to stop, ignoring the cruiser's wailing siren, but instead of speeding away from the cops he drove slowly back to the nudist colony — never exceeding 25 mph. Machetto even waited calmly for the resort's gate to open, bringing the slow-speed chase to a momentary pause, before continuing into the private community where he was cut off by another cruiser — stopping just 50 yards from the home where he allegedly murdered his grandmother.
Upon the boy's subsequent arrest, a neighbor, Ronnie Hall  told how he Brandon Machetto in Krav Maga (Israeli martial arts) for seven years.
Hall would relay how Brandon Machetto came to be attacked by a group of teens when he was 14 or 15 and that they hit him in the back of the head with a rock. At the time Machetto was taken to the hospital where he nearly died. After that, Hall told the boy 'was never the same. His emotional maturity stayed at that of a 13-year-old.'
Reiterating: 'Even when he was training in our school, he was never an aggressive-type fighter,'
'He was always a let-somebody-come-to-me type fighter.'
Hall would add that Machetto's mother, Sheryl, worked too much to take care of him, so he often stayed with Schmitt.
According to Pasco Sheriff Chris Nocco, Brandon Machetto has a juvenile criminal history for domestic violence, including a previous altercation with his grandmother in 2012. That arrest authorities authorities told stemmed from an argument the boy had with his grandmother over him not taking his medication. At the time, Sylvia Rosalie Schmitt. declined to press charges.
Machetto would alsco come to be arrested twice this year, records show; once in March on a charge of obstructing police and resisting arrest without violence and again in May on a charge of retail theft.
Since the boy's arrest deputies have described Brandon Machetto as expressionless and stoic. To date he has told nothing and declined to talk with investigators.