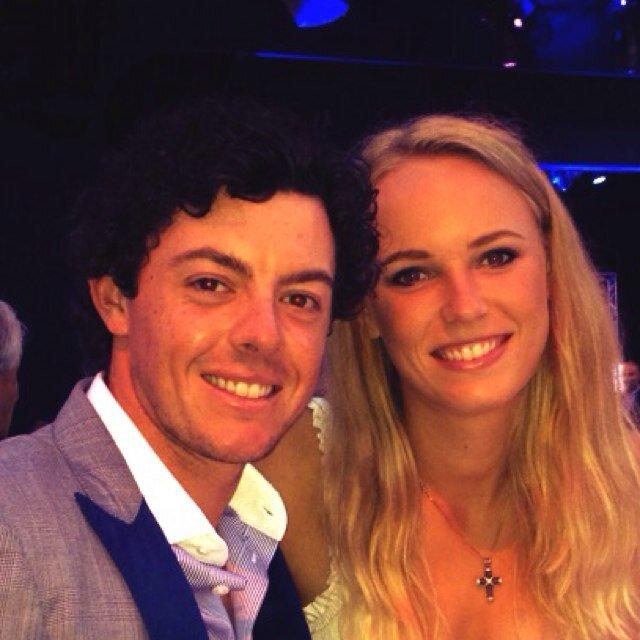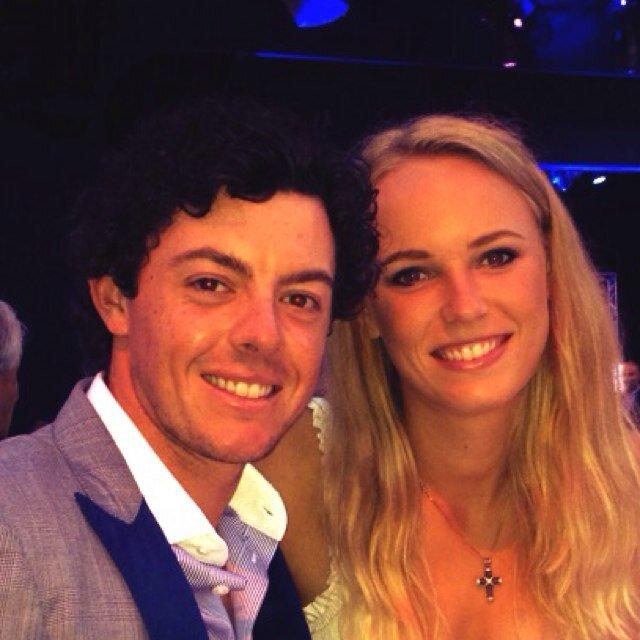 It seems Danish tennis star Caroline Wozniack, 23 isn't taking her pre wedding split to Northern Irish golfing champion Rory Mcilroy, 25 too well after all, but then again the sudden cancellation at the hands of Mcilroy was probably never going to bode well anyway…
Since news of Rory Mcilroy, calling off wedding plans to his fiancé yesterday, days after wedding invitations were sent out, pundits have been wondering how Caroline Wozniack would be dealing with the untimely setback?
At the time of the pull out, the golfer simply told that he just wasn't ready for marriage. A vague assertion that may have hinted towards any disconcert between the couple or just his view he was probably never going to commit to  Caroline Wozniack or simply he had come to the realization, the tennis player was just 'not the one' after all. Then again at a net worth of 47 million dollars the golfer probably imagined he had some wiggle room…
With both parties mum on the issue it wasn't until Caroline Wozniack took to twitter to thank her fans for their support that she let the world really know how she felt about the sudden pull out.
It came in the form of a subtle dig at her ex fiancé, who famously follows Manchester United, when she wrote how she was happy to be a Liverpool fan.
'It's a hard time for me right now. Thanks for all the sweet messages! Happy I support Liverpool right now because I know I'll never walk alone.'
During their relationship Wozniacki had often engaged in online football banter with McIlroy, once posting a photograph of a Liverpool shirt on her wall as she wrote: 'Loving the look, Liverpool Jersey hanging on the wall above the man utd one.'
She later added that she 'might be in trouble' for posting the picture.
Extending the misery and heart ache, the Danish star, who is currently ranked number 14 in the world, it is believed may not compete in the upcoming French Open tournament in Paris due to a sudden broken heart knee injury.
A source close to the tennis ace said she may now pull out of the tournament, which starts on Sunday, with the draw due to be made on Friday.
Told a source via the Daily Telegraph: 'Officially this is because of a knee injury, but the split with Rory will not help her recovery,'
'What is clear is that this was totally unexpected – a real bolt from the blue. Beyond being a hugely successful tennis star, Caroline is an ordinary young woman who is suffering like any other young woman in these circumstances.'
Mcilroy told the split 'was mutual and amicable and we both thought it was the best for us,' as he faced reporters at a press conference prior to the PGA Championship in Wentworth, Surrey.
Although one imagines that is pr talk at best and that Wozniacki  was probably caught off guard and was forced into accepting the golfer's decision, not that that necessarily makes it all 'mutual.'
Told the golfer in a statement yesterday: 'The problem is all mine'.
'The wedding invitations issued at the weekend made me realise that I wasn't ready for all that marriage entails.;
'I wish Caroline all the happiness she deserves and thank her for the great times we've had.'
'There is never a good time to end a relationship,' he said, before taking to the Wentworth course.'
After two years together, McIlroy had come to propose to Wozniacki in Sydney, Australia, on New Year's Day with a $200K diamond ring.
According to sources, their wedding was due to take place at the Rockefeller Centre in New York on November 8.
At the time of the couple's engagement, Wozniacki, who is worth an estimated $25 million posted a picture of the engagement ring on her Twitter account, writing: 'Happy new year everyone! Rory and I started 2014 with a bang! …I said YES!!!!'
He then shared the same picture and added: 'Happy New Year everyone! I have a feeling it's going to be a great year!! My first victory of 2014 #shesaidyes!!'
That said yesterday's sudden split may not have been a real surprise in hindsight given the fact that the pair have experienced an on/off relationship during their time together.
Sources close to the high-profile couple claimed the Irish golfer broke it off with Wozniacki in April last year – days after she posted a picture on Twitter showing him asleep and open-mouthed with his glasses on (see below)
Friends at the time said there was no way back and the tennis ace was described as being 'absolutely devastated'.
As recently as Sunday, McIlroy's Twitter feed showed no sign of the engagement being called off when he posted a picture from Nobu restaurant in Monte Carlo where the pair had dinner.
top image found here